East Side 5th graders complete D.A.R.E program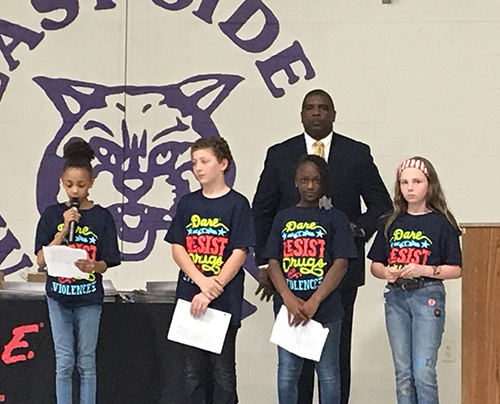 On Friday, April 11, East Side "seniors," 5th graders, took the D.A.R.E. oath and pledge. The Drug Abuse Resistance Education program educates 5th graders on how to stand up against peer pressure, bullying, drugs, and a lot of other issues children have.  Officer Derek Jackson, East Side's School Resource Officer, directs the program.
Haywood High School Football Coach Steve Hookfin spoke to the students about saying "yes" to obeying their parents, "yes" to being respectful, and "yes" to being a good all-around citizen!
"We want to thank Police Chief Barry Diebold and other representatives of the Brownsville Police Department and our very own Mayor Bill Rawls for stopping by and congratulations, Wildcats," said Assistant Principal Nicole Johnson and Principal Dr. Tressy Halbrook.