Red Ribbon Week at ES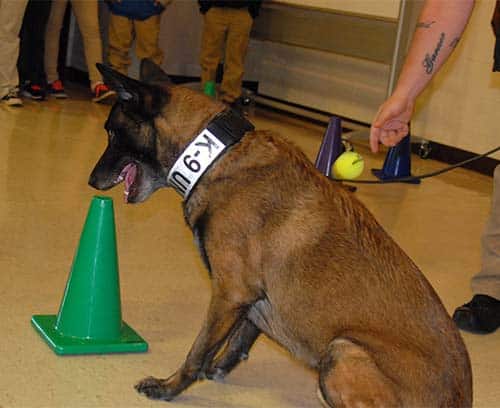 East Side Intermediate School students received a special treat on Wednesday, October 25, when Corporal Mark Brown visited the school in honor of Red Ribbon Week, a movement to educate youth and encourage participation in drug prevention activities.
Corporal Brown is an officer with the Brownsville Police Department. Before the program began, Corporal Brown placed several socks under cones in the gym, one of which contained the scent of an illegal drug. Then, he demonstrated how his "drug dog," Officer Troll, works to find illegal drugs.  Students and staff were amazed at how the drug dog worked to show exactly where the illegal drug (scent) was located. During the demonstration, Corporal Brown gave interesting information to encourage students to stay drug free.
The National Red Ribbon Campaign™ informs and advocates being drug-free. Since its beginning in 1985, the Red Ribbon has touched the lives of millions of people around the world. In response to the murder of DEA Agent Enrique Camarena, angered parents and youth in communities across the country began wearing Red Ribbons as a symbol of their commitment to raise awareness of the killing and destruction cause by drugs in America. In 1988, NFP sponsored the first National Red Ribbon Celebration.