ESI holds Math/STEM Family Game Night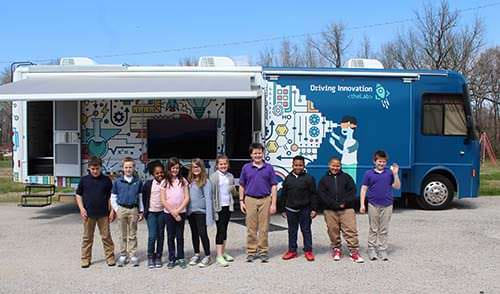 Family Game Night at East Side Intermediate with Math/STEM was such a huge success! Students had a wonderful time learning while "playing" Math and STEM games with their parents, all the while giving parents a deeper understanding of the necessary skills their children need in order to be successful at this level.
Reading teachers where present to give parents reading resources, and Jennifer Shell from our local PBS Station, WLJT-Lexington, gave away a free book to the first 75 students to visit her table.  The highlight of the night was the Innovation Bus from the County in Jackson, Tennessee, known as The Lab.  Visitors to Math/STEM Night were able to experience virtual reality, DOBOT, Baxter – the human sized robot that students could program, laser printers, 3-D Printing, and more in The Lab.
One fourth grader and one fifth grader had their bingo cards drawn from all of the cards that were turned in, and they became the fortunate recipients of a brand new 7-inch tablet! This was such an exciting venture. The camaraderie of parents, students, teachers, and the community working together is what made this event a success. Kudos to everyone who played a part in providing our students with such wonderful learning experiences!