Choir sings for School Board members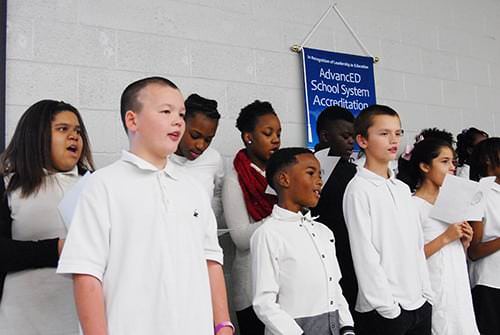 Students from East Side and Haywood Middle School came together as a choir to sing several Christmas songs for the Haywood County School Board members at their December 12 board meeting. The short meeting included only three items on the agenda.
Superintendent Teresa Russell told board members that the System-Wide Report Card was still embargoed by the state, and that they would receive that report at the January meeting.
Board members approved on first reading eight policy additions/updates. These included: Policy #6.702 – Fundraising Activities, #3.500 – Food Service Management, #4.207 – English Learners, #5.1101 – Differentiated Pay Plan (new policy), #5.305 – Family and Medical Leave, #6.505 – Students in Foster Care (new policy), #3.600 – Insurance Management, and #4.502 – Parental and Family Involvement.
The last order of business was budget amendments. Board members approved all that were presented by Chief Financial Officer Larry Livingston.
Mrs. Russell reminded board members that the REACH graduation would be held at Sunny Hill Innovative Learning Center on December 13 beginning at 6 p.m.
The next board meeting will be held on Tuesday, January 10, 2017, at 6 p.m.