HCS Nutrition staff attends culinary training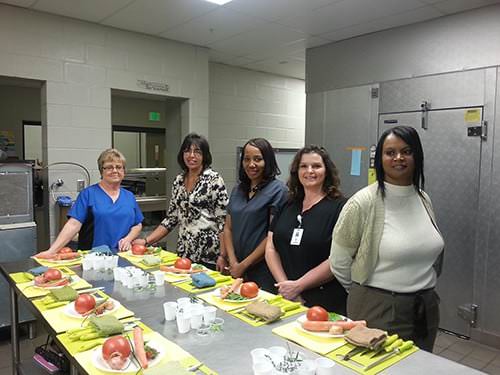 On February 21, Denita Jarratt, Director of Nutrition for the Haywood County School System, attended Culinary Training in Cordova along with several of the cafeteria managers from Haywood County Schools. In attendance were Sharon Waddell from Haywood Elementary School, Cynthia Turner from Eastside Intermediate School, Janie Leach with Anderson Early Childhood Center, and Brenda Parker with Haywood Middle School. During the training the ladies learned about different knife skills and cutting techniques. They also learned about using herbs and spices in the cafeteria and discussed the benefits of having school gardens.
Finally the ladies were given a taste test to help them "wake up their senses." They tasted things such as shrimp chips, seaweed covered rice puffs, wasabi peas, Aloe Vera water, basil seed juice, and green tea Kit Kats among others. These items were chosen in order to demonstrate how all the five senses of sight, hearing, taste, touch, and smell work together to distinguish between the five main tastes which are sweet, salty, bitter, sour, and umami.