Superintendent Hassell opens 2017-2018 school year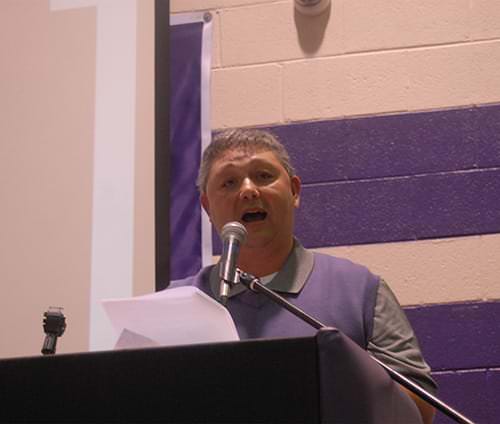 According to Haywood County Schools Chief Human Resources Officer Toni Eubanks, roughly 600 Haywood County School employees gathered at Haywood High School Thursday morning, August 3, for a welcome from their new Superintendent Joey Hassell. After Chairman of the School Board Harold Garrett spoke to the crowd, Mr. Hassell talked to them about the importance of their responsibilities and said this will be a good school year. School for about 3,100 students began on Monday, August 7.
Keynote speaker for the meeting was Dr. Jim Harris, Ed.D., MSW. He is the owner of Opportunities Consulting Services and the Associate Director of the West Virginia Autism Training Center at Marshall University.  He has had several roles in the health and human services field throughout his career as an early interventionist, parent educator, educational consultant, university professor, and behavioral health therapist.  Dr. Harris has presented at a variety of conferences from the local to the international levels on such topics as behavioral intervention, parenting, positive behavior support, trauma-informed care, organizational change, and many more.  He is the creator of "10 Things You Need to Know About Kids," an audio program that helps parents and teachers be more effective in their work with children.