Stacy Taylor – Haywood Elementary TOY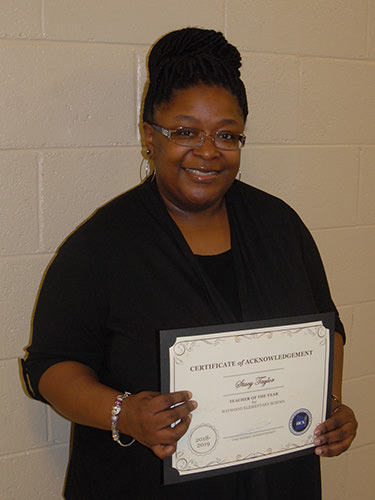 Stacy Taylor
Haywood Elementary School Teacher of the Year
 
Ms. Stacy Taylor, a third-grade teacher at Haywood Elementary, was selected as the school's Teacher of the Year. She taught school 14 years at Jefferson Elementary School in Somerville, Tennessee, and from 2014 to the present at Haywood Elementary. She holds a Bachelor's degree in Interdisciplinary Studies from Austin Peay State University. Her areas of endorsement are elementary, kindergarten through eighth grade.
Her leadership experience includes training a student teacher, serving as a mentor teacher, helping develop the school improvement plan, serving as a cheerleader coach, attending a writer's conference, and attending PBIS training and conducting a PD on her findings. Awards and other recognition include 2001-2002 Highest TCAP Scores for Reading/Language Arts (Fayette County), 2005 Perfect Attendance Award, and Teacher of the Year this year.
Ms. Taylor's community leadership/involvement include participating in Haywood Elementary's school events throughout the year that build relationships with families and community members (Math/Literacy Night, Open House, School Registration). She also volunteers at her church, serves as a youth advisor and participates in HCS community gatherings. Professionally, she participates in staff development meetings throughout the school year, participate in weekly PLC meetings with colleagues and administration, and in weekly grade level meetings.