HAYWOOD ELEMENTARY SCHOOL
313 North Grand Ave
Brownsville, TN 38012
Phone: (731) 772-0732
Fax: (731) 779-1995
Resource Center: (731) 772-3077
ANNA ROBERTS
Principal
anna.roberts@hcsk12.net
Anna Roberts taught fifth grade at Sunny Hill Elementary and has most recently served as Assistant Principal at East Side Intermediate School. Mrs. Roberts taught for 11 years in the Haywood County Schools. She was born in Columbia, Missouri, and moved to Brownsville in 1995 because of her husband's job with the University of Tennessee Extension Service. She holds a Bachelor's degree in Elementary Education from the University of Memphis and a Master's degree in Educational Leadership from Trevecca Nazarene University. She is married to Tim Roberts, and they have one daughter, Hannah, who graduated from Haywood High School in 2013.
Dusty Warren
Assistant Principal
dusty.warren@hcsk12.net
Dusty Warren is a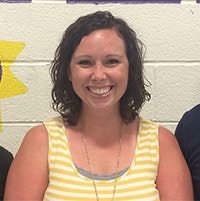 Brittany Pittman
Instructional Facilitator
brittany.pittman@hcsk12.net
Brittany Pittman is the instructional facilitator for Haywood Elementary School.  Ms. Pittman has been a teacher in Haywood County since January 2008.  She holds a Bachelor of Science Degree in Arts and Humanities from Freed Hardeman University and a Master of Education in Educational Leadership from the University of Tennessee at Martin.  During the 2013 – 2014 school year, Ms. Pittman was a Core Coach with the Tennessee Department of Education.
---
Staff
Anna Roberts, Principal
anna.roberts@hcsk12.net
Dusty Warren, Assistant Principal
dusty.warren@hcsk12.net
Joyce Dancy, Secretary
joyce.dancy@hcsk12.net
Mary Beth Freels, Bookkeeper
marybeth.freels@hcsk12.net
Twyla King, School Counselor
twyla.king@hcsk12.net
Demetrice Adams, Project BASIC
demetrice.adams@hcsk12.net
Brittany Pittman, Instructional Facilitator
brittany.higgins@hcsk12.net
Robin Fulcher, Data Clerk SPED
robin.fulcher@hcsk12.net
Barbara Gavin, Interventionist
barbara.gavin@hcsk12.net
Rhonda Taylor, Interventionist
rhonda.taylor@hcsk12.net
Danny Bynum, SRO
danny.bynum@hcsk12.net
First Grade
Peggy Austin, 1st Grade
peggy.austin@hcsk12.net
Aliceson Byrd, 1st Grade
aliceson.byrd@hcsk12.net
Sarina Goss, 1st Grade
sarina.goss@hcsk12.net
Lauren Ellington, 1st Grade
lauren.ellington@hcsk12.net
Sarina Goss, 1st Grade
sarina.goss@hcsk12.net
Lanna Hester, 1st Grade
lanna.hester@hcsk12.net
Jeanna Lea, 1st Grade
jeanna.lea@hcsk12.net
Elizabeth McCage, 1st Grade
elizabeth.mccage@hcsk12.net
Kim Price, 1st Grade
kim.price@hcsk12.net
Allison Purifoy, 1st Grade
allison.purifoy@hcsk12.net
Jamie Rutkowski, 1st Grade
jamie.rutkowski@hcsk12.net
Amanda Stanley, 1st Grade
amanda.stanley@hcsk12.net
Darlean Wellington, 1st Grade
darlean.wellington@hcsk12.net
Second Grade
Sylvia Brown, ELA
sylvia.brown@hcsk12.net
Stacie Carlton, ELA
stacie.carlton@hcsk12.net
Susan Evans, 2nd Grade Math
susan.evans@hcsk12.net
Maggie Howell, 2nd Grade Math
maggie.howell@hcsk12.net
Brenda Jackson, 2nd Grade Math
brenda.jackson@hcsk12.net
LoEva Jackson, ELA
elizabeth.lovelace@hcsk12.net
Elizabeth Lovelace, 2nd Grade Math
elizabeth.lovelace@hcsk12.net
Hannah Matlock, 2nd Grade Math
hannah.matlock@hcsk12.net
Megan Mysinger, 2nd Grade Math
megan.mysinger@hcsk12.net
Valerie Sceals, ELA
valerie.sceals@hcsk12.net
Annalynn Smith, ELA
elizabeth.lovelace@hcsk12.net
Becky Stokely, ELA
becky.stokely@hcsk12.net
Third Grade
Beverly Austin, 3rd Grade Sci/SS
beverly.austin@hcsk12.net
Leslee Capps, 3rd Grade ELA
leslee.capps@hcsk12.net
Kayla Dennis, 3rd Grade Math
kayla.dennis@hcsk12.net
Lee Ann Garrett, 3rd Grade Math
lee.garrett@hcsk12.net
Joshua Hubble, 3rd Grade Sci/SS
joshua.hubble@hcsk12.net
Nan Naylor, 3rd Grade Math
nan.naylor@hcsk12.net
Pamla Reagan, ELA
pamla.reagan@hcsk12.net
Stacy Taylor, ELA
stacy.taylor@hcsk12.net
Sarah Tillman, ELA
sarah.tillman@hcsk12.net
Mary Paige Watts, 3rd Grade Math
marypaige.watts@hcsk12.net
Rachel Winberry, 3rd Grade Sci/SS
rachel.winberry@hcsk12.net
Special education
Danetta Bond, Inclusion
danetta.bond@hcsk12.net
Kristen Carter, Inclusion
kristen.carter@hcsk12.net
Jeannie Farmer, Inclusion
jeannie.farmer@hcsk12.net
Auxiliary
Patricia Gaietto, Music
patricia.gaietto@hcsk12.net
Dawn Lovelace, Library
dawn.lovelace@hcsk12.net
Angela Moss, Art
angela.moss@hcsk12.net
Kathryn Patterson, PE
kathryn.patterson@hcsk12.net
Samantha Sammons, STEAM
samantha.sammons@hcsk12.net
Speciality Classes
Beverly Grimes – Speech
beverly.grimes@hcsk12.net
Cayla Mirelez – ESL
cayla.mirelez@hcsk12.net
Education Assistants
Anita Berry
anita.berry@hcsk12.net
Mary Burton
mary.burton@hcsk12.net
Carolyn Cox
carolyn.cox@hcsk12.net
Bridget Dancy, FRC
bridget.dancy@hcsk12.net
Courtney Freels
courtney.freels@hcsk12.net
Shirley Hines
shirley.hines@hcsk12.net
Kathy Hopper
kathy.hopper@HCSk12.net
Sylvia Jones
sylvia.jones@hcsk12.net
Angela Keita
angela.keita@hcsk12.net
Ruthie Lewis
ruthie.lewis@hcsk12.net
Karetha Miller, Save the Children
karetha.miller@hcsk12.net
Holly Northcott, Inclusion
holly.northcott@hcsk12.net
Anita Powell
anita.powell@hcsk12.net
Crystal Reliford
crystal.reliford@hcsk12.net
Joyce Sanderlin – Inclusion
joyce.sanderlin@hcsk12.net
Yvonne Shaw
yvonne.shaw@hcsk12.net
Hannah Smith
hannah.smith@hcsk12.net
Annette Taylor LRE
annette.taylor@hcsk12.net
Daletha Walker
daletha.walker@hcsk12.net
Joan Wallis
joan.wallis@hcsk12.net
Wychickia Watkins
wychickia.watkins@hcsk12.net
Juanita Williams, Inclusion
juanita.williams@hcsk12.net
Shavonda Woods
shavonda.woods@hcsk12.net
Pat Worrell
pat.worrell@hcsk12.net
Cafeteria
Sharon Waddell, Manager
sharon.waddell@hcsk12.net
Joyce Sharp, Assistant Manager
joyce.sharp@hcsk12.net
Barbara Hayes
Angela Jeter
Adrian Muex
Hattie Rivers  
Vearndell Stitts