Haywood's finest compete in choir competition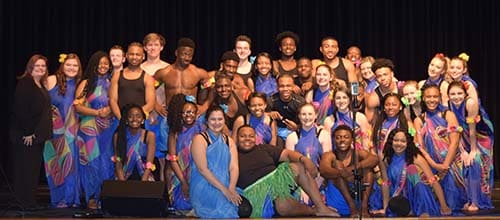 The many talented students of Haywood High School's choirs traveled to Williamsburg, Virginia, recently to compete in the world strides onstage performing arts competition. On April 6, the young performers laid out months of hard work on the stage, and it wasn't without reward. Under the direction of Dr. Melinda Coedecke, these singing Tomcats returned home with seven awards.
The 2XM Men's Choir placed 1st Place Gold, as did the 3Bs Men's Choir. The 3Bs also received the Golden Circle Award which includes an invitation to sing at Carnegie Hall next fall. The Haywood Harmonies Women's Chorus received 2nd Place Silver. The Voices of Haywood Show Choir also won 2nd Place Silver with a rousing medley of songs from Disney's hit movie, Moana. Student Tyler Morton won the Maestro Award and the Ovation Award.
During their trip to the east, students also got the chance to explore the area, which included taking a ghost tour of Historic Williamsburg and having fun at the world-renown Busch Gardens.
By Brooke McCain, Courtesy of Brownsville Press