HHS Beta Club inducts 42 new members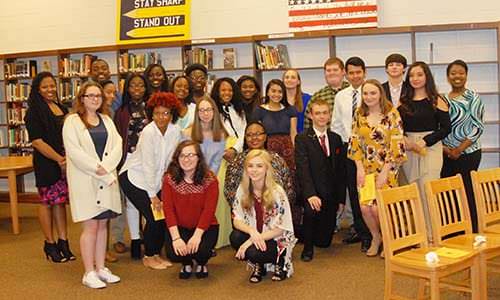 The Haywood High School Beta Club seniors inducted 42 new members at their National Beta Club Induction Ceremony on April 5. Beta Club officers, Adam Jollo, Amelya Cooper, Temple Taylor, and Delmi Ortega, conducted the ceremony, along with several other members. Jasmine Reece, Mikala Leath, Brierra Starks, Brittain Adams, and Tristain Taylor also participated in the induction program. HHS Principal Latonya Jackson gave the closing remarks. Sponsors for the club are teachers Linda Baxter and Glynn Bridgewater.
In addition to the Senior Beta Club members who conducted the program, Kennedy Blue, Brianna Bond, KeShauna Bond, ZayVania Byrum, Andrea Cantu, Trevor Dancy, Cardaysia Douglas, Kayla Douglas, Brandon Evans, Grace Glaser, Shimya Harper, Elizabeth Haynes, Haley Hendrix, Alexis Hines, Karoline Hobock, Brianna Jones, Tia Jones, Kaitlin Leath, Destiny McFarland, Tyler Morton, Alexis Rodriguez, Benjamin Rodriguez, Jamirah Shutes, Tyeasha Starks, Logan Wilburn, Landon Wilson, and Allison Wright are also members.
New members are Jakecia Adams, Leigha Bailey, Samuel Banks, Treveon Banks, McKenna Barken, Riley Barr, Alexiis Bean, Jordan Bell, Kedra Benton, Andrea Cheairs, Jordan Cone, Jamya Douglas, Leslie Fox, Bria Grant, Anna Haynes, Ahmadia Hines, Ja'Darius Hines-Cliff, Makiyah Jarrett, Calen Johnson, McKenzie Kelly, Colbie Killen, J. T. Lea, Cadaja Morton, Karsen Neal, Acayla Palmer, Everette Pettigrew, Jackson Pettigrew, Lillie Pittman, Isaiah Polk, Breonica Reed, Alex Sceals, Emily Sensabaugh, Hunter Smothers, Jakobe Swift, Iyana Tayor, Jaylon Taylor, Massai Twitty, Kirsten Watson, Shanya Whitelaw, Alex Williams, Ashlei Williams, and Bendy Yuan-Zhao.