HHS DECA students bite into the "Big Apple"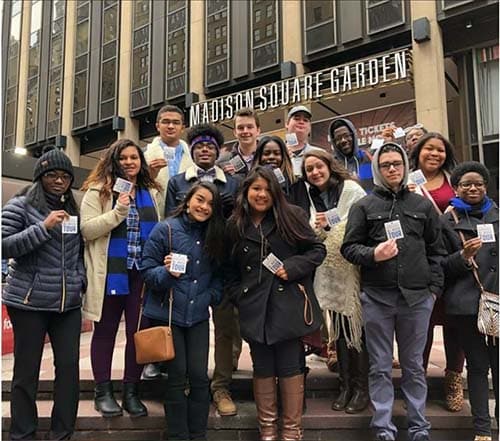 Fifteen Haywood High School DECA students attended the annual New York Experience Marketing Conference held in the Big Apple December 6-10. The conference was the prime opportunity for students to learn firsthand from the city's best professionals in marketing, finance, fashion, entrepreneurship, sports and entertainment, while experiencing the hustle and bustle of thrilling New York City.
During the conference, attendees had a guided bus tour downtown to the financial district and visited the 9/11 Memorial, and toured Madison Square Garden, the most famous arena home to concerts, sporting events and more. To soak in the big city style and fashion, students toured SOHO, and the Entrepreneurial Designer's Fashion Market. Also on the itinerary the group experienced and gained the perspective of entertainment marketing through venues such as Madame Tussauds' Wax Museum, the Rockettes Christmas Show and the Broadway musical "Wicked."
HHS DECA students who attended the conference were Dominic Gaietto, Sujey Gaspar, Jake Cummins, Lena Smith, Terry Rawls, Andrea Cantu, Jakayla Haliburton, Jonathan Lara, Chelsea Shaw, Alex Sceals, Chris Foster, Jordan Bell, Acayla Palmer, Ashlei Williams, and Ashley Vasquez. Chaperones were Julie Davis and Laurinda Lamb, Business and Marketing teachers at Haywood High School.
"One of the serendipities of a trip like this is that not only do students get to have these great learning experiences, but they also learn life lessons like budgeting their money and time, navigating through airports and public transportation, and trying things like Broadway musicals that they may never have thought they would like, but end up really enjoying it. It truly is a great experience!" said Julie Davis, DECA advisor.
About DECA
DECA prepares emerging leaders and entrepreneurs for careers in marketing, finance, hospitality and management in high schools and colleges around the globe. This is the second year to have DECA as an active student program for students interested in Business and Marketing.