Seymour wins a TSSAA A.F. Bridges Award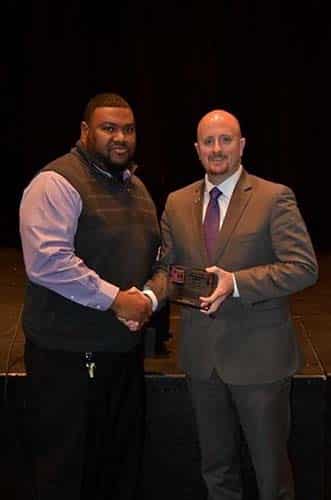 HHS Athletic Director Tim Seymour received the TSSAA Athletic Director of the Year in District 8. He received the plaque from Greg Scott, TSSAA Board of Control at a regional meeting on November 8 in Jackson.
For the 18th consecutive year, The Tennessee Secondary School Athletic Association A.F. Bridges Awards program includes awards for School System Administrator of the Year, Principal of the Year, Athletic Director of the Year, Female Coach of the Year, Male Coach of the Year, Official of the Year, and Contributor of the Year. Haywood High School's Athletic Director Tim Seymour was selected as the Athletic Director of the Year in District 8.
Seymour, who also serves as Assistant Principal at HHS, has been Athletic Director for Haywood County Schools for five years. "It is a honor to represent Haywood County Schools and Haywood High School," Seymour said. "We have a community that takes a lot of pride in athletics, and I am excited to be a part of it. The people here see how hard our coaches and athletes work in Haywood County."
Recognition was made in each of the nine athletic districts in our state. Citizenship/Sportsmanship Committee and member schools in each athletic district made the nominations, and the State Selection Committee made the final selection.
Bernard Childress, Executive Director of the TSSAA stated, "Being recognized for one of these awards as a school or individual should be seen as one of the highest honors in high school athletics in our state. Those who receive the awards truly reflect what high school athletics should be about, and that's good sportsmanship and good citizenship." Information Courtesy of CoachT.com