Shandi Sheets – HHS TOY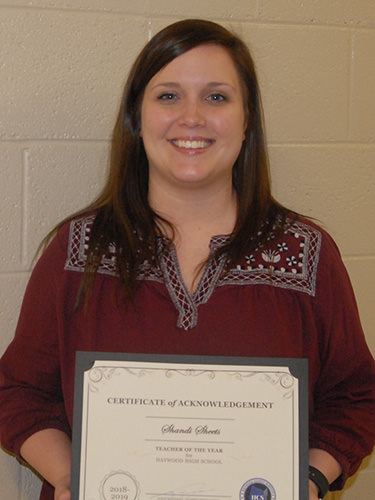 Shandi Sheets
Haywood High School Teacher of the Year
Mrs. Shandi Sheets is a native of Texas, but has lived all over the country since her mother was in the military. In 2013, she moved to Gibson County. In 2008, she graduated from McNairy Central High School in Selmer. She attended Jackson State Community College for two years, and in December 2012, she earned a bachelor's in secondary education with an emphasis in English from UT Martin.
She has been teaching English at Haywood High School for six years, and is currently teaching English I. Shandi was a Teacher Leader from 2016-2018, and in the 2017-2018 school year, she participated in UT Martin's Teacher Induction Program. She is currently on the Superintendent's Study Council.
Shandi is married to her high school sweetheart, Zak Sheets. They have three wonderful children: Brooklyn (9), Beau (4), and Blakely (3). Mrs. Dillingham is her co-teacher and also her mother! "I get to wake up every day and teach with my mom! How awesome is that," Shandi said. She was also chosen as the District Teacher for Grades 9-12 and for the entire Haywood County School District.