Gear Up College and Career Fair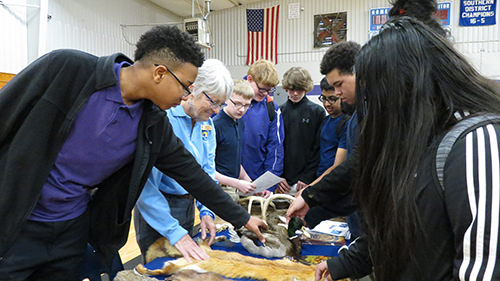 Haywood County GEAR UP TN hosted a College and Career Fair at Haywood Middle School on March 22 for eight-grade students. The event brought exhibitors to the middle school gym for over 200 students who participated in the event. Students walked through the fair and were able to speak with representatives about their careers, salaries, and training in the fields.
"This College and Career Fair was designed to have students interact with professionals in several career paths," said Jackie Whitten, Haywood County GEAR UP TN Site Coordinator. "It gives the students the 'real-world' answers on how students need to begin preparing for a career in one of the fields, learn about the type of training needed for those careers, and prepare for life after high school graduation. Opportunities such as the College and Career Fair gives our students a sense of purpose when it comes to their high school educational experiences and gives them the information they need to begin planning early for college courses they could take in high school."
Exhibitors included the Haywood County Ambulance Authority, Haywood County Health Department, Sonja Thompson's "Ride and Dye" mobile salon, the National Wildlife Refuge System, and the Tennessee College of Applied Technology in Ripley.