HMS students – good health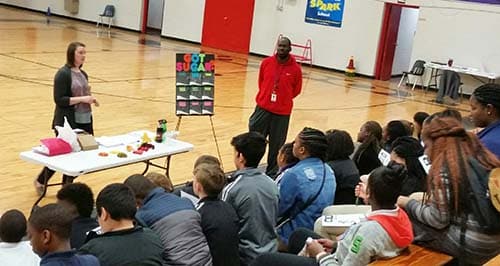 Haywood Middle PE/Wellness students enjoyed an information-packed session recently provided by Le Bonheur Hospital's Community Health Educator, Skylar Johnston. Topics included: the importance of eight hours of sleep, eating five fruits or vegetables daily, having no sugary beverages, having two or less hours of screen time, and one hour of physical activity/exercise daily.
The students were most surprised to learn just how much sugar is included in their favorite beverages! Since boys are allowed only 37g (nine teaspoons) of sugar, and girls 25g (6 teaspoons) daily, it was pretty shocking to learn that some sodas, energy drinks, and sport drinks contain over three times the recommended amount … for just one beverage.
School Health Coordinator Cindy Smith pointed out that Haywood County ranks 94th in overall health rankings for Tennessee's 95 counties, and that we need their help, starting today, to help turn our health problems around. So, parents and kids, be sure that low-fat milk is on the grocery list instead of sugary drinks … and everybody DRINK MORE WATER!!!!