Cedric Tyus – Giving Back to HCS
It's been ten years since Cedric Tyus tossed his graduation cap into the air in Brownsville, Tennessee.  A decade.  Time passes a lot faster the older someone gets, and Cedric is very aware of how the passage of time feels to him as a doctoral student at Tennessee State University who is approaching 30.  Brownsville is still on his mind, though.
Last December, Cedric, who worked in the Admissions Office at Tennessee State University at the time, came to Haywood High School and made a life-changing announcement.  He told the class of 2022 that TSU was offering each student with a 3.0 GPA a FULL scholarship for four years – all expenses paid.  
It was an announcement so big and so life-altering that it took a little while for the students to grasp the impact that it could potentially have on their lives.  They looked around the room at one another with looks of uncertainty and excitement – the kind of shock that makes someone question reality.
How Cedric got to the point of making this transformative announcement ten years after he graduated from Haywood High School is a story worth telling.
From the time he was a five year old student in Kindergarten all the way to his graduation day in 2012, Cedric attended schools in Haywood County.  In every sense of the word, he is a product of Haywood County and Haywood County Schools.  He also had some impactful teachers and coaches along the way.
"I could name so many great teachers I had in Haywood County, but one that I want to highlight is Coach Ray Jones.  Coach Jones was my basketball coach in the seventh grade.  He was the most influential educator that I had aside from Mr. Marvin Taylor and Michael Lee," Cedric recalled.  "Coach Jones had the greatest impact on me as far as life skills are concerned – like how to dress, how to carry myself.  At that time, we couldn't understand the importance of that, but I realized it as I got older and out of school."
During his four years in high school, Cedric was very active in student government and likes to brag about one particular thing that his class was able to do for the future senior classes at Haywood High School.
"I like to take credit for the fact that Haywood High School now allows students to have their prom outside of the school.  That was one of our biggest accomplishments," he said laughing.  
The month after he graduated, Cedric enrolled at Tennessee State University (TSU) in a program designed to give incoming freshmen a little extra training in preparation for life as a college student.  Adding to the fact that Cedric was leaving Brownsville to live in a brand new city, he was also a first generation college student.  He was experiencing a lot of change in a very short amount of time.
"It was a big change moving from Brownsville to Nashville.  Coming from a small town, it was kind of a culture shock to come to TSU.  I had to adjust.  I moved to Nashville in June after I graduated in May.  I came to a program called "academic boot camp" and it helped me to adjust to college life before the actual semester started.  I met so many people who have remained friends to this day during that program," he said.  "I'm also a first generation college student, so there are a lot of adjustments I had to make.  I wanted to prove a point to myself and to set a standard for my little sister and anyone in my family who came after me."
As Cedric adjusted to life in Nashville and life as a college student, he began to notice some differences in his educational world at TSU compared to what he experienced in Haywood County.
"I think I had 10-15 African-American males in the school system when I was growing up in Haywood County.  Out of those, there were only three who were actually my teachers in the classroom in academic subjects," he said.  "It was so eye-opening and inspiring to see so many African-American professors.  Thinking back on my journey into higher education, seeing those men in those positions was inspiring."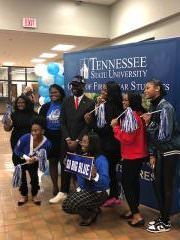 Not only was the number of African-American professors both surprising and inspiring, Cedric also noticed that TSU was full of a diverse student body.  TSU is an HBCU (Historically Black Colleges and Universities) university, but to Cedric's surprise the student body was made up of a variety of races and nationalities.
"Coming into TSU, I came in looking a certain way.  I came in as a student and saw so many African-American professors and administrators and it was a whole new world for me.  I also realized just how diverse HBCU colleges are.  There are so many different races and nationalities represented at these schools.  It's not only African-American students attending," Cedric explained.  
Being a student at TSU in Nashville has had a drastic and positive impact on Cedric.  After graduating from TSU, he began working at the university and eventually enrolled in the doctoral program.  While working in the admissions office, he began to try and think of ways to give back to his hometown – a place that shaped him and allowed him to begin this journey at TSU ten years ago.
"To be honest, I'm always trying to think of ways to give back to the community.  I haven't been able to do a lot for Brownsville since I've been gone, but I had a meeting with my supervisor and told him I wanted to do something for Haywood County.  At first it started with ten scholarships.  Then I asked for 25, and he said yes.  I just kept pushing and got approval to offer it to the whole class," Cedric explained.
When Cedric made the announcement that day in December in the cafeteria at Haywood High School, the moment was big.  It was so big, in fact, that it took a little while for students to truly grasp the opportunity they had been given.  But for Cedric, the impetus behind this idea was pretty simple.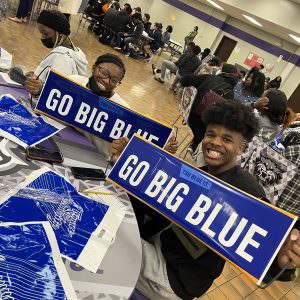 "So many students go to college and accept all the loans they're offered and get saddled with a lot of debt.  I wanted to provide students the opportunity to come to school for free.  I wanted to do it for my hometown because I know how important that place was to me and I want to give back," he said.
Six months after that December day, 173 students threw their graduation caps into the air at L.Z Hurley Field just like Cedric did ten years earlier.  For 17 of those students, however, their college experience at TSU will be fully paid because of the vision of someone who came before them.  
If Cedric has any advice for the students of the Class of 2022 who will be attending TSU or any other college outside of Haywood County, it's this:
"Do it even if you're scared.  That's what I would tell graduating seniors who are thinking about the next steps in their lives."