Senior Spotlight – JaDerrika Welch-Fields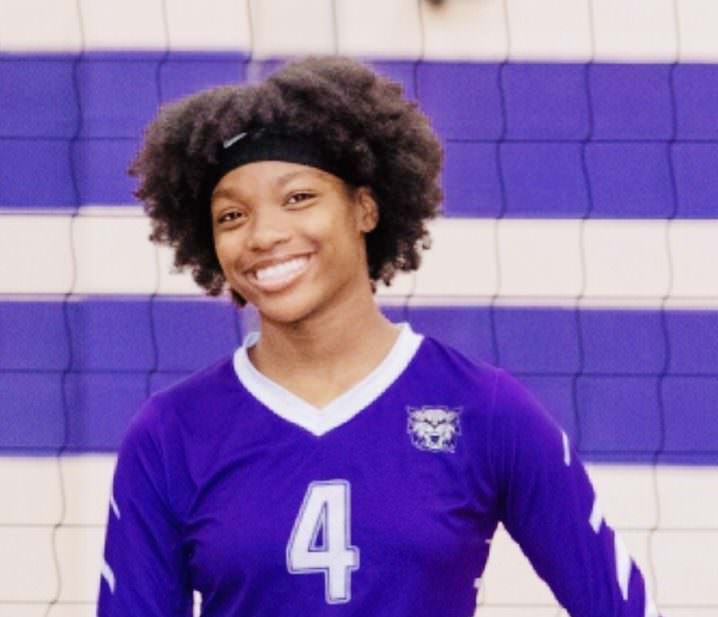 For anyone who attended school, the feelings of a year coming to an end have always been very specific.  Feelings of hope and sadness are in conflict during a time of transition.  The culminating moment of a school career is a student's senior year of high school.  When that year ends, there is a sense of closure and finality.  There is no "next school year".  It's the closing of a door on a long chapter of an educational life.
For seniors in Haywood County Schools in the class of 2022, graduation marks the end of a journey that most likely began at Anderson Early Childhood Center and wound through Haywood Elementary, East Side, onto Haywood Middle School, and finally culminated at Haywood High School.  Students in HCS all attended the same schools at the same time and likely formed close friendships along the way.  This weekend at graduation, they will all be in the same place together one last time.
I sat down with three seniors during their last week as a Haywood Tomcat and talked with them about how they were feeling during this time of transition, what their fondest memories were of their time in HCS, and what their expectations for the future are.  Click the link to hear the full interview with JaDerrika.
---
JaDerrika Welch-Fields isn't your normal high school senior.  She's a three sport athlete who is also enrolled in dual credit classes…and she just qualified for the state Track and Field meet.  Another thing that separates her from most of her fellow seniors is that she's not ready for high school to end.  
"I'm a little sad about leaving high school.  I've been sad for a few weeks.  I'm not ready to move on from high school quite yet," she said.  "I'll miss having classes with ALL my classmates.  I'll miss the sports – especially basketball, and having fun with my peers."
The way our minds are built, we tend to remember and romanticize the positive moments of our experiences rather than the negative ones.  That's why nostalgia is such a powerful emotion – it can literally transform our memories.  There were surely times during JaDerrika's educational career where she experienced some conflict with teachers or coaches, but the only ones she thinks about now are the adults that had a positive impact on her in Haywood County Schools.  
"I remember Ms. Brittany; she was my second grade teacher.  Ms. Shannon Clark and Ms. Wiley at East Side, and Ms. Dreyer at HMS.  I liked Math and the teacher.  In high school, I'll really miss Ms. Savage, Ms. Aventt, Coach Cayla, Coach Patrice, Coach Mason, Coach Doles. They all had different positive aspects, but all had a big influence on me as a student and an athlete," she recalled.
While JaDerrika is definitely experiencing some nostalgia for her high school career, she is also aware that she has experienced pain and loss during high school of which only a few other people can relate.  
In February of 2021, Haywood Lady Tomcats basketball coach, Patrice Boyd passed away unexpectedly.  Dealing with the loss of a loved one can be difficult for anyone, but especially for a teenager.  Given the tight bond that develops between a player and a coach, the loss of Coach Patrice had a profound impact on JaDerrika, but it also helped teach her resilience. 
"My junior year, my coach passed away.  I kind of lost my drive; I wasn't very motivated," she explained.  "Things just weren't the same.  I eventually got out of it and made up my mind that I was going to progress for Coach Patrice; I was going to go to college and play ball for Coach Patrice."
And that's exactly what happened.  In the fall, JaDerrika will attend Dyersburg State and play basketball.  It's fitting because basketball was always JaDerrika's first love when it came to sports.
"I played volleyball for two years, ran track for two years, and played basketball all four years.  Basketball is my favorite because I thrived there," she said.  "That's the sport where I could just go.  My favorite part about playing it is playing defense.  I also like attacking the rim; that's how I got most of my points."
When she reflects on her career on the basketball court as a Lady Tomcat, two games stand out above the others for JaDerrika.
"The end of my junior year, we were playing a home game; it was the first game after Coach Patrice passed away.  The whole team had the mindset that we were gonna win this game for her and we did," JaDerrika recalled.  "My senior year at Ripley, I had my career best in points.  Those are the two most memorable games for me."
Not only did basketball provide life-long memories for JaDerrika, it also taught her lessons.   And, while basketball and volleyball and some events in track are team oriented, JaDerrika learned that sometimes you have to take the onus of responsibility yourself.
"Through playing sports, I learned that you can't do anything with people who don't have the same mindset you have.  Sometimes, you have to tackle things on your own," she said.
Even though JaDerrika isn't quite ready to leave Haywood High School just yet, she knows she's prepared for whatever challenges await her at the next level.  But first, she's got a state track meet to win.