Work Based Learning at HHS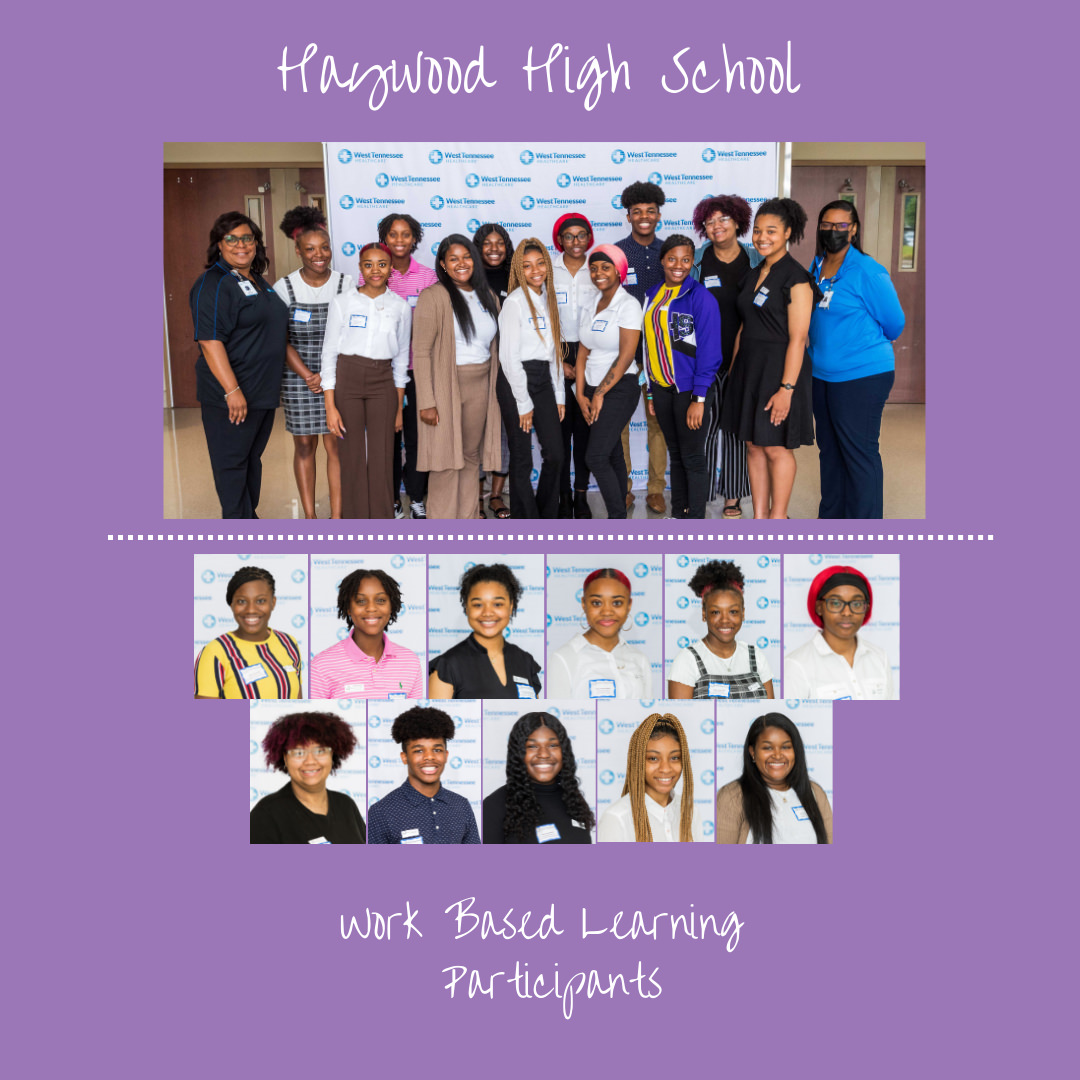 With all the emphasis on data and test scores and school rankings based on that data, it can be easy to lose sight of the main objective of public education: to prepare and place students in position for the greatest chance at post-secondary success.
In May, a group of Haywood High School (HHS) students boarded a bus to Jackson and interviewed at West Tennessee Healthcare (WTHC) for summer jobs that would allow them to put the skills they learned in their Career Technical classes at HHS to use.  
Dual Enrollment and Work Based Learning Coordinator, Amanda Simpson, explained that an extra emphasis has been put on the work based learning program this school year.
"The work based learning program is a state program that we've really pushed lately.  It allows students in our CTE programs to take the skills they learn in the classroom and apply them in the workforce," she explained.  "For example, it allows our nursing students to apply their skills in an actual clinical setting."
Because of COVID-19, there have been limited opportunities to partner with local industries.  Now that the pandemic has subsided for the most part, businesses are more willing to welcome students and employ them through programs such as this.  Haywood High School's first work based learning partnership is with one of the biggest industries in West Tennessee: West Tennessee Healthcare.  
"Our first official partnership is with West Tennessee Healthcare which is a BIG deal," Amanda explained.  "The process was lengthy.  We wanted to make sure that the students were putting their best foot forward.  We looked at their academics; we looked at their progress in the CTE program to just make sure they were far enough along to be prepared for success in the workplace.  WTHC gave the students multiple screenings and interviewed them with a panel style interview."
Not only will the experience working and applying the skills students learned in their CTE classes be invaluable, but the experience in preparing for and participating in an interview will also serve the students well as they apply and interview for other jobs after this one.
"I'll give so much credit to Madison Lewis for making sure our students were prepared for the interview process," Amanda said.  "I focused on the paperwork aspect of this process, but Madison did the hands-on work with our students and did an amazing job.  She prepared them for how to dress for the interview and how to answer questions.  The interviewing skills they've learned through this process are invaluable."
While on the job, students will use the skills they learned in Culinary Arts classes and Health Science Classes.  As the program progresses in the future, however, HHS hopes to expand the partnership with WTHC to include industrial maintenance.
"We're focusing on the culinary and nursing programs with WTHC.  The culinary students will work in the food services in the hospital.  Our nursing students will do environmental services and room prep for patients," Amanda explained.  "We're in talks with WTHC is expanding this to our Industrial Maintenance program.  Those students could work in janitorial, HVAC, and industrial services.  They could take their electrical wiring skills and work in the maintenance department."
As far as this summer's work based learning goes, though, HHS students attend the same orientation that all employees at WTHC attend.  They are also treated and held to the same standards as any other employee at Jackson-Madison County General Hospital.
"Although they are HCS students, they are listed as employees at WTHC and will follow the same procedures and protocols as every other employee at the hospital," Amanda said.
All transportation is provided for the students and a bus picks them up at their house and takes them to Jackson for their work shift.  Students also have the option to drive themselves if they want to schedule a few more hours to work.  
Amanda hopes to see the work based learning partnerships expand in the future so more students in Haywood County can take advantage of this opportunity.  
"There's no cap on the number of students; we want to give all our students as many opportunities as possible.  We don't want to limit those," she said.  "We want to show how phenomenal our students are in Haywood County.  A lot of the skills they learn at HHS, they can apply in various industries around the area."
For the full interview about the work based learning program with Amanda, click the link to listen to the podcast on Tomcat Talk.