HMS promotes 208 eighth graders
On Monday, May 20, Haywood Middle School eighth graders took the next step in their educational path as 208 students received their promotion certificates to begin Haywood High School next August. Participating in the program were Superintendent Joey Hassell, Principal Michelle Tillman, Assistant Principals Tim Seymour and Grover Harwell, and President and Vice President of the class Molly Nichols and Jeb Banks.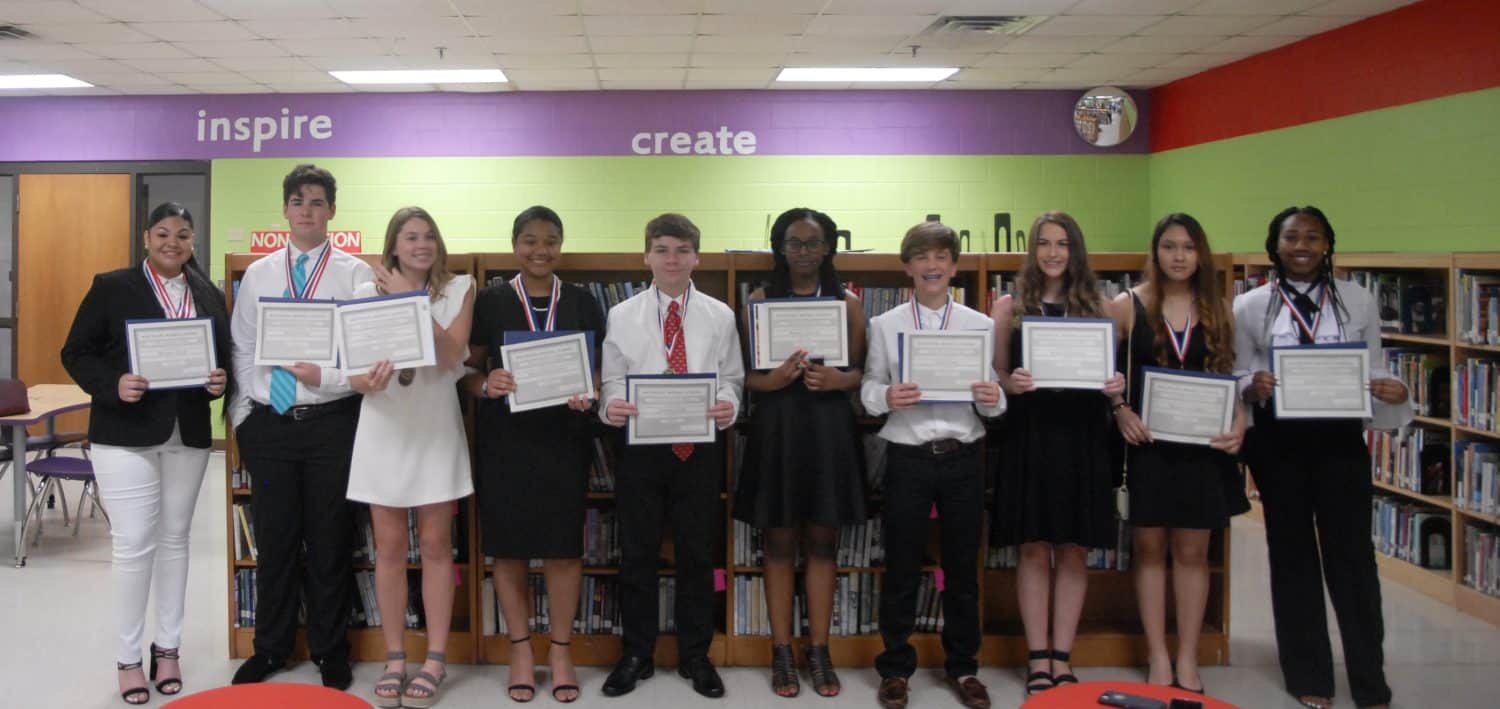 Earning Top Ten honors were #1-Brianna Tatum, #2-Reed Sullivan, #3-Molly Nichols, #4-Hailey Cunningham, #5-Cam Barr, #6-Rikkila Taylor, #7-Job Banks, #8-Karleigh Howard, #9-Marcela Sanchez, and #10-Kalyce Mitchell.
Rikkila Taylor received an award from the local chapter of the Daughters of the American Revolution. Also honored were five students who earned first honor roll the entire school year: Hailey Cunningham, Karleigh Howard, Molly Nichols, Reed Sullivan, and Brianna Tatum; and 33 students who made second honor roll all year: Alex Baird, Jeb Banks, Cam Barr, Abbey Berry, Deairrah Bond, McKasia Brantley, Grace Cavitt, Tylon Chatman, Brianna Currie, Addison Doyle, Ashton Doyle, Ashly Goff, Marliss Gray, Brison Green, James Haley, Kayleigh Hayes, Jadid Hernandez-Banos, Latia Hines, Katherine Jackson, Sadaja Jeter, Avery King, Nakiyah Love, Brooklyn Muex, Detavious Musgrade, Joshua Norfolk, Jamari Person, Tyler Poole, Travica Pugh, Marcela Sanchez, Kara Shutes, George Stewart, Emilee Stowe, and Rikkila Taylor.
Receiving promotion certificates were Timtavious Allen, *Alexandra Baird, *Leighanna Baker, DaTaysia Ballard, Johnny Baltimore, *James Banks, Jadid Banos-Hernandez, *Cameron Barr, Haley Benard, *Laura Berry, Jaiden Bishop, Matthew Blaylock, Markeicia Bolton, Angelic Bond, Anterrion Bond, Antwain Bond, Deairrah Bond, *Elijah Bond, Lakyia Boyd, Christopher Branch Jr., Maliyah Brand, Mckasia Brantley, Shanya Brice, Kylan Brown, Raven Brown, Kirsten Burton, Grace Cavitt, Jaterrika Champion, Jamyla Chatman, Tylon Chatman, *Hadley Clagg, Shana Clark, Rania Cole, Shaniyah Craddieth, *Hailey Cunningham, Brianna Currie, Jaylon Currie, Tykia Currie, Kevion Davis, Jennyfer De Jesus-Rodriguez, Andrew Deck, *Cinyah Dotson, Aniya Douglas, Collin Douglas, Julien Douglas, Reginald Douglas, Addison Doyle, Ashton Doyle, Emarion Drake, Marquez Driver, Jacob Eichler, Dayton Elrod, Jeremy Enciso, Makhia Fason, William Ferguson, Lucas Fisher, Leah Flagg, Jeremiah Folks, Zachary Gallardo, Megan Garrison, Ledarrion Gause, Madison Giles, Ashly Goff, Shakyla Goff, Dyelin Grandberry, Maleah Gray, *Marliss Gray, Tiarria Gray, *Brison Green, Tyler Gross, Jaylen Guyton, *James Haley, Harleigh Halliburton, Markaria Harris, *Kayleigh Hayes, Jariyah Henderson, Anthony Hendrix, Seth Hensley, Latia Hines, Kayterious Holmes, Elijah Holt-Allen, Elvamobesta Houy, *Karleigh Howard, Mya Hughes, Katherine Jackson, Byron Jarrett, Calissa Jarrett, Jullian Jarrett, Nicholas Jarrett, *Sadaja Jeter, Jordan Johnson, Akilah Jones, Markayla Jones, Matthan Jones, Shalonda Jordan, Roberto Juarez Morales, Cynthia Kennedy, Avery King, Martashia King, Marlene Laguna, Christian Lawrence, Miller Lea, Tremayne Lee, Zordaisha Lewis, Jamal Liggins, Omarion Lloyd, Conner Lott, Nakiyah Love, Cierra Mack, Shylon Madyun, Kayla Mann, Lemortist Mann, Carlondus Marshall, Cornelius Mason, Mia McBride, Martasia McDaniel, Shauntazay McMurray, Harmony Michael, Emma Milton, *Kalyce Mitchell, Cortavious Morton, Brooklyn Muex, Jordan Mullins, Detavious Musgrave, Keshawn Musgrave, Keyonis Musgrave, Nathan Neal, *Megan Nichols, Jennifer Nieto, Joshua Norfolk, Omiah Odneal, Willie Parker, Austin Parnell, Jamari Person, Jacob Phillips, Naya Phillips, Eric Poole, *Tyler Poole, Ka'Nya Powell, *Travica Pugh, Jamarius Reed, Dayton Reid, Desirae Reid, De'Andra Robertson, Deaundria Robertson, Martasia Robertson, Ja'Marion Russell, *Marcela Sanchez, Ruben Sandoval, Akiyah Scott, Jesse Scott, Trey Scott, Jakhia Seaberry, Guadalupe Servin, Mekhi Seymour, Otis Shaw, Kara Shutes, Asia Silas, Makya Sims, Ajahre' Sloan, Ayden Sloan, Camrin Smith, Janiya Smith, Janerus Snipe, Jeremiah Somerville, Xavier Somerville, Kelsey Spencer, Jokeya Springfield, Kazadrian Springfield, Caleb Stephens, *George Stewart, *Emilee Stowe, Samaje' Sturdivant, *Reed Sullivan, Key'Wanna Taliaferro, Ja'Kyra Tate, *Brianna Tatum, A'nevia Taylor, Azaria Taylor, Carter Taylor, Kyler Taylor, Niyanti Taylor, *Rikkila Taylor, Shaniya Taylor, Pasiffiani Taylor-Welch, Cassidy Thomas, Janiyah Thomas, Kenneth Toliver, Ma'Kwayce Turner, Harzel Tyus, Jo'Niesha Tyus, Joe'Shon Tyus, Karzel Tyus, Maya Tyus, Corion Voss, Devian Walker, Kayla Walker, Patrick Walls, Skylar Walls, Taylor Warren, Emma-Lee Watson, William Watson, Trevor Williams, Deniya Wilson, Ja'Mya Woods, Jakarian Young, Grecia Zamudio.
                           *National Junior Beta Club Member-Gold Stoles