620 West Main Street
Brownsville, TN 38012
Phone: (731) 772-9053 Fax: (731) 772-4032
Resource Center: (731) 772-2330
Chris Haliburton

Principal
chris.haliburton@hcsk12.net
LINDA GILES SANDERS
Assistant Principal
linda.sanders@hcsk12.net
Linda Giles Sanders is a native of Haywood County. She is a graduate of Haywood County High School and earned an Associate degree from Jackson State Community College and a Bachelor of Science degree from The University of Tennessee at Martin. She has also done post graduate studies at Memphis State University and Union University. Mrs. Sanders' education tenure started in 1974, and she has experience as an elementary teacher and literacy coach.
Teresa RUssell
Instructional Coach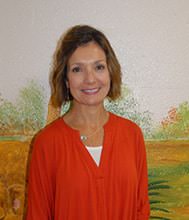 teresa.russell@hcsk12.net
Teresa Reece Russell is a native of Haywood County and attended Haywood County Schools K-12. She completed her Associates degree at Jackson State Community College, and her undergraduate work at the Lambuth University. She has her Master's degree in Supervision and Leadership from University of Memphis. Mrs. Russell began her teaching career as a kindergarten teacher in 1994 and has served in various roles throughout the district. She is excited to be back at Anderson with our youngest students. She is married to Dr. Tom Russell, IV and has three children. Madison and Dannon are both graduates of Haywood High School and Reid is a student at HHS.
_________________________________________________
Chris Haliburton, Principal
chris.haliburton@hcsk12.net
Linda Sanders, Assistant Principal
linda.sanders@hcsk12.net
Teresa Russell, Instructional Facilitator
teresa.russell@hcsk12.net
Dorothy Jackson, Counselor
dorothy.jackson@hcsk12.net
Mandy Stokely, Financial Secretary
mandy.stokely@hcsk12.net
Lorraine Wolfe, Secretary
lorraine.wolfe@hcsk12.net
Debra Phillips, Family Resource Center
debra.phillips@hcsk12.net
Zhanebria Henderson, Save the Children Coordinator
zhanebria.henderson@hcsk12.net
Tina Luster, Save the Children 
tina.luster@hcsk12.net
Hannah Wakefield, ESL
hannah.wakefield@hcsk12.net
Charlie Miller, SRO 
charlie.miller@hcsk12.net
Pre-Kindergarten
Allison Ferrell
allison.ferrell@hcsk12.net
Laurel Garrett
laurel.garrett@hcsk12.net
Jamaica Kirby
jamaica.bond@hcsk12.net
Tonya Madere
tonya.madere@hcsk12.net
Krista Parker
krista.parker@hcsk12.net
Leslie Phillips
leslie.phillips@hcsk12.net
Pam Thomason
pam.thomason@hcsk12.net
Ariell White
ariell.white@hcsk12.net
Angela Yoder
angela.yoder@hcsk12.net
KINDERGARTEN
T. J Crutchfield
tj.crutchfield@hcsk12.net
Lauren Ellington
lauren.ellington@hcsk12.net
Brittany Ferrell
brittany.ferrell@hcsk12.net
Crystal Foster
crystal.foster@hcsk12.net
Kathryn Hassell
kathryn.hassell@hcsk12.net 
Denise Hooser
denise.hooser@hcsk12.net
Makinna Moore
makinna.moore@hcsk12.net
Tracy Riddle
tracy.riddle@hcsk12.net

Denise Shead
denise.shead@hcsk12.net
Jessie Warren
jessie.warren@hcsk12.net
Cheri Williams
cheri.williams@hcsk12.net
Heather Wood
heather.wood@hcsk12.net

Special education
Rebecca Briley, Inclusion
rebecca.pearson@hcsk12.net
Beverly Grimes, Speech
beverly.grimes@hcsk12.net

Connie Allen, LRE
connie.allen@hcsk12.net
Tera Stephens, Blended Classroom
tera.stephens@hcsk12.net
Tianna Wiley, Blended Classroom
tianna.wiley@hcsk12.net
Auxiliary
Ginger Cunningham, Music
ginger.cunningham@hcsk12.net
Nicole Henderson, STEM Lab
nicole.henderson@hcsk12.net
Amanda Masters, PE 
amanda.masters@hcsk12.net
Carleigh Taylor, Library
carleigh.taylor@hcsk12.net
Beth Ann Smith, Art
bethann.smith@hcsk12.net
Educational Assistants
Taniel Armour-Scott
taniel.armour-scott@hcsk12.net
Tiffany Austin
tiffany.austin@hcsk12.net
Gwen Brown
gwen.brown@hcsk12.net
Donna Byrum 
donna.byrum@hcsk12.net
Kim Conner
kim.conner@hcsk12.net
Ralanda Currie
ralanda.currie@hcsk12.net
Bianca Dickens
bianca.dickens@hcsk12.net
Mickie Duncan
mickie.duncan@hcsk12.net
Shannon Glover
shannon.glover@hcsk12.net
Jenna Hassell
jenna.hassell@hcsk12.net
Christy Henderson
christy.henderson@hcsk12.net
Cuwannia Kent
cuwannia.kent@hcsk12.net
Virginia Kimble
virginia.kimble@hcsk12.net
Christine Kinnon
christine.kinnon@hcsk12.net
Tina Leek
tina.leek@hcsk12.net
Angela Palmer 
angela.palmer@hcsk12.net
Tucker Smith
tucker.smith@hcsk12.net
Telisa Springfield
telisa.springfield@hcsk12.net
Tameka Taylor
tameka.taylor@hcsk12.net
Latoya Tyus
latoya.tyus@hcsk12.net
Caroline Wiley
caroline.wiley@hcsk12.net
Kasie Young
kasie.young@hcsk12.net
Nurses
Gwen Isabel
Kiswaniah Shaw
Custodians
Aleta Bradford
Phillip Bradford
Dakisha Watkins
Foster Grannies
Anna Lewis
Lavergne Pruitt
Rebecca Shaw
Henrietta Singleton
Sarah Taylor
Anderson Cafeteria Staff
Janie Leach, Cafeteria Manager
janie.leach@hcsk12.net
Felicia Jarrett, Assistant Manager
felicia.jarrett@hcsk12.net
Takelia Griggs, Staff
Peggy Hinsley, Staff
Chris Taylor. Staff