Haywood Middle School
1201 Haralson
Brownsville, TN 38012
Phone:
(731) 772-3265
Fax:
(731) 772-3352
Administration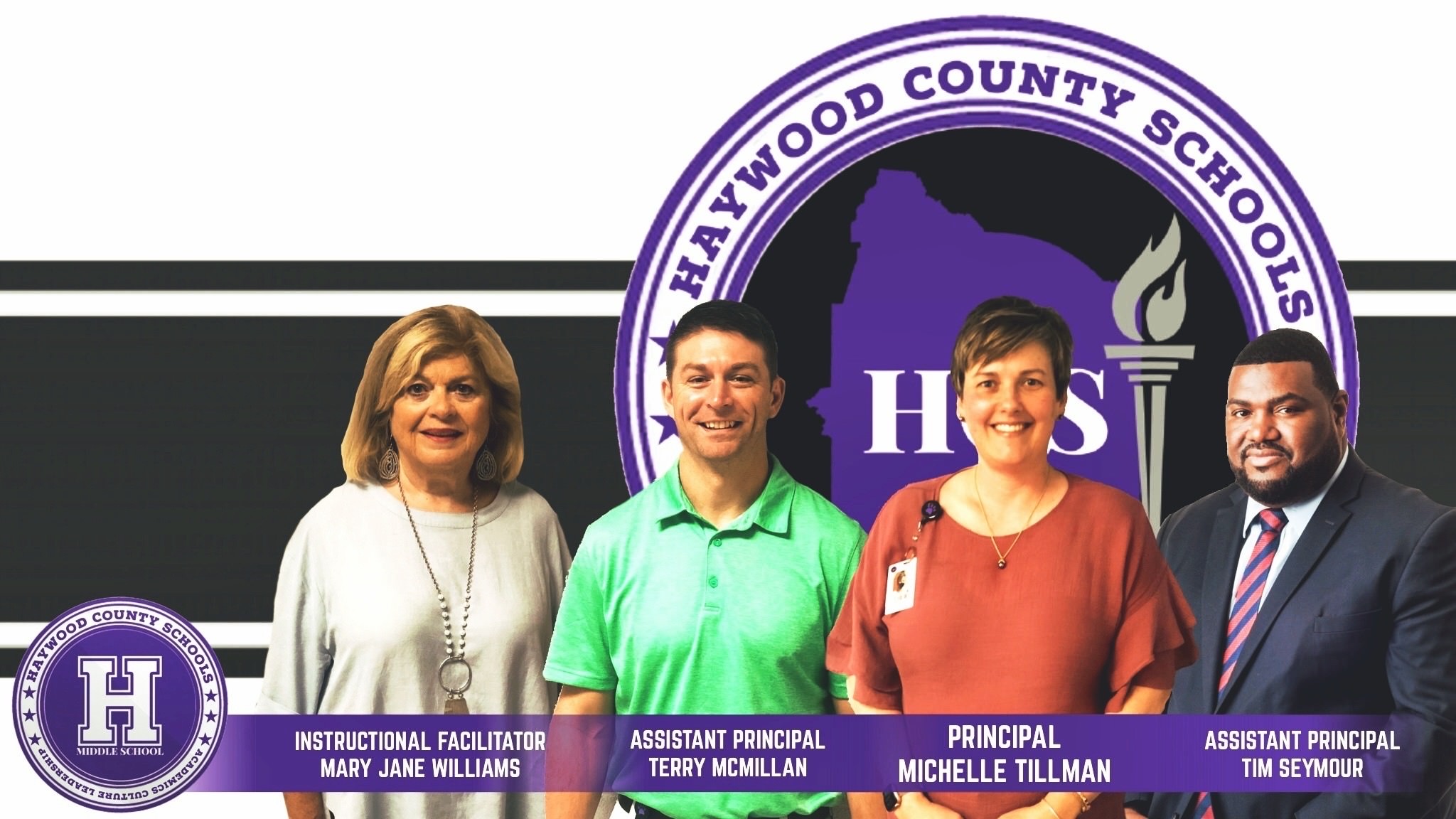 Michelle Tillman
Principal
michelle.tillman@hcsk12.net
Michelle Tillman will begin her fourth year as principal of Haywood Middle School. Michelle began her teaching career in 1994 and started her tenure with Haywood County Schools as the Choral Director at HHS in 2001. Ms. Tillman served as HHS CTE Director from 2009-2010 and Vice-Principal from 2010-2014. From 2014-2018 she served as an Instructional Supervisor for HCS as well as the Read to be Ready Coach for grades K-2. Michelle and her husband Sammy have lived in Brownsville for over 20 years, with both of their children graduating from Haywood High School and both have careers in education.
Tim Seymour
Assistant Principal
tim.seymour@hcsk12.net 
Tim Seymour will begin his fourth year as assistant principal for Haywood Middle School.  Coach Seymour is a native of Haywood County and a graduate of Haywood High. He started his teaching career in 2001 and became the first African American head football coach at Haywood High.  Seymour has also served in several leadership roles including: ALC Coordinator 2011, Haywood High School Assistant Principal 2012-2017, and Haywood Middle School Assistant Principal 2018-present. He also currently serves as the Haywood County School Director of Athletics. Seymour values cultivating strong relationship with students and teachers. He is married to Alisa Seymour.
Terry mcmillan
Assistant Principal
terry.mcmillan@hcsk12.net 
Terry McMillan will begin his second year as assistant principal at Haywood Middle School.  Mr. McMillan has been an educator since 2012, and he has served as a history teacher and coach in Harrison County, KY, Lauderdale County, Haywood County, and Tipton County.  In 2018-2019, Coach McMillan was a teacher and assistant football coach for Haywood High School. Mr. McMillan holds a B.S degree in secondary education from Union College and a Master's in Educational Leadership from Lipscomb University.  From 2006-2015, McMillan served in the Army National Guard where he was an infantry officer, platoon leader during Operation New Dawn at Joint Base Bald in Iraq, bronze star recipient, and an instructor for Army Officer candidate school.  Coach McMillan will also serve HMS in the role of middle school athletic director.  McMillan's wife, Hollie, is a middle school math/science teacher at Halls Jr. High School, and they have two children.  Coach McMillan is excited to return to Haywood County Schools to serve our Haywood Tomcats in 7th and 8th Grade.
Mary Jane Williams
Instructional Facilitator (120-Days)
maryjane.williams@hcsk12.net    
Mary Jane Williams will remain as a part-time Instructional Facilitator for Haywood Middle School in the 2021-2022 school year.  After graduating from Haywood County High School, she attended the University of Mississippi and graduated from Lambuth University with a Bachelor of Arts degree in music and education. She earned her Master's Degree in Curriculum and Instruction from the University of Memphis. Mrs. Williams taught music and English from 1973 – 1976 at Tennessee Academy. Beginning in 1987, she taught seventh and eighth grade English at Haywood Junior High until 2012 when she became the ELA Instructional Facilitator for Haywood Middle School. She serves as pianist at First Presbyterian Church in Brownsville.
---
Staff
ADMINISTRATION
Michelle Tillman, Principal
michelle.tillman@hcsk12.net
Tim Seymour, Assistant Principal
tim.seymour@hcsk12.net
Terry McMillan, Assistant Principal
terry.mcmillan@hcsk12.net
Mary Jane Williams, Instructional Facilitator 
maryjane.williams@hcsk12.net
Kelsey Mercer, School Counselor
kelsey.mercer@hcsk12.net
Lenora Oldham, School Social Worker
lenora.oldham@hcsk12.net
Georgia Robinson, Secretary
georgia.robinson@hcsk12.net
Christina Hernandez, Secretary
christina.hernandez@hcsk12.net
Mary Hernandez, Bookkeeper
mary.hernandez@hcsk12.net
Deborah Woods, School Nurse
deborah.woods@hcsk12.net
Nigel Peeples, SRO
nigel.peeples@hcsk12.net
7TH GRADE
Hannah Byrd, Math
hannah.byrd@hcsk12.net
Brandy Clement, Social Studies
brandy.clement@hcsk12.net
Cordell Comage, Science
cordell.comage@hcsk12.net
JoLyn Haynes, Science
jolyn.haynes@hcsk12.net
Sandra Humphreys, Math
sandra.humphreys@hcsk12.net
Chissolssi Jones, ELA
chissolssi.jones@hcsk12.net
Vernon Mann, Social Studies
vernon.mann@hcsk12.net
Michael Snyder, Social Studies
michael.snyder@hcsk12.net
Mallorie Taylor, Science
mallorie.taylor@hcsk12.net
8TH GRADE
Terii Cummins, Science
terii.cummins@hcsk12.net
Patsy Cobb, Math
patsy.cobb@hcsk12.net
Darrience Delk, Math
darrience.delk@hcsk12.net
Jack Dowdy, ELA
jack.dowdy@hcsk12.net
Rachel Dreyer, Math
rachel.dreyer@hcsk12.net
Brooke Holland, Science
brooke.holland@hcsk12.net
Tracy Ratliff, Social Studies
tracy.ratliff@hcsk12.net
Phillip Reaves, Social Studies
phillip.reaves@hcsk12.net
Emanyae Robertson, Science
emanyae.robertson@hcsk12.net
SPECIAL SERVICES
Patrick Bryant, Inclusion
patrick.bryant@hcsk12.net 
Jeff Comstock, Inclusion
jeff.comstock@hcsk12.net 
Jaclyn Eubanks, Prodigy
jaclyn.eubanks@hcsk12.net
Kerrick Owens, Inclusion
kerrick.owens@hcsk12.net
Charita Perry, Self-Contained
charita.adams@hcsk12.net
Flamesha Taylor, Inclusion
flamesha.taylor@hcsk12.com
AUXILIARY
Shelby Boggs, Music
shelby.boggs@hcsk12.net
Leah Brigham, Art
leah.brigham@hcsk12.net
Xavier Clay, P.E. 
xavier.clay@hcsk12.net
DeRaylz Claybon, Band
deraylz.claybon@hcsk12.net
Cindy Moore, STEM
cindy.moore@hcsk12.net
Cayla Sheets, P.E.
cayla.sheets@hcsk12.net
Gina Taylor, Library/Intervention
gina.taylor@hcsk12.net
EDUCATIONAL ASSISTANTS
Kimberly Bell 
kimberly.bell@hcsk12.net
Chante Campbell 
chante.campbell@hcsk12.net
Billie Jean Currie
billie.currie@hcsk12.net
JaDarius Hines-Cliff 
jadarius.hines@hcsk12.net
Claudette Shaw
claudette.shaw@hcsk12.net
Tyion Shaw
tyion.shaw@hcsk12.net
CAFETERIA
Brenda Parker, Manager
brenda.parker@hcsk12.net
Chris Chapman, Assistant Manager
Carolyn Cooper
Dianne Lanier
Isiah Shaw
Cresandra Springfield
CUSTODIAL
Richard Wellington
Kenneth Taylor
Carliska Tyus