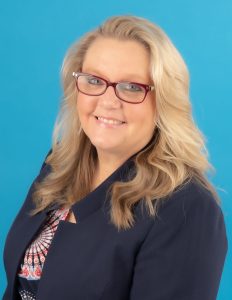 Mrs. Amie Marsh has served in public education for over 25 years. She was educated at the University of Memphis where she received both her bachelor's and master's degrees in education. Mrs. Marsh's career in education began as a teacher in legacy Shelby County Schools. Since that time, she has served as a district official for Student Services, an Assistant Principal at Shadowlawn Middle and Elmore Park Middle, and the Principal at both Millington Middle and Germantown Middle. Most recently, Mrs. Marsh served as the Assistant Superintendent of Curriculum & Instruction for Memphis-Shelby County Schools before transitioning to Haywood County Schools. 
Throughout her almost three decades in K-12 education, Mrs. Marsh has been recognized for her commitment to supporting educators and accelerating outcomes for students.  A few of her notable accomplishments include being: 
A two-time Shelby County Schools Principal of the Year Nominee

 

A two-time TVAAS Level 5 School at Germantown Middle School

 

A Tennessee Governor Reward School Recipient

 
Beyond the school-level, Mrs. Marsh has also had significant district-level experience developing and implementing curricula that directly contributed to Memphis-Shelby County Schools earning a Level 5 district status (2021-22) for the first time in over a decade. Additionally, Mrs. Marsh has completed the TSBA Prospective Superintendent Academy, AASA National Superintendents Academy, and the AASA Female Superintendents Academy as part of her commitment to lifelong learning.
OFFICE OF THE SUPERINTENDENT:
Amie Marsh, Superintendent
amie.marsh@hcsk12.net
Dr. Tracie Scott, Deputy Superintendent
tracie.scott@hcsk12.net
Dr. Brian Ingram, Chief of Communications
brian.ingram@hcsk12.net
Debbie Benard, Executive Administrative Assistant/Board Secretary
debbie.benard@hcsk12.net
To learn more about HTL University, click the link below:
The mission of Haywood County Schools, in partnership with families and community, is to ensure an engaging, respectful, and safe environment where all students are empowered with the knowledge and skills needed to pursue post-secondary opportunities.
The vision of Haywood County Schools is that all students, under the guidance of a passionate and qualified staff, will be equipped with the academic and social skills needed to be successful and productive citizens.