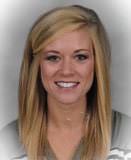 Ms. Brittany Avent started her position as the Director of Secondary and Career Technical Education at Haywood High School in the summer of 2018. She is a graduate of The University of Tennessee at Martin with a bachelor's degree in Agricultural Education. She holds her Master's Degree in educational leadership through Arkansas State University.
Ms. Avent is a native of Hardeman County and a Bolivar Central High School graduate. Prior to coming to Haywood County Schools, she taught Algebra I and II at Bolivar Central High School before becoming the agriculture educator at Ripley High School. She worked closely with students through her position serving as an Advisor for the National FFA Organization. In 2016, she was selected as Lauderdale County's Teacher of the Year and represented the Tennessee Association of Agriculture Educators as the National Teacher Turn the Key in 2017. Experiences in leadership positions over several years drives her passion for student learning in both core academic classes as well as Career Technical Education. Her commitment to public education and Haywood County Schools begins with strengthening partnerships within the local area. Her focus is working with Tennessee College of Applied Sciences (TCAT) in the local area, increasing opportunities for students to obtain industry certifications and dual enrollment hours. Her passion is helping teachers transfer connections from core academic concepts to student's applying that knowledge in Career Technical Education, while reinforcing reading and writing.
Haywood High School's goal is to provide training and career preparedness for students to tackle the world that is around them. Our new programs in Advanced Manufacturing, Marketing, Networking, and Nursing, prepare students for career choices that are available now and in the near future. Labor Market statistics in Haywood County are monitored to plan for programs in the future at HHS. Haywood High School encourages all students to attend a post-secondary institution for training and to pursue a certification and/or degree. We just want to make sure that our students are prepared to meet their competition.
Many students realize their career choice while taking courses in the CTE programs; others receive valuable training and information that allows them choices for the career. Our purpose for Haywood High School Career Technical Education is to work with industry partners in aligning programs and certifications to local labor market data. In order to prepare our students for robust career exploration and hands on experiences, Haywood High School offers a variety of Career Technical Education courses that include
Advanced Manufacturing

Industrial Maintenance

Completion of TCAT Industrial Maintenance Apprentice Certificate
Industry Certifications: OSHA-10, Certified Production Technician

Agriculture, Food and Natural Resource

Agriculture Engineering, Agribusiness, and Horticulture

Industry Certifications: OSHA-10

Business Management & Administration

Office Management

Industry certifications: Microsoft Office Specialist – Word, PowerPoint, Excel

Education & Training

Teaching as a Profession, Early Childhood Education Careers

Post-secondary partnerships: UTM, JSCC

Finance

Accounting

Industry Certifications: QuickBooks

Health Science

Nursing Services, Sport and Human Performance

Industry Certifications: OSHA-10, Certified Nursing Assistant (CNA)

Hospitality and Tourism

Culinary Arts

Industry Certifications: ServSafe Food Handler

Information Technology

Coding

Industry Certifications: JavaScript

Law, Public Safety, Corrections, & Safety