"A dog is a man's best friend" is a common saying that most everyone has heard at one time or another, but in Haywood County Schools a dog can also be a student's best friend during the school day.
If you were to walk into Haywood Elementary School (HES) or East Side Elementary School (ESE), you might be lucky enough to be greeted by River, the schools' therapy dogs.  As to not confuse anyone (or to confuse everyone), both dogs are named River.  
Therapy dogs are dogs who are specifically trained to provide comfort, affection, and support to people who may need it.  Therapy dogs have been used in hospitals, nursing homes, and even with soldiers suffering from PTSD.  In HCS, their effect has been very positive on the students who interact with them.
Stacie Carlton and Kayla Dennis are the respective owners of the therapy dogs at each school, and their classrooms are where the Rivers spend most of their day.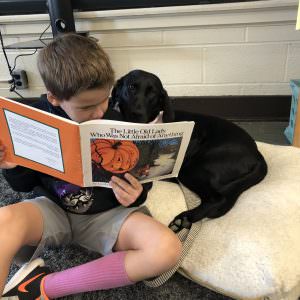 "River stays in my room and also at my house, so I bring her back and forth everyday," Stacie said.  "She was a dog who would not hunt.  The suggestion for a good therapy dog was a lab who had already been trained, and River had been, but she didn't make the cut to be a hunting dog."
Stacie brought up the idea of having a therapy dog to HES principal, Anna Roberts.  Anna didn't hesitate to say yes.  
"When Stacie came to me about having a therapy dog, we went to Dyersburg and saw therapy dogs in action in schools.  We decided it was a good idea to try at Haywood Elementary School,"  Anna said.
It didn't take long for them to see the benefits, and those benefits even stretched beyond the realm of behavioral and emotional support.
"I've honestly seen the cognitive benefits for our students in my classroom with River.  At first, I thought she'd just be an emotional and behavioral support, but we've seen how she can build trust between students,"  Stacie said.  "Even while I'm teaching, she'll come and sit with the students while they're on the carpet and the students can pet her.  They know, though, that they always have to have their eyes on me.  We go over the procedures every year."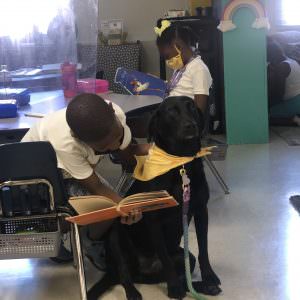 Understanding procedures is vital for both learning and behavior management in an elementary school.  Procedures are especially important when it comes to smaller children interacting with a dog in the classroom.  Anna explained the process for communicating the expectations to the students.
"We have assemblies every year to introduce River and explain the rules and procedures for how to interact with River," she said.
When students at HES move to East Side Elementary after their first grade year, there will be some continuity and familiarity in the transition because, once again, the students will have access to a therapy dog named River.
Even though the dogs share a name, that's where the similarities end.  
River at HES is a sleek, black Labrador retriever whose demeanor is calm and stoic at times.  River at ESE, on the other hand, is a semi-hyper, golden labradoodle who sometimes likes to carry her own leash in her mouth.  Despite their differences, though, each of these dogs are part of a positive school experience for students at both schools.  
Kayla Dennis is River's owner and has seen the difference River has made with students at ESE.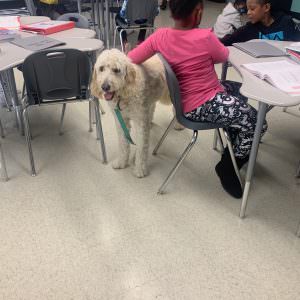 "River's just part of the school…she's part of our class.  She does a little bit of everyday life and everyday learning with us.  She teaches the students responsibility and patience and helps them be more trusting," Kayla said.
ESE Principal Tressy Halbrook has also seen the effect River has had on the school as a whole, specifically with students who may need a little extra support during the day.
"We're very strategic about the students we put with River.  We know that River provides security and comfort for certain students.  There's a really strong bond that's been built," Tressy said.  
One of the biggest benefits Kayla has observed by having River in her classroom is how much more comfortable the students feel interacting with other students and interacting with the work, as well.  
"When we start small groups or peer tutoring, some kids are shy and hesitant to interact with other kids.  But River will come and sit in the groups and the kids who are shy suddenly don't seem as shy anymore," she explained.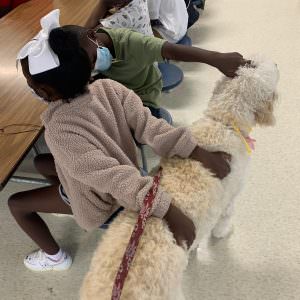 Both Rivers bring smiles to the faces of the students and teachers at each school.  More importantly, though, they help students who may need a little extra comfort during the school day.