Adapt and Adjust – Jamari Person
There are many qualities that are necessary to be a successful person – a strong work ethic, integrity, discipline, and persistence to name a few.  At the top of that list, however, could be the ability to adapt and adjust to any situation.  Without skills of adaptation, the slightest change in routine or schedule could limit a person's potential for success.  Adjusting to change is not an easy task, and one that can overwhelm a lot of people.
Haywood Tomcat wide receiver Jamari Person knows all about adjustments and had to adjust to a significant change at a very important period in his life.
When Jamari was in the eighth grade, he and his mom moved to Brownsville to be closer to family.  For most students, the middle school years are tough enough without having to move to a new school and a new town, but Jamari was tasked with having to adapt to a new city, a new school, and new classmates as a teenager.  And, like he does on the football field every Friday night, he wove his way through some initial obstacles to find himself set up for success.
As a young boy in Nashville, Jamari did what a lot of young, energetic kids do: play backyard football.  For Jamari, though, he had someone a little older and a little bigger who taught him lessons in the School of Hard Knocks.
"I started playing football in the backyard as a kid.  My older brother taught me everything – playing ball with me, roughing me up," Jamari recalled, laughing.  "I always had a ball in my hand since I was a baby. I always knew I'd be into sports, and had a lot of energy growing up."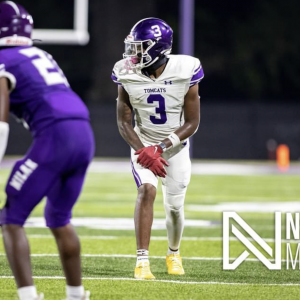 Like most young athletes, Jamari's games in the backyard evolved to a more organized structure in youth leagues.  And, like most athletes of Jamari's caliber, the coaches started positioning him in places where the ball would be in his hands…but not until after a short stint on the defensive side of the ball.
"When I was younger, I played every position.  I started off as a defensive end, but one day after practice I was running around and making guys miss and my coaches started putting me on offense – running back, quarterback, receiver," he recalled.
At some point, however, Jamari's playing days in the youth leagues ended, and when he and his mom moved to Brownsville, Jamari focused on basketball.  
For several years, Jamari didn't set foot on a football field, but those backyard games still seemed to be calling his name.  And, like those early years in Nashville with his brother playing ball with him and teaching him those lessons of athletics, Jamari was once again playing pickup football with high-caliber athletes but this time in Brownsville. 
"I always had a love for football; it never left.  I used to go out and play pickup football games in the neighborhood in Brownsville.  I was going up against guys like Jaylen Lewis who are playing Division I football right now.  The guys I was playing with kept encouraging me to come play football, so I finally did," he said.
The Haywood Tomcat football program isn't your run-of-the-mill program.  The Tomcats aren't a team who would ever be satisfied with a 6-4 season or simply earning a spot in the play-offs.  Coach Chris Smith and his staff have built a program in Haywood County that rarely loses and always makes a deep run in the postseason.  Even for an athlete of Jamari's capability, being dropped into a successful football program like Haywood County would be a huge adjustment…but, of course, Jamari had experience in adapting and adjusting to challenging situations.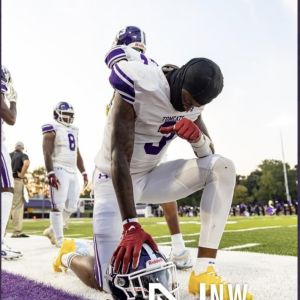 Jamari saw how Tomcat players were finding success on the field and in the classroom and parlaying that success into collegiate careers in Division I football at schools like Arkansas, Tennessee, and Florida State.  Jamari knew it would take work, but he also trusted the coaching staff and his own ability to find success.
"I saw how Coach Chris Smith and Coach (Logan) Rebstock were sending players to college, and I always wanted to go to college.  I know that if I'm going to go to college, it'll have to be for free, so I came back to the sport last year, which was my junior year," Jamari recalled.  "It definitely took some time to get used to playing football again.  For the first few weeks and months, they all kept calling me 'the basketball guy'.  I had to get used to the physicality, but I was prepared for it.  I knew what I was walking into."
After getting the cobwebs knocked out and dusting himself off after some big hits, Jamari was ready to fully commit to whatever was ahead for him on the field. He knew the learning curve would be steep, but he also knew that his ability and the advice of his coaches would take care of any peripheral concerns he might have about coming back to a game that he had always loved.
"I bought in on the first day.  I trusted my coaches completely because I saw what they did with Darrion Williamson and Jaylen Lewis. This program has produced some big-time players who have gone on to play college ball, so I listened to everything the coaches told me to do and I've tried my best to do it," he said.  "I knew I could make plays, so that's what I tried to do – just went to practice everyday and didn't say much and let my play on the field speak for itself."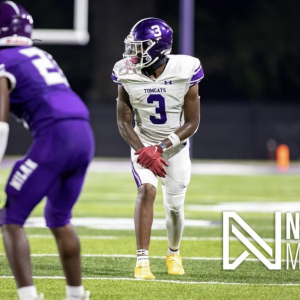 After a successful junior year where Jamari helped the Tomcats to an undefeated regular season, he currently finds himself halfway through his senior season where the Tomcats are once again undefeated.  He looks back at his growth over the last year and realizes that he has learned so much more about the game and how crucial the mental aspect of playing football is if success is to be attained on the field.
"I feel like I'm a quick learner, but I also know I'm still in the early stages of learning the game.  I feel like I've grown a lot since this time last year, but I know I've got a long way to go," he said. "I've learned how to read a defense pre-snap; I've learned how to get off a defender if they're pressing me on the line of scrimmage.  I've learned a lot more about the mental aspect of the game this year."
Along with his growth as a wide receiver, Jamari is also getting more attention from big colleges.  Along with that attention from colleges, though, he's also garnering a lot more attention from opposing defenses.
"Last year, Jaylen Lewis got a lot of attention from defenses, so I saw a lot of one-on-one coverage.  This year, though, I'm seeing a lot of off-man or off-doubling.  If they're (the defense) down pressing, I know they'll double over the top," he said.
Once again, Jamari is having to adjust, but this time it's not adjusting to a new town or adjusting to the physicality of football.  Now, it's about adjusting to how defenses play coverage against him.  Like everything else for Jamari, he's found a way to adapt to this challenge – by studying some of the great players who play the same position he does.
"I loved watching the receivers from Ohio State – Garret Wilson, Chris Olave, Marvin Harrison, Jr.  Those guys are so smooth," he said.  "My favorite receiver, though, has always been Odell Beckham Jr.  Ever since he was at LSU, I've loved watching him play."
One player, however, stands out to Jamari when it comes to diving deep into the fundamentals of the position.
"The guy I study the most is Davante Adams.  I feel he's a lot like me – good size, good hands. He's not the fastest in the league, but he knows how to get open and make plays.  I really study him a lot," Jamari said.  "Route running is so important.  I'm trying to show colleges that I'm a great route runner even though I'm a bigger receiver."
While football can often be unfairly viewed as a sport that is built more on physical brutality and less on gracefulness, the best players in the game are great at both.  Jamari is learning that getting open on the field requires much more than speed and strength; it also requires grace and deception.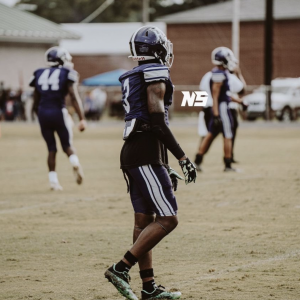 "Foot work is so important when it comes to route running and getting open. Defensive backs are getting better and better.  They're getting more physical and disrupting timing a lot more, so a receiver has to use their feet to deceive that DB and I've got to make them think I'm running one direction when I'm really about to do the opposite," he said. "You can't just be able to run past a guy now."
The position of wide receiver is also wholly dependent on another position on the field: quarterback.  A receiver can be the fastest on the field, have the quickest feet, and the most explosive burst off the line of scrimmage, but if he doesn't have a quarterback who can throw him the ball, all of that skill and ability is for nothing.  Luckily for Jamari, he has a quarterback in Cordero Walker who can get him the ball.  Jamari also recognizes the importance of the relationship off the field.
"Cordero and I worked together a lot during the off-season because we knew this year was going to be a big year.  We've been building that chemistry and we worked on making some checks at the line of scrimmage," he said.
For a quarterback and receiver operating at the highest level, there are often many unspoken communications throughout a game – a hand motion this way, a head nod that way.  There could be eye contact between the two players that instantly communicates a message that no one else sees.  Cordero and Jamari had a play against Melrose this season that showed how important that communication is and how much they've learned from their coaches about reading defenses.
"Last game against Melrose, we made a check at the line because of something we saw in the defense.  They had been stuffing the run, and we saw the positioning of the defensive back and called a pass play at the line of scrimmage and scored a touchdown on it.  It felt great to do that because that's the mental part of the practice paying off in a game," Jamari recalled, smiling.  "Coach Smith was smiling and shaking his head, but I could tell that he was proud of us, too."
As the Tomcats continue to roll through another dominant regular season, and Jamari continues to rack up yards and touchdowns, a lot of big colleges are taking notice of the 6'2, 185 pound receiver.  He has size, speed, and skill and is only halfway through his second season of high school football.  His ceiling is seemingly infinite.  
With all of that success and attention, though, Jamari understands what his priorities are.
"The way I keep myself grounded is just reminding myself to be a kid.  The attention is great and the spotlight is great, but I'm well-raised.  I try to keep the main thing the main thing.  I know what goals I have and I know what's important to me, so I'm just trying to be a kid and have fun playing ball.  I also know that school work comes before anything else.  I wouldn't be able to be out there running routes or playing ball if my grades weren't where they needed to be," he said.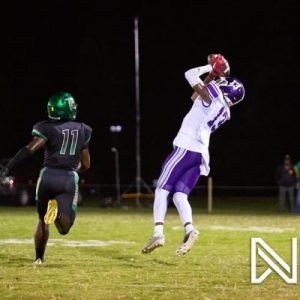 One thing Jamari failed to mention – and it's something he may not yet realize about himself – is that he's once again adapting and adjusting as he weaves his way through obstacles to find success on the other side. He has the talent to be great on the field and the mindset to find fulfillment off it. He knows what his priorities are and has the experience to navigate through whatever lies ahead.
"I think about school and football all the time.  If I'm not thinking about one or the other, I'm probably asleep."