Allyson Byrum – HHS Teacher of the Year
Six years ago, an article was published in The Atlantic that compared teaching to performance art. In fact, the article was even more specific and drew parallel lines between the act of teaching and an on stage performance. The article opened with this paragraph:
Education, at its most engaging, is performance art. From the moment a teacher steps into the classroom, students look to him or her to set the tone and course of study for everyone, from the most enthusiastic to the most apathetic students. Even teachers who have moved away from the traditional lecture format, toward more learner autonomy-supportive approaches such as project-based and peer-to-peer learning, still need to engage students in the process, and serve as a vital conduit between learner and subject matter.
William Shakespeare once famously wrote, "All the world's a stage, and all the men and women merely players." For educators, though, the classroom is their stage and the students their audience. Every day – from August to May – teachers put on their costumes and try their hardest to engage their students.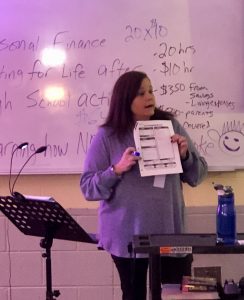 For Haywood High School Personal Finance teacher Allyson Byrum, becoming a performer in front of a class wasn't difficult at all. In fact, she had plenty of practice before she ever hopped on her classroom stage.
"Teaching literally fell in my lap. I graduated from Haywood High School in 1993 and went to UT Knoxville from there. I always loved theater and took some classes in college, but didn't really think I could make a career out of it, so I went into social work," she explained. "But during that time in my life, I wanted to do something different, something crazy. So, my best friend from college and I drove to Los Angeles with a U-Haul trailer on the back of our car."
For ten months, Allyson lived in Los Angeles and found some roles as an extra on television shows and even did some stand-up comedy. But the culture of Southern California was vastly different from Tennessee, and she longed for a slower pace. She eventually made her way back east, but came home with important experiences under her belt.
"I got my Screen Actors Guild card. I was an extra in some TV shows. I did some stand up comedy, but I just didn't like the culture of LA. It was too fast-paced. I had a college degree and was working at two-story Blockbuster Video. Something had to change," she said. "I came back home and got back into social work. Tom Morris was the superintendent of Haywood County Schools at the time, and he called me because the drama teacher at the high school was retiring and the school needed a replacement."
From the studios in LA to the theater classroom at Haywood High School, Allyson found herself back home again and in a profession that she never expected to find herself. Looking back now, though, she has no regrets.
"I think I was a little lost after I graduated college. I knew that I wanted to do something that kept me hands-on and involved and I knew I liked being around young adults. But when Tom Morris called, I didn't hesitate. I've loved it ever since," she said. "My first day of teaching I was terrified. I was used to being on a stage where you can't see your audience. It's way scarier when you can see them and they can see you."
After those initial butterflies subsided, Allyson found herself in a job that surprisingly wasn't completely different from acting.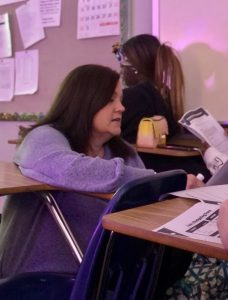 "I think, as teachers, we wear so many hats. We have to be so many different versions of ourselves. When I'm in front of my students, that's my performance. I'm delivering a message, but I get to choose how I deliver it. I am just a loud, goofy person. I jumped right into teaching and let my personality show. I was scared when I started, but when I get up there and teach I know my job is to be as excited about this lesson as I possibly can be," she explained.
For her first 16 years in education, Allyson felt at home teaching high school theater. She would direct and produce plays and at the end of each one, she would feel such a strong sense of pride in her students that she would be moved to tears.
"Every play I directed, I would cry at the end because I saw how much work went into the production. It's the same way when I see kids succeed in the classroom. I want to get to know them and see them succeed," she reflected.
After teaching theater for the majority of her educational career, Allyson transitioned to the Audio/Visual class for a few years before finding herself teaching Personal Finance. While one can see the logical connection moving from theater to A/V, Personal Finance seems like the subject that doesn't belong in this equation. Allyson, however, sees this class as one of the most important classes students will ever take at HHS.
"I remember the rude awakening I had as an adult, not knowing a lot about money management. It's even more crucial now, so I want our students to know everything they can about it before they enter the real world," she said.
Even though Personal Finance doesn't sound like a class where a lot of performance art takes place from behind the podium, Allyson finds ways to put her mark on how she teaches. Above anything else, however, she wants her students to grasp the importance of the subject matter she teaches. Not only does she realize the necessity of teaching money management skills, she also knows how important learning communication skills will be when it comes to future success for her students.
"I'm a big supporter of group based activities. Students have to learn how to work with others; they have to have communications skills. Group work is perfect for teaching that," she said. "For some students, face to face interaction can be challenging. Some students love it, though. That's why grouping with intention is important. You want to have a nice balance in the groups. Kids generally take their roles in that group naturally."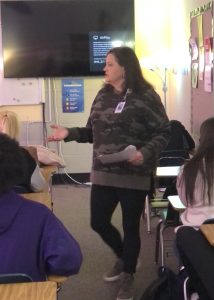 Not only does Allyson teach her students about finance and communication, but she also realizes how important it is to show students how much she cares for them. Allowing students to find that self-confidence and belief in themselves is also a cornerstone of her class.
"A big part of teaching is also building confidence in students and molding them into the adult they're going to be. At this school, every teacher I work with works so hard at this. We want our kids to be confident in themselves. We have to be mindful to show them when they succeed. I'm not going to let my kids fail my class. If they don't understand something, I'm going to work with them until they get it," she said.
In the end, being named Teacher of the Year at Haywood High School isn't about the subject matter for Allyson. She believes a great teacher is one who has to be engaged with students in the subject matter, but also take an interest in students' lives outside of the classroom.
"A good teacher has to show up mentally for the kids. On the days you're teaching, you have to be ready to take on whatever they're going to bring to us. We don't know what they've been through before they walk through our door. We're trying to give every student the individual attention they need," she said.
She knows that teaching isn't a job that only lasts from 8-3; it's a job that's part of who you are. And, while there may be some aspects of performance in front of the class, a great teacher is someone who can be their authentic selves in front of their students and invest in their school community.
"A good teacher doesn't just do the work from 8-3. Good teachers pitch in and help on committees, attend ball games, planning prom, whatever it is that adds to the culture of the school."