April School Board Meeting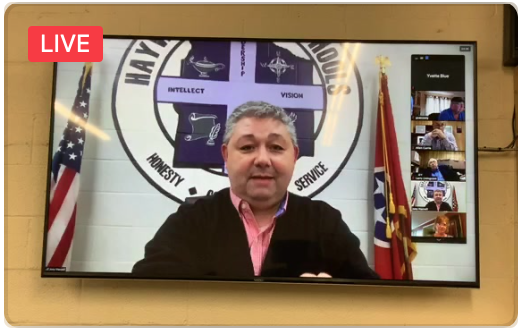 The Haywood County School Board joined the likes of many other official agencies by opting to hold their April school board meeting virtually via video conferencing on Thursday night, April 9. The meeting was livestreamed on the school system's Facebook page and archived on their YouTube channel.
During Thursday's meeting, the school board approved policy updates and additions to several policies: 3.204 Threat Assessment Team; 3.405 Commercial Advertising on School Buses; 4.302 Field Trips/Excursions/Competitions; 4.606 Graduation Activities; 1.8011 Emergency Closings; 1.8011.3 Employee Designations During Emergency Closure; and 5.1151 Telework During Emergencies.
The school board also voted to sell a 4.23-acre lot located on the former hospital property to Southwest Human Resource Agency for the purposes of building a new Head Start facility. The school system sold the property to SHRA for $1.
Three teachers were recommended for full tenure, having met all expectations related to tenure: Tera Stephens from Anderson, Tom Orr from Haywood Middle School and Vicki Deberry from Haywood High School. The school board unanimously approved all three.
The 2021-2022 School Calendar was accepted by the school board. Superintendent of Schools Joey Hassell allowed that though the calendar has been developed, no one really knows what might change due to the novel coronavirus. The calendar was approved with the understanding that "there might be guidance or expectations [from the state]" that require the calendar be changed.
Four teachers were awarded Spring Mini-Grants. Dorothy Jackson from Anderson Early Childhood Center received a grant for her project, Play Therapy, where students will use various types of toys, while incorporating literacy, to help them express themselves. Also from Anderson, Tracy Riddle received a grant for her project, Building Literacy and Citizenship, where while also utilizing literacy, Anderson students will engage in collaborative learning activities, engineering and problem-solving activities. Jaclyn Eubanks from East Side Intermediate was awarded a grant for her project, Go for the Green. This project will allow East Side students to engage in hands-on learning in their very own greenhouse. Finally, Sharon Clark from East Side applied for the grant with her project, Maker Space Mondays, where students will create a space where students can explore various parts of STEAM and create their own projects beyond their scheduled STEAM lab times.
Also approved at the school board meeting was Colhoun Scholarships – six will be given, as has been done in previous years – and various budget amendments.
Each of the schools' principals were given time during the Director's Report to address the board and share how their schools are operating during this time of school closures. Many praised their staff and teachers for their willingness to navigate this difficult time and do whatever necessary to reach their students at home and stay connected with their fellow teachers and administrators. "We're all working together and that has been a true blessing," commented Anna Roberts, principal of Haywood Elementary School. "Our staff are really stepping up," agreed Tressy Halbrook, principal of East Side Intermediate.
The next regular scheduled Board meeting is set for May 14.