April School Board meeting features Anderson choir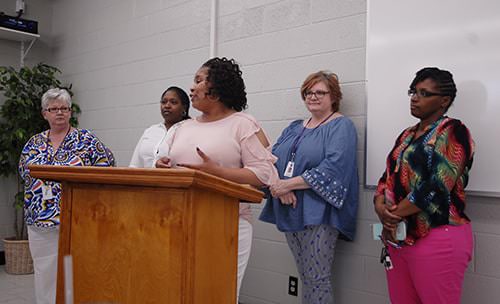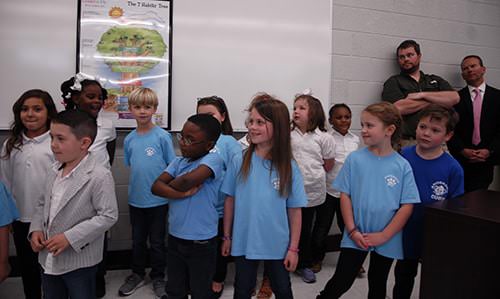 When the Haywood County School Board met in regular session on April 11, everyone was treated to a short concert performed by the newly formed Anderson Choir. They also heard from several East Side teachers about curriculum, and approved a number of out-of-town trips for students. They learned about Spring mini grants recipients, and discussed several other matters, including news about the former Haywood Park Hospital building.
Superintendent Joey Hassell told the board that he and County Attorney Michael Banks had a conversation with Community Health Systems representatives and were told that the hospital corporation may consider deeding the hospital building and property to Haywood County Schools. Superintendent Hassell said that while this is a result of a preliminary meeting, he and others from the schools have inspected the building and found it to be in good condition. He said they are considering partnering with several colleges that will bring college classes to the building and make them available and convenient to local and area students. He said they have also discussed other uses for the building.
Board members approved two of three policy changes on second reading at the meeting: #1.803 – Tobacco-Free Schools and #4.603 – Promotion and Retention. Policy #4.209 – Alternative Credit Options, a new policy, will be addressed at a later date.
The Board approved six groups of students to attend a variety of activities in Tennessee and several other states:
GEAR UP – 14 students and three adults to the GEAR UP TN summit at Austin Peay State University – June 12-14
DECA – Six students to the DECA Career Development Conference in Orlando, Florida – April 26-30
HHS Lady Tomcats – Basketball camps in Missouri – June 19-22
HHS Football Cheerleading Squad and sponsors – Panama City, Florida – June 9-13
AFJROTC – Action trips to Little Rock, Arkansas, and Huntsville, Alabama – May 4-5
HOSA – Eight students and teacher, International Leadership Conference, Orlando, Florida – June 18-23
In other business, they also approved 10 mini grants to be given to teachers:
Dumanic Patterson, band teacher at HHS – four Keyboards – student recital;
Callie Coats, agriculture teacher at HHS – Vermicomposting – the process of using red worms to accomplish what traditional composting does, but on a much faster time frame;
Patrice Boyd – HHS English teacher – purchase of 4 RCA Voyager 7'16GD tablets to promote literacy;
Tonya Madere – PreK teacher at Anderson – Construction Site and Simple Machines Block Center students can use to explore shapes, develop both gross and fine motor skills and learn about being community helpers;
Nicole Henderson – kindergarten teacher at Anderson – to purchase a one-year subscription to BrainPop, Jr – website that creates animated curriculum aligned to state standards;
Sally Rogers – Speech teacher at Anderson – Everyday Speech and Language, with Everyday Technology – purchase an Apple iPad mini 2;
Marty Todd – Art teacher at East Side – Pinch Pot Planters – students learn how to make real flower pots with model magic clay, then plant flower seeds in the pots to learn from class discussion about the functions of a plant, including photosynthesis;
Amanda Gaines – East Side 4th Grade teacher – Butterfly Rearing – This activity provides 72 fourth-grade students an opportunity in Butterfly Rearing;
Samantha Sammons – STEAM Lab teacher at Haywood Elementary – will purchase one Newton's Cradle Model, five world's Simplest Motor, 24 prepared slides andthree Katamnio Family Games for station activities to reinforce electricity lessons;
Brittany Pittman –Instructional Facilitator at Haywood Elementary – Leader in Me Literacy – will purchase The LIM 7 Habits Happy Kids: Habits 1-7 book sets – these will allow students to learn the importance about being themselves, planning ahead, staying organized, finding their strengths, listening, working together, and valuing friendship.
Superintendent Hassell asked for approval for students to be dismissed ½ day on Friday, May 10, for teacher/staff appreciation day. He also asked board members to approve the renewal of the lawn care contract with Wright's Lawn Care and Landscaping for another two years at $61,320 per year, the same as last year. Both of these requests were approved.
At the March meeting, Superintendent Hassell and Board members agreed to bring custodial services in-house for the 2019-2020 school year. At the April meeting, they approved the number of full/part time custodial employees they will hire. They also approved the opening of a bid for custodial equipment. Jeremiah Cavitt, Executive Director of Operations and Special Projects, received approval to sell the surplus items on a list he submitted.
Board members agreed to give six $2,000 scholarships from the Colhoun Scholarship fund to seniors of the Class of 2019. Olivia Farrington and Greg Vanstory are the board members on this committee and they will work with the HHS Guidance Department to select the students who will be selected to receive these scholarships.
Business and Finance Department Director Larry Livingston reviewed the budget amendments for board members and they approved them.
The next Haywood County Board of Education meeting will be held May 9.