Asia Silas – Senior Takes Advantage of Post-Secondary Options
Any successful organization has a core set of goals and values that guide the decision making process. For Haywood County Schools and Haywood High School, a top priority is ensuring that students have access to various post-secondary opportunities while still in high school. Whether that's AP access for all, multiple dual-credit and dual-enrollment options, numerous Career/Technical pathways, or the JROTC program, students at HHS have a plethora of opportunities to choose from when it comes to pursuing post-secondary success.
It's one thing to see those options displayed on a PowerPoint or a brochure, but when a student is able to take advantage of those opportunities and personify how those opportunities can give that students a head start in their post-secondary life, well, that's the best kind of story to tell.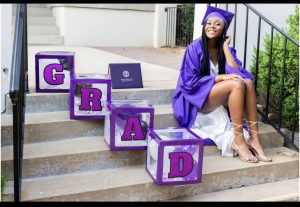 Asia Silas is nearing the finish line of her high school career. While many people can reasonably see high school graduation as the conclusion of a chapter, it's actually the opening of a door that can lead to endless possibilities. That's how Asia views it at least.
"This year went by so fast; I only have a little bit of time left until I graduate," she said. "I'm excited and nervous, but I'm not sad because there's more to come afterwards."
In Asia's case, there's A LOT more to come after graduation.
As Asia looks beyond her May graduation date, she sees a future that was beginning to be built four years ago during her freshman year at HHS.
"I've been in Air Force Junior ROTC since I was a freshman," she recalled. "Starting out, I honestly took ROTC as a way of not having to take as many classes. My brother – who was also in ROTC – encouraged me to take it, too. I ended up falling in love with the program because of the mentors I've had in it."
The JROTC program is a military-themed character development program offered to help high school students develop their capacity for citizenship, leadership, character building and service to the community. Through this program, Asia also gained unique insight into the workings of the military and was also able to earn Early PostSecondary Credits (EPSO's) that helped her land a higher pay grade when she enlisted in the military.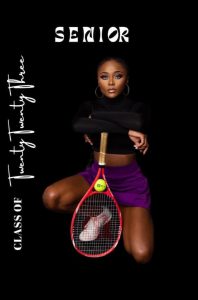 "Because I was in JROTC for four years, I earned EPSO credits – the longer you're in the program, the higher ranking you'll have when you start in the military. A higher ranking also means higher pay," she said. "I just enlisted in the military recently and entered as a Private First Class at an E-3 pay grade."
More importantly, enlisting in the National Guard will allow Asia to attend the University of Tennessee at Chattanooga for free once she completes her training.  Not only will Asia complete the basic training aspect of the National Guard, but she will also earn her EMT certification during the process which will lead to her program of study at UTC.
"I'll graduate in May, and eleven days after that I'll start my National Guard training in Oklahoma.  I'll be there for three months and then move to Fort Sam Houston in Texas and complete my job training there. I'll be finished December 7, 2023 with basic training and have my certifications. More importantly, I'll have my college paid for by the military," she said. "In January of 2024, I plan to enroll in the University of Tennessee-Chattanooga and major in Nursing and eventually become an Anesthesiologist."
Along with being enrolled in the JROTC program since her freshman year, Asia has also taken advantage of the Health Science pathway at HHS. Through this pathway, she has been able to earn her Certified Nursing Assistant certification and will be taking Phlebotomy her last semester of high school. Being able to earn EPSO's in Health Science classes directly connects to her future goals beyond college.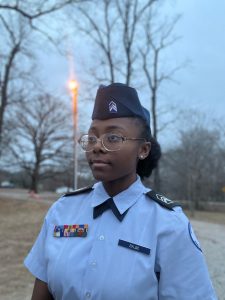 "I've been taking Health Science courses at HHS since my freshman year. My classes got switched up a little bit, but right now I'm taking my CNA course and have the certification test this week. Next semester, I'll take Phlebotomy and hopefully earn my Phlebotomist certification ,too," she explained.
As if Asia's future plans and high school career weren't enough to celebrate, she recently was chosen as an alternate to participate in the Flight Academy. 
The Flight Academy is a Chief of Staff of the Air Force scholarship and was created to address the national pilot shortage and allows students selected to the program to earn their private pilot's license for free.  
The purpose of the Flight Academy is to provide an opportunity for selected cadets to earn their Private Pilot Certification (PPC) while simultaneously increasing an interest in aviation. In addition to earning their PPC, cadets will also earn college credit. 
Because Asia found so much success in high school and the JROTC program, her JROTC instructor, Major Delores Dailey, recommended Asia for the program.
"I had to fill out an application and have my fitness score in a certain range. The process was tedious, but being accepted is a tremendous honor," Asia said. "Major Dailey really wanted me to apply for it, so I checked it out. She sent a recommendation letter on my behalf."
The acceptance into the Flight Academy is the icing on the cake of a high school career that has been filled with Asia taking every advantage of the opportunities presented to her at Haywood High School. Along with being on the sidelines as a cheerleader for Tomcat football and basketball, she can also be found running on the Track and Field team. Pairing her athletic accomplishments with her experience in JROTC and dual-credit Health Science pathway along with being a Ready Graduate, Asia is truly the personification of what Opportunity Haywood looks like at Haywood High School.