Audio and Video Production at HHS
The evolution of public education is something that often gets overlooked or ignored. Personal beliefs about education tend to crystallize once graduation caps are thrown in the air, but public education continues to move forward even though an individual's time in the system is over. Students from the Class of 1985 probably have a collective belief of what education should be, and it most likely reflects what education looked like when they were in school – the same can be said of graduates of any year. 
For decades, the foundation of education was built on the "three R's" – Reading, Writing, and Arithmetic – a misleading nickname but a wonderful example of alliteration. As culture and technology and opportunity have progressed, so has public education.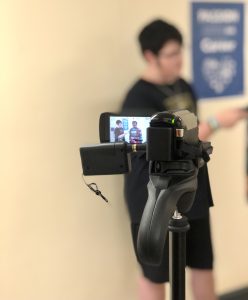 While there is still a great emphasis on the foundational principles of academics surrounding reading and math, the learning process has expanded to include STEAM (Science, Technology, Engineering, Art, Math), Career and Technical classes (Advanced Manufacturing, Welding, Code, Computer Programming, Nursing, Culinary), and Fine Arts (Band, Music Theory, Theater, Piano, Choir). All of these classes are offered at Haywood High School.  There's also a class that made a comeback to the curriculum last year: Audio and Visual Production (AV).
Chris McCain began teaching AV I during the 2021-2022 school year.  This year, he and his cohort of students are working through the AV II coursework and sharpening production skills they learned in year one.
"Before teaching, I worked at the Brownsville Press designing ads and laying out the newspaper.  My responsibilities grew to selling ads, designing more ads, laying out the paper, taking photos, keeping up the social media, and updating the website," Chris said. "Teaching was never on my radar, but Superintendent Hassell approached me about bringing back the AV Program at the high school.  I thought it was time for a change, so I took the job."
When teaching the class, Chris draws upon his skills as a graphic designer, photographer, and videographer to teach students necessary skills to make productions look professional and well produced.  While the subject matter was familiar to Chris, teaching the subject matter took a little while to learn.
"I'm much more comfortable as a teacher in my second year.  I try to keep strong relationships built and make the class fun.  My first year, I was scared because I had never done this before," he reflected. "I really enjoy connecting with the students and building relationships. In college, I was a teaching assistant for an Advanced Editing class and I really enjoyed it, but I still never imagined I'd be teaching high school."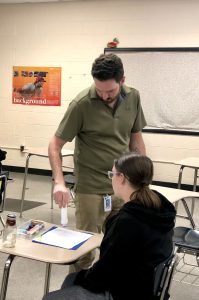 For Chris, having the background experience in the subject matter has proven to be invaluable in the process of teaching. He can take his expertise and transfer that knowledge to the students.  He's finding, though, that students already have quite a bit of exposure and access to the tools needed to produce video content.
"For this class, students are exposed to so much technology; they can shoot and edit video on their phone.  For our projects, they use a program called Cap Cut, and I've been very impressed with what I've seen. They can shoot the video, edit, and add voiceover all from their phone," he explained. 
While the access to technology has clear advantages, Chris can also see a few drawbacks to the convenience of fast-acting apps on a phone.
"Teaching the basics of video production is a little challenging because technology has made it so easy to produce content," he said. "When I was in college, we were still using tape to record.  You had to be more mindful of video and cuts,  but  now the process is so easy for students to do at the moment."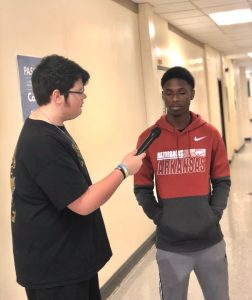 Because of the convenience of user-friendly editing software, students have a head start and easy access to video production. This can help them pursue post-secondary opportunities as soon as they leave high school, and that's something Chris emphasizes in his class. 
"I talk about job opportunities for media purposes right out of high school.  There's going to be a need for digital media with Ford coming; there are opportunities out there," he said. "I've had students tell me after AV I that video editing is something they think they want to do after high school."
Beyond the technical aspects of video editing and production, Chris really emphasizes the need for communication skills.  One way he does that is by honing in on interview skills with students.
"We tend to focus on interviewing in my class.  Students come up with a list of questions – questions that are mindful and take some thought. The reason I focus on interviewing is because communication skills are so important.  I feel like that'll give students an edge when they graduate," he said.
In his AV Class, Chris wants his students to be exposed to a variety of aspects of production – not simply informational based communication such as a newscast or interview.
"One project we do is a screenplay that includes a few different scenes – basically how to plan and execute a production from start to finish.  I always tell my kids that you need to have too much content rather than too little," he said.
For a class like Audio and Video Production, hands-on experience is vital to learning. Students need to try (and fail) before learning what it takes to produce engaging and relevant content.  One production they consistently produce is Tomcat Television.  Tomcat TV airs every Friday on Facebook and YouTube.  This student-created show takes stories from Haywood High School and condenses those stories into a video format that allows students to interview, produce and edit content, and sequence a production from start to finish.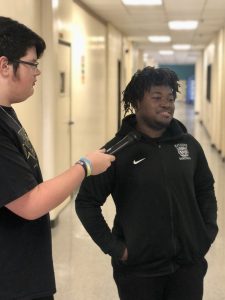 "We have Tomcat TV on Facebook.  It's student created and student led. We try to do an episode each week; every Friday morning a new episode drops.  I do most of the editing, but the students do everything else," Chris said. "Students are the audience of Tomcat TV. TikTok and Reels drive everything; everything is short and sweet. Audiences don't want content that's long and drawn out.  We try to make things short and sweet and informative."
As the AV students continue to evolve and sharpen their production skills, they are also introduced to finer points of content creation each year in the program. Last year, there was an AV I class that simply taught the basic skills of AV production.  This year, Chris has those same students in AV II and will have an AV III class next year.
"All of my students this semester took AV 1, and I've seen a ton of growth from them this semester.  I've seen a lot of progression specifically with Tomcat TV. I'm not having to remind them of what to do and what not to do," he said "We're hoping to add AV III next year."
The beginning of any program will have speed bumps along the way, but Chris likes how this program is continuing to grow.  He wants to teach students the skills they need to be successful in this field after they leave Haywood High School.  
Just like education, media consumption is much different than it was even a few years ago.  Chris wants to make sure his students know that and are ready for their opportunities in that field in a few years.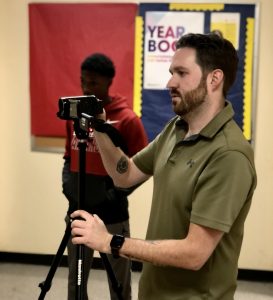 "Editing and video quality are probably the most important aspects of the class that I want students to learn.  The way content is edited directly affects how that content is consumed."