Board of Education announces Teachers of the Year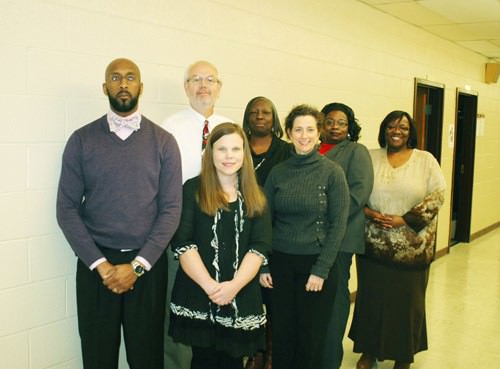 Selected by their peers as Teachers of the Year were (from left) Grover Harwell, Pamla Reagan, Randy Jetton, Shelia Turner, Julie Davis, Connie Allen and Pamela Pickens.
The Haywood County Board of Education met in regular session on Thursday, February 12. Mrs. Russell opened the meeting with the monthly Celebration of Schools. She announced:
♣ The Haywood County Spelling Bee winners were – 1st place seventh grader Kameron Pickins; and 2nd place eighth grader Emily Russell.
♣ The HHS Health Occupation student winners in the Regional competition were Emma Baumheckel, Anne Marie Sceals and Felescia Sanders. They all advanced to state competition.
♣ HHS students of the FCCLA organization made a presentation about their "Stop the Violence" campaign. They have put together a multi-leveled campaign with the slogan, "Not One More Tear Shed, Not One More Lost," that is aimed at stopping gun violence. They are also working with the AOK group promoting doing Acts of Kindness.
♣ The audience at the board meeting watched a video made by the HHS Lean on Me group which is comprised of teachers, administrators, and counselor-nominated sophomore, junior, and senior students who have a common goal of improving the atmosphere at Haywood High School through kindness, inclusion, and new friendships.
♣ The Warriors were the 2014-15 WTAC Champs.
♣ The HHS Academic Decathlon Team won second place in District Competition and will advance to the state contest.  Haywood High's team left the competition with 37 medals, six plaques, and the second-place trophy.
Mrs. Russell also announced the Teachers of the Year: Anderson – Connie Allen, Haywood Elementary – Pamla Raegan, East Side – Pamela Pickens, Haywood Middle School – Grover Harwell, HHS – Randy Jetton, HHS Career and Technical Division – Julie Davis, and Sunny Hill Innovative Learning Center – Shelia Turner. Pamla Reagan also won the District Level for grades Pre K-4, Pamela Pickens for Grades 5-8, and Shelia Turner for Grades 9-12.
Board members approved the statement agreement/investment application with United Way between Anderson and the Family Resource Center and United Way of West Tennessee, Inc. Asking for this approval was Mrs. Peggy Jackson, the Family Resource Center Coordinator. She also asked for approval to submit the Community Impact Application to United Way of West Tennessee. Money received from this funding will be used to purchase new books for the Reading is Fundamental "Book Jam" program for Anderson, Haywood Elementary and East Side.
Associate Superintendent and CFO Vincent Harvell reported that the Catherine Truss Colhoun Trust quarterly report shows a balance of $220,457.05. This Trust fund is used for scholarships for HHS seniors each year. He also reported that the audit for the school activity accounts and cafeteria funds from 7/1/13 to 6/30/14 showed no significant deficiencies.
In other business, the HHS band was approved to go the Panama City Beach, Florida, to participate in a parade/drumline competition.
Superintendent Russell also announced the new HHS football coach as Steve Hookfin, coming here from Liberty Technology Magnet High School in Jackson.
Mrs. Russell received a Letter of Intent from the DuBois Charter Schools Consortium, under the leadership of Dr. Willie Herenton of Memphis, Tennessee, to start a Charter School here for grades K-6 which will include 320 students. The Consortium has until April 1 to send the full application.
The next board meeting will be held on Tuesday, March 10, at 6 p.m.