Building a Culture of Confidence – HMS Girls Soccer
There are moments in life when people, for one reason or another, find themselves returning to a familiar place.  Maybe a recently graduated college student moves back to their hometown – a place where they never thought they'd return.  Maybe a teacher finds themselves back at their high school alma mater, but this time in front of the class instead of being part of it.  Whatever the case may be, moments like these bring people full circle to a place that simultaneously feels different but also the same.  Haywood Middle School Girls Soccer Coach Eliza Ford can relate.
Eliza is a graduate of Haywood High School (Class of 2015) where she played soccer.  Before that, however, she was part of the inaugural Haywood Middle School Girls Soccer Team.  Now, over a decade later, she's back on the sidelines but this time as the head coach.  
"I can remember when I played middle school soccer here, and the program was just getting started. We did have some challenges getting the program going, but I'm really excited to be leading it right now and helping it grow," she explained. "There wasn't a girls team when I started as a student at HMS.  My parents and some other parents helped organize it and get it going. We barely had enough girls to play.  Learning from that has really helped me now."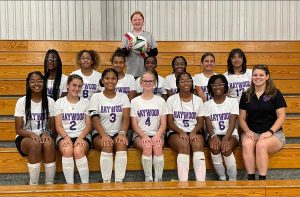 The early stages of any athletic program will come with some growing pains, but investment from stakeholders is key.  Eliza still remembers some of the challenges as well as a key piece to the building of the foundation of HMS girls soccer.
"Coach Umberto Aguilar coached me and was the coach up until last year when I took the position.  He's a real advocate for youth soccer in Haywood County, and there's been a lot of growth since the program began.  We really want to see the sport advance in the community.  Haywood is a community functioning county, and we want to see that support for soccer like the support is there for football and basketball," she said.
In order to build a successful athletic program, the foundation of that program is key.  Oftentimes, for a high school program to achieve sustainable success, the middle school program has to lay the groundwork and set the expectations that can carry over to the high school team.  For the ladies on the HMS soccer team, those expectations and principles stretch beyond the playing field.
"A lot of what I want to instill in my girls goes well beyond the playing field. We want to exhibit the right kinds of behavior on the field and off the field.  There's a definite pride in being a Haywood Tomcat, and I want our girls to understand what it means to represent our school and community," Eliza said.  "We have a slogan we lean on in the program.  We call it 'confidence culture'.  I think this is really important for middle school girls, and I want to focus on empowerment through sports. We talk about confidence, community engagement, and fairness."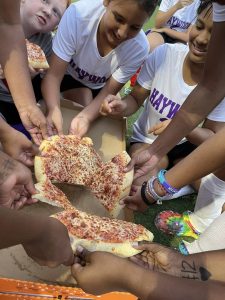 A key component to any successful athletic program is the building of positive, intangible character traits.  The way players respond to adversity on the field can determine the course of a given match.  In life, the way a person responds to adversity can also determine and impact their future successes and failures.  Eliza recognizes the vehicle that sports can be for teaching these valuable lessons.
"There's a big emphasis on how we represent ourselves and Haywood – how we play and how we act on and off the field.  It's bigger than just winning and losing.  We want to build a culture of inclusiveness and empowerment," she said.
On the field, Eliza is finishing up her second season as the head coach of HMS Lady Tomcats.  While coaching has felt comfortable for her from the first day, there are lessons she's learned throughout the early part of her coaching career.
"A lot of our girls had limited soccer experience coming into the season.  There aren't as many club opportunities here in Brownsville, but our team cohesion really grew this year.  We talked a lot about our team culture and what we want soccer to look like in Haywood County moving forward," she explained.  "I think close to half of my girls were first year players this year.  Maybe they played some recreational league soccer, but that's about it. There are places where we could progress, but I feel really good about our season this year."
The HMS Lady Tomcat soccer team played eleven matches this year.  Aside from the growth Eliza saw in her players on the field, she also was very excited to see the evolution of the cohesion of the team throughout the season. Team unity isn't built by accident; it takes time and effort and intention.  Eliza actively sought to find ways to build that cohesiveness over the course of the season and even after the season concluded.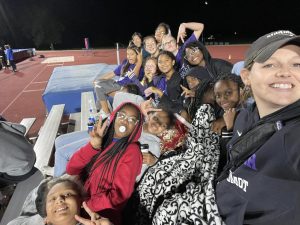 "I'm taking the team to watch a University of Memphis Lady Tigers soccer game.  This will expose the girls to a high level of soccer, visit a college campus, and be able to share an experience together.  Those things are really important," she explained.
Along with incorporating life lessons into her coaching, Eliza hopes to continue to build the program at Haywood Middle School by involving the team in the community.  This October, the Lady Tomcats participated in the annual scarecrow contest on the courthouse lawn in Downtown Brownsville.  Building their own scarecrow allowed the girls to work on a project together while also contributing to a community event.
"I really want to see our community involvement grow as a team.  It all goes back to building the foundation of team cohesion and investing in the sport and each other.  When people have a stake in something, they invest in it.  The girls have worked so hard during the season.  We want to get our name out there and let the community know that soccer is a sport that's on the rise in Haywood County," Eliza explained.
An important part of middle school – in the classroom or on the athletic field – is developing the social, emotional, and academic skills that are necessary to be a productive and successful adult.  A coach's job or a teacher's job isn't solely to teach the curriculum or coach the fundamentals of a given sport – learning doesn't occur in a vacuum of acquiring knowledge.  The process of learning is buttressed by exposing students and players to different aspects of a community and different aspects of culture.  
Eliza hopes to continue to grow the sport of soccer at the middle school while also helping her team build cohesion and confidence.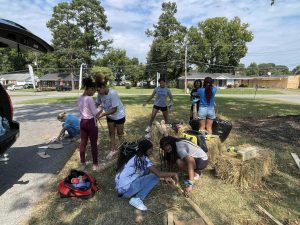 "It felt kind of like a dream when I got the job as head coach.  That might sound silly to some people, but it was really a full circle experience for me.  I played here at the beginning of the program and then having the privilege to be the head coach now has been special.  I can really see the growth in the program and the girls."