Christopher D. Parker nominated to USAFA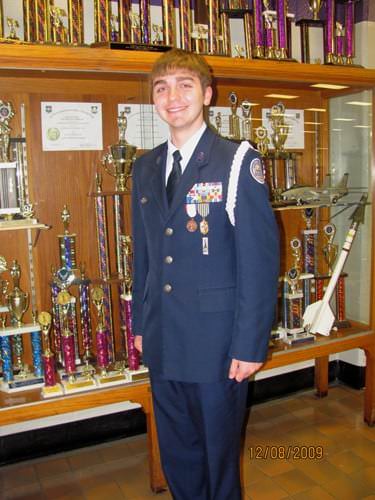 U.S. Representative Stephen Fincher announced military academy nominations for the U.S. Service Academies. Among the 14 students nominated is Christopher D. Parker, a HHS senior and the son of John Mark and Bette Parker.
Christopher is a member of the prestigious HHS 30+ Club. Christopher is a member of the Junior Bank Board, Spanish Club, Bible Club, Beta Club, and Kitty Hawk Air Society. He also attended the American Legion Boys State conference where he was selected as a rifleman for the Color Guard team and held office as Public Works Commissioner.
Christopher has been a member of the Air Force Junior ROTC program for three years and will be completing his fourth year as a senior where he will lead the Corps as Cadet Group Commander. His numerous awards include: Air Force Association Award, National Sojourner's Award, Outstanding Cadet Ribbon two years in a row, and the Superior Performance Ribbon. Christopher has been a member of the Unarmed and Armed Regulation Drill Teams for three years and is currently a member of the Color Guard Team.
Candidates for the military academies must be from the 8th District of Tennessee and are nominated based on academic ranking. Candidates will now be interviewed by the service academy he or she is applying, pass a physical and medical exam to be considered for an appointment.
There are four U.S. Service academies that require Congressional nomination: the U.S. Military Academy, the U.S. Naval Academy, the U.S. Air Force Academy, and the U.S. Merchant Marine Academy. These institutions prepare college-age Americans to be officers in the U.S. armed services. After graduation, service academy graduates are commissioned as officers in the active or reserve components of the military or merchant marine for a minimum of five years. By late April, the Academies will have offered the majority of appointments.
Rep. Fincher said, "These 14 young men and women have shown an enormous amount of dedication and love of country by volunteering to serve in our armed forces. I am proud to recommend all of these young Tennesseans, and I wish them all the best in their future endeavors."