Commissioner McQueen visits HHS
Haywood County School officials welcomed Tennessee Education Commissioner Candice McQueen to Haywood High School on September 7. Greeting the Commissioner were her HHS AFROTC escorts, Jaylen Winters and Aliyah Haynes; Superintendent Teresa Russell; Board Chairman Harold Garrett; Haywood County State Senator Delores Gresham; Associate Superintendents Art Garrett and Yvette Blue; Haywood High School Administrators Dr. Jerry Pyron, Tim Seymour, and Paige Ferguson; SHILC Director Dayton Hawkins; Instructional Facilitator Janet Stallings; and Michelle Tillman and Maria Hart of the Curriculum and Instruction Department.
Commissioner McQueen first met with the Haywood County Schools administrative team, HHS principals and Senator Gresham for a discussion about what is going on in Haywood County Schools. Included in the discussion was a report on HaywoodReads! reading initiative in Haywood County Schools.
Then she held a round-table discussion with a group of HHS students and asked them about the school environment, how prepared they are to take the next step in their education and how their teachers have impacted their lives. The students overall said they believed Haywood High was a good school, with a "family" atmosphere and very little racial tension. One student said, "I feel like people have equal opportunities, love each other and get along." They also talked about classes they are taking and how they are preparing for graduation. Each student talked about his or her plans are after graduation. Some also spoke about work opportunities they have to prepare themselves for the next step. One student mentioned the Academic Decathlon class and how it has prepared them for college. One comment about their teachers was, "They are teaching us respect, responsibility, and setting high expectations."
Commissioner McQueen said she is excited to get to see what high schools are like across the state. She said HHS obviously has a positive environment, good student relationships, and encouraged the students to think about preparing for the next step in their educational journey. "I really appreciate the conversation we have had here," she said.
She observed a classroom in the English Department before going to the HHS Career and Technical Division to see Advanced Manufacturing teacher James Moss and some of his students to talk about their preparation for after graduation. Commissioner McQueen also visited Brandlin Turner, teacher in the health science classroom and her students. Both of these programs prepare students for advanced programs in these areas of study.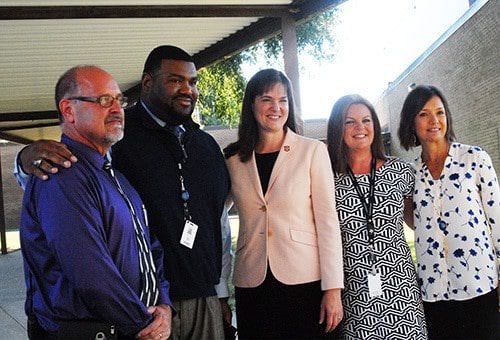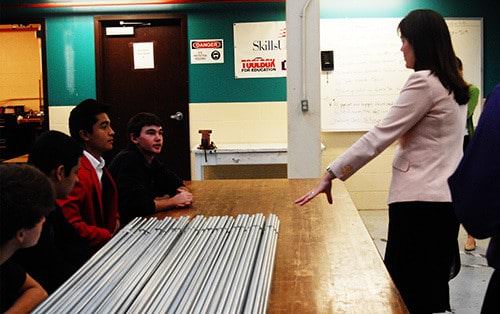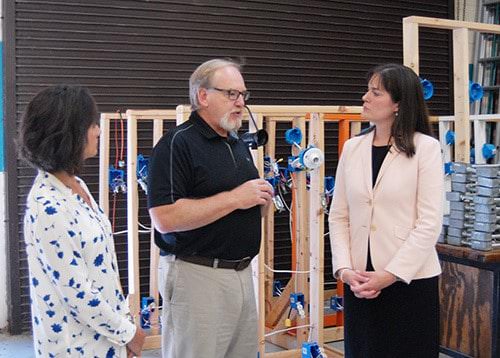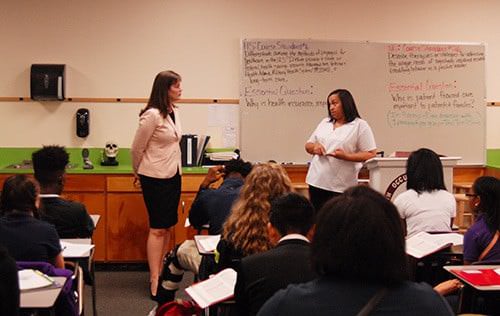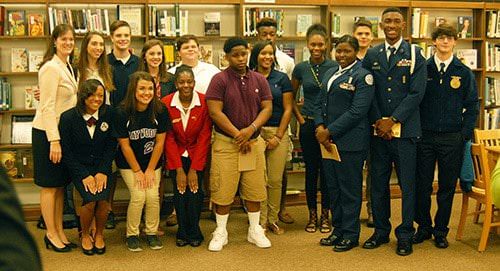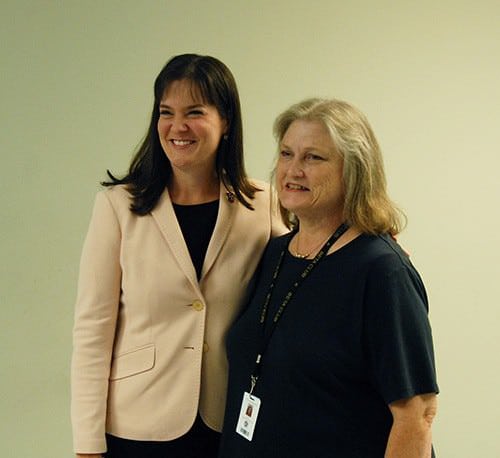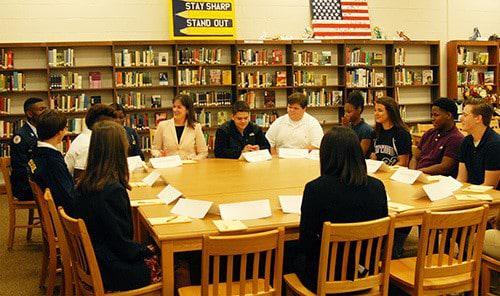 About Commissioner Candice McQueen …
Dr. Candice McQueen was sworn in as Tennessee's commissioner of education on January 17, 2015. During her first year as commissioner, McQueen led a statewide effort to create a new strategic plan and vision for our schools called Tennessee Succeeds. The comprehensive plan provides aligned goals, priorities, and strategies focused on increasing postsecondary and career readiness for all of Tennessee's 1 million students. McQueen also connected with over 10,000 teachers on the first leg of her Classroom Chronicles Tour, spending time in more than 75 school districts and 125 schools in 16 months. She also worked with Governor and Mrs. Bill Haslam to launch a comprehensive statewide literacy campaign called Read to be Ready. The goal is to have 75 percent of all third graders reading on grade level by 2025. (From the Tennessee Department of Education website: https://www.tn.gov/education/article/commissioner – sthash.n6sNVDVh.dpuf)