Board of Education approves Values, Mission, Vision and priorities
When the Haywood County School Board met in regular session on December 14, one of the first orders of business was to approve the school system's Core Values, Mission, Vision and Strategic Planning Priorities 2017-2021:
We Value:
an environment of high expectations where all decisions are student-centered.
passionate, caring, and focused employees who model leadership from where they serve.
effective partnerships with family and community.
a respectful, safe, and supportive learning environment.
an environment where all students, staff, and school board members continuously learn and grow.
honesty, integrity, and accountability for all.
Our Mission:
The mission of Haywood County Schools, in partnership with families and community, is to ensure an engaging, respectful, and safe environment where all students are empowered with the knowledge and skills needed to pursue post-secondary opportunities.
 Our Vision:
The vision of Haywood County Schools is that all students, under the guidance of a passionate and qualified staff, will be equipped with the academic and social skills needed to be successful and productive citizens.
Strategic Planning Priorities 2017-2021
 Academic Achievement and Growth
Increase literacy achievement and TVAAS growth across all grades.
Increase numeracy achievement and TVAAS growth across all grades.
Increase STEAM (Science Technology Engineering Arts and Math) opportunities and outcomes in all grades.
Increase post-secondary readiness.
Student Supports
Improve leadership and social skills.
Provide academic intervention and enrichment opportunities for all.
Increase the number of students participating in extra-curricular opportunities.
Quality of Personnel
Recruit, hire, and retain passionate and quality employees.
Provide quality, professional training to increase employee productivity.
Family and Community Engagement
Increase community awareness of educational accomplishments, concerns, and priorities.
Increase opportunities for positive family and community engagement at each school.
Budget and Operations
Review and refine district policy and procedures.
Maximize and align resources in all departments.
Capital Improvement/Outlay
Complete comprehensive assessments of existing infrastructure.
Define capital outlay priorities and develop long and short-term plans for addressing those priorities.
Superintendent Joey Hassell celebrated a new 30+ Club Member and Project Literay at HMS. Sam Banks, son of Michael Banks and Sarabeth Teague McLemore, is the newest member of the Haywood High School 30+ Club for scoring higher than a 30 on the ACT. He accepted a plaque from Mr. Hassell.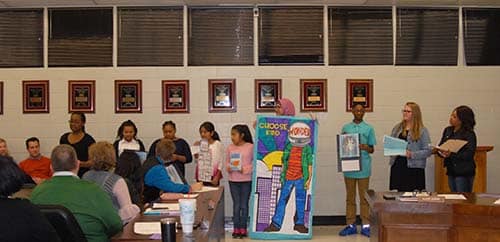 Shalondria Shaw, a teacher at Haywood Middle School and sponsor for the club, brought a group of students to the board meeting to give a presentation on Project Literacy, a book club that is encouraging students to read. The group read the book Wonder by R. J. Palacio, and performed a number of activities to further learn from the book and the reading club. Teacher Patrice Boyd is also a sponsor for the club.
Chief Financial Officer Larry Livingston gave a report on several budget amendments that board members approved.
Board members adjourned early so that Superintendent Hassell and several others could attend the County Commission meeting. At that meeting, the county commissioners voted unanimously to move ahead with TRANE's Energy Conservation and Infrastructure Improvement Program. TRANE has outlined specific areas where facility improvements will occur within Haywood County Schools and use of Energy/Utility/ Operational savings will help fund the improvements, with the energy/utility use savings guaranteed by TRANE. This program will produce a calculated value of $4,678,460 in savings over the proposed 15-year term, which will offset Haywood County Schools' budgeting by using those savings to help fund $4,663,159 in real property improvements, ongoing measurement and verification, Certified Energy Manager (CEM) services and cost of debt service, while delivering additional net positive cumulative savings over the term.
The board meeting for January has been changed to Tuesday, January 9, at 6 p.m.