Haywood High School hosts college fair
Last week, Haywood High School hosted a college fair in the Doc Crowder Gymnasium.  Twenty-six colleges and universities from the region gathered in the gymnasium as students strolled by each table and asked questions and took brochures.
The importance of exposing high school students to multiple post-secondary options is vital to their future educational growth.  Schools from Alabama, Mississippi, Tennessee and Missouri were in attendance to answer questions from students about their respective schools.
Haywood High School Counselor Sarah Haynes says that college fairs are an excellent way for students to get exposure to multiple universities in one place.
"Our students are very eager.  My office is constantly full of students asking about college and enrollment and financial aid.  This college fair meant everything to them.  It meant so much to actually get hands-on questions answered by people who are at the colleges and universities," Sarah explained.
Because choosing a college can be a daunting task for a teenage student, Sarah and her department are in constant contact with students who are interested in pursuing a post-secondary education.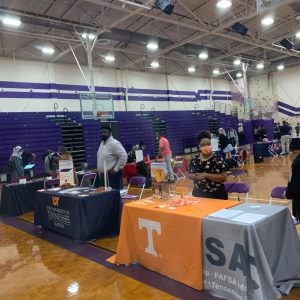 "We have 175 students in the senior class, and I talk to about a fourth of them daily.  My office has a lot of foot traffic.  I am constantly bombarded with students, and I love it," Sarah said.
With nearly forty students visiting her a day, Sarah's day is always full of opportunities to communicate with students about the application and enrollment process for colleges.
"We just finished College Application Week.  A lot of schools in Tennessee waived their application fees so I'm constantly helping students fill out applications to as many colleges as possible," she said.
With a lot of application fees waived, students can take advantage of filling out multiple applications to various schools.   Students were also provided a list of questions to get answered by the representatives from the colleges and universities that attended the fair.
"Each student was provided with a handout of questions to help them ask the recruiters pertinent questions that would help with enrollment," Sarah explained.  "As an incentive to get the questions answered, each student who brought back a completed sheet was entered into a drawing for a gift card from Walmart."
As the first semester begins to wind down, high school seniors are starting to narrow their choices for life after high school.  Last week's college fair provided options and opportunities for students to explore as they begin to enter a transitional part of their lives.
"The most important part of having the college fair is to allow students to have the opportunity to interact with college recruiters and be able to ask vital questions that might influence where they would like to begin their post-secondary journey," Sarah said.