HHS JROTC names Boys State candidates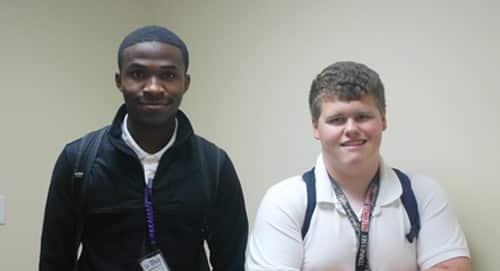 The Haywood High School JROTC has named two students as their candidates to Boys State. Jerald Hammond, son of Jerald Hammond Sr. and Levovida Rollins, and Tommy Pyron, son of Martha and Gary Pyron, are attending Boys State from May 25 through May 31 at Tennessee Tech in Cookeville, Tennessee. Both students are upcoming seniors at Haywood High.
At Boys State, participants learn the rights, privileges and responsibilities of franchised citizens. The training is objective and centers on the structure of city, county and state governments. Operated by students elected to various offices, Boys State activities include legislative sessions, court proceedings, law-enforcement presentations, assemblies, bands, choruses and recreational programs.
HHS Drill Team win second place in competition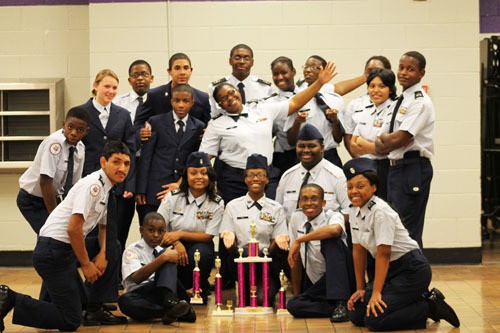 Haywood High School AFJROTC hosted it's 16th annual West Tennessee JROTC competition this year against 5 other local JROTC teams.  The competition consisted of Unarmed Regulation and Armed Regulation Drill, Uniforms Inspection, Color Guard Competition, Unarmed and Armed Exhibition, and Individual Knock Out competition. Haywood High School's cadets took 2nd place in the Unarmed Regulation drill, 3rd place in the Armed Regulation drill, and 3rd place in Uniforms Inspection, culminating in an Overall Second Place win.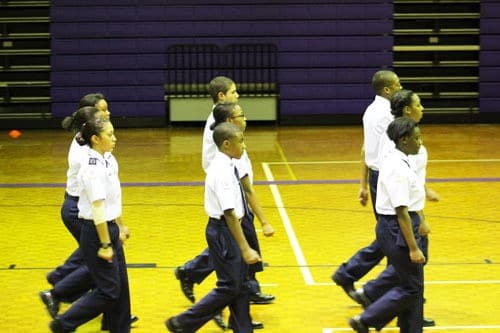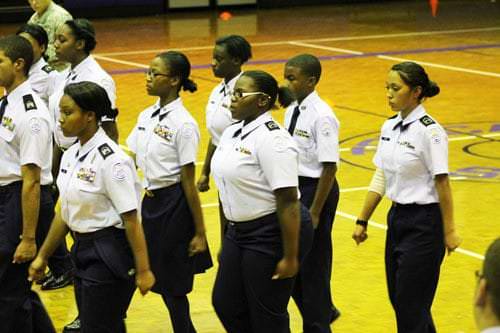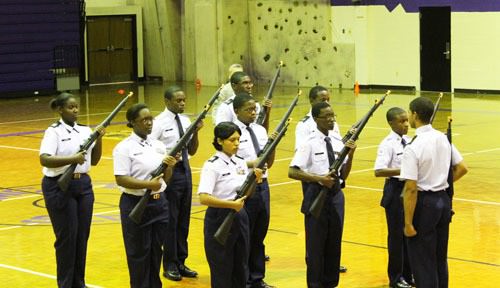 HHS AFJROTC holds Award Banquet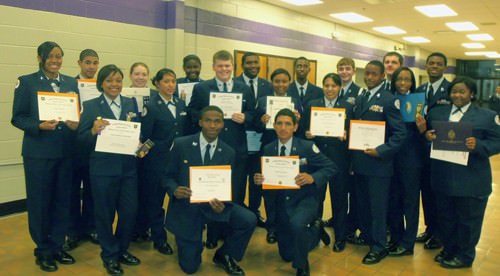 The Haywood High School AFJROTC held its annual Awards Banquet on April 23. The program began with the presentation of the colors by the Color Guard and the recitation of the Pledge of Allegiance. Directors for the program are Lt. Col. Stark Davis, Sgt. John Parker and Maj. Delois Dailey.
Student leaders of the program are Cadet Rashad Mann, TN-944 Corps Commander; Cadet Chris Parker, TN 944 Deputy Corps Commander; Cadet Tommy Pyron, Chaplin, TN-944 AFJROTC; Cadet Asia White, Kitty Hawk Honor Society Commander; Cadet Octavius Lanier, M Flight Commander; and Cadet Lamarcus Williams, Mission Support Squadron Commander.
Cadets were recognized for Leadership, Achievement, Superior Performance, Community Service and for being a member of the Kitty Hawk Honor Society. Then Sgt. Parker recognized the Top 4 Cadet Scholars based on their grade point average (GPA). This award goes to the cadet with the highest GPA in each class: Freshman – Isaiah Franklin, GPA 3.30; Sophomore – Jordan Bailey, GPA 3.70; Junior – Ricarnieca Johnson, GPA 3.90; and Senior – Rashad Mann, GPA 3.94.
Lt. Col. Davis recognized the three Top Performers from the Unit Inspection: Cadet Rashad Mann, Cadet Christopher Parker and Cadet Ocataivus Lanier.
Also receiving recognition were the Outstanding Flight Commanders: Cadet Jordan Bailey – Charlie C Flight and Cadet Shannon Walls – Hotel (H) Flight. Outstanding Flight Sergeant was Cadet Angelica Jackson, Hotel (I) Flight. Outstanding Flights were C and L.
National Awards recipients were: Air Force Association (AFA), Cadet Ricarnieca Johnson; DAEDALIAN, Cadet Dontai Anderson; American Legion Scholastic, Cadet Rashaad Mann; American Legion Military Excellence, Cadet Paul Anthony; Daughters of American Revolution, Cadet Shannon Walls; American Veterans (AMVETS), Cadet Miranda Ramirez; Military Order of World Wars, Cadet Joe Juarez; Military Officers Association Award, Cadet Tia Kent; Veterans of Foreign War (VFW), Cadet Angelica Jackson; National Sojourners Award,  Cadet Antonesha Simon; Scottish Rite Southern, Cadet Asia White; Sons of American Revolution, Cadet Stephen Trey Allen; Military Order of Purple Heart, Cadet Symphony Timberlake; Air Force Sergeants Award, Cadet Jordan Bailey; NCOA, Cadet Jerald Hammond; Tuskegee Airmen, Cadet Tyler Robertson and Cadet Tommy Pyron.
Sgt. Parker recognized four cadets as Outstanding Cadets: Victoria Ramirez, Freshman; Tia Kent, Sophomore; Dontai Anderson, Junior; and Anthony Prewitt, Senior.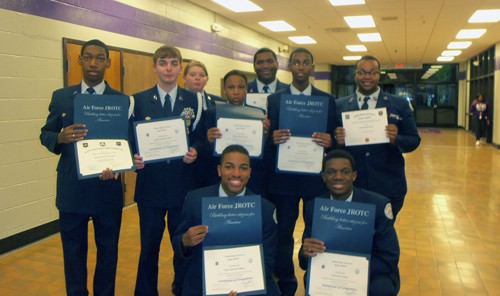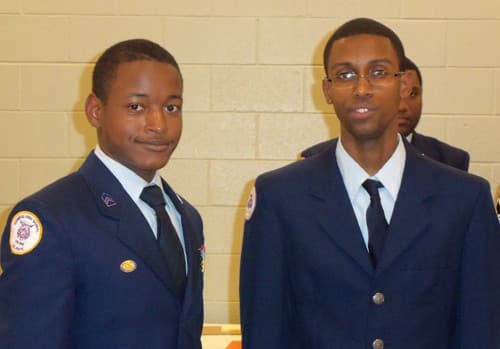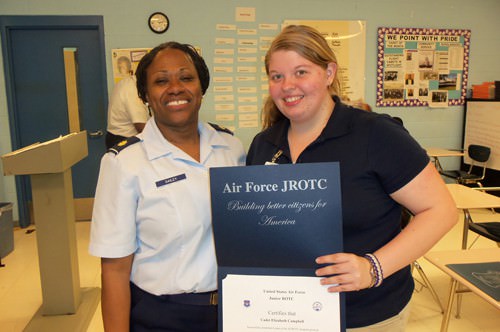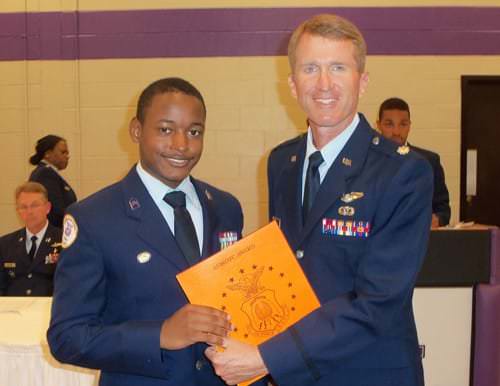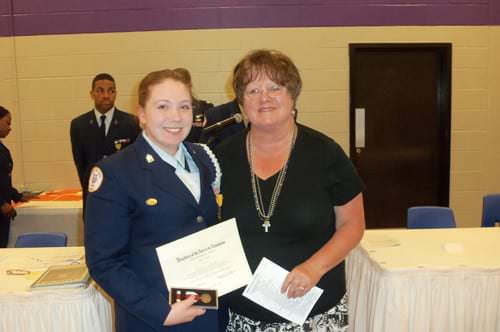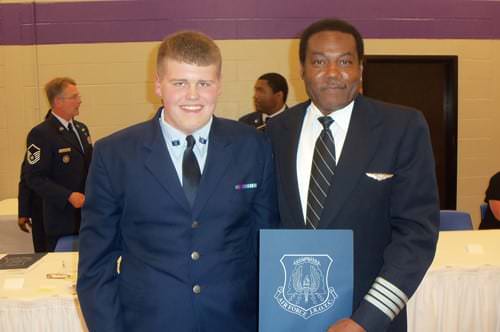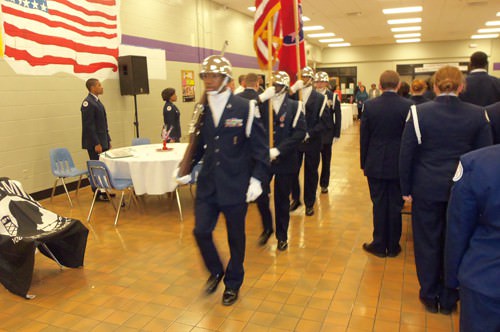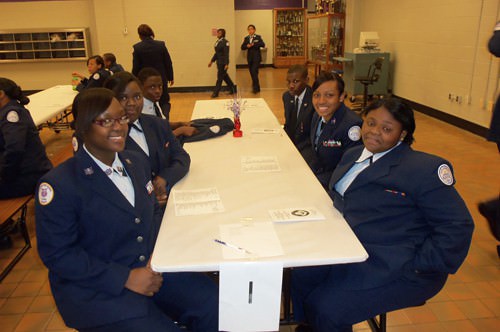 Military Ball Court – April 6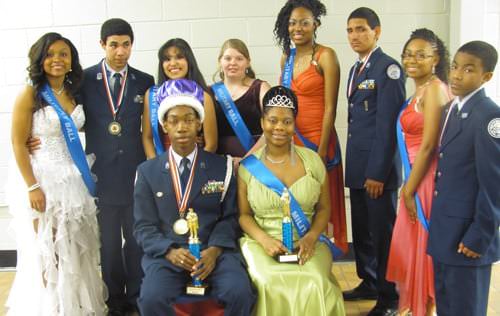 The HHS AFJROTC Military Ball Court were announced at the Ball on April 6. Pictured (seadted) are Cadets Dimiti Boyd, King and Tiara Boyd, Queen; and (back row) Ricarnieca Johnson and Paul Anthony,  Mirand Ramirez Jr., Elizabeth Campbell, Senior Representative; Tia Kent and Joe Juarez, Sophomore Representatives; Jaslyn Johnson and Destin Jameson, Freshman Representatives.
Cadets inducted into Kitty Hawk Air Society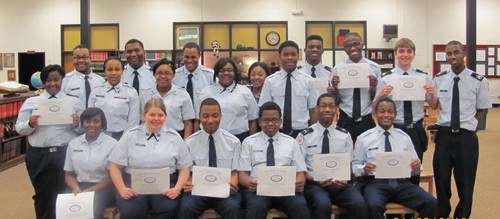 The Haywood High School Air Force Junior ROTC program, inducted 27 cadets into the Kitty Hawk Air Society, an international honor society program for Air Force Junior ROTC cadets. These cadets demonstrated academic excellence and leadership during the first semester maintaining a minimum grade point average of 3.0. Their induction into the society is one of the highest honors for cadets while in the program. These cadets will be assisting with tutoring and community service projects during the year.
ROTC changes guard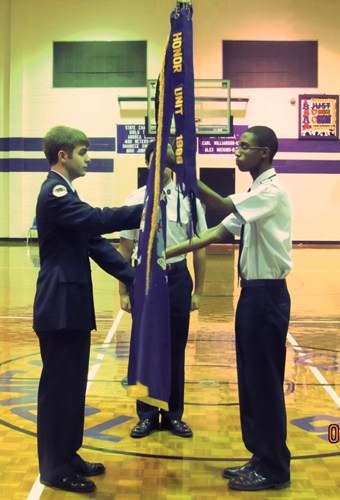 The Air Force Junior ROTC Group at Haywood High School recently conducted a Change of Command Ceremony; a time-honored military tradition where the Commander in Charge turns over his position of authority to another cadet. Cadet Colonel Christopher Parker, the current Commander (left), exchanges the United States Air Force Flag with Cadet Lt. Colonel Rashad Mann, symbolizing the exchange of authority from one to the other. Lt Colonel Mann will take up the challenge of leading the Group until the end of the school year. Christopher and Rashad are both seniors and will graduate this year with honors.
Haywood High School Student of the Week – January 10, 2013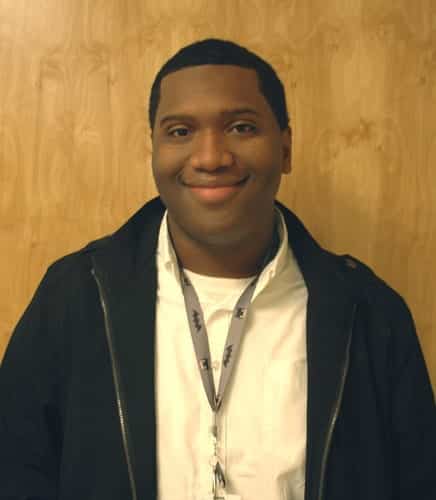 Octavius Lanier 
Haywood High School senior Octavius Lanier has been selected as the Student of the Week. He is four-year AFJROTC cadet and serves as a Flight Commander. He is a member of the French, Beta and Drama clubs and the Academic Decathlon Team. Octavius has a 3.5 GPA and made a 26 on his ACT. His special interests include drawing sketches, reading mystery novels, researching current events, watching documentaries on unsolved criminal cases and recording/editing videos on computers. Octavius plans to attend MTSU, major in criminal justice and minor in drama. He is undecided on a career, but may possibly become a federal agent. He is the son of Laeann Lanier.
Curriculum in Action field trip provides lessons for cadets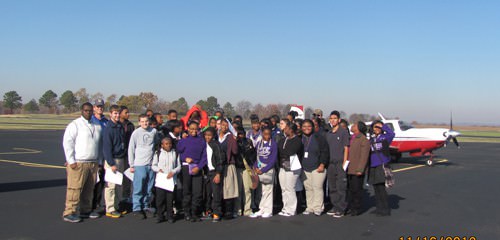 Student Cadets from the Air Force Junior ROTC program at HHS took a Curriculum in Action trip to the Dyersburg Regional Airport to get a better understanding of the Aviation environment. Cadets were able to see different types of small aircraft and were instructed on the daily operation of launching and landing of aircraft. Other events of the day included a visit at the Halls Aviation Museum, formerly a WWII B-17 Bomber base, where cadets were able to see many different military related items used by "the greatest generation to fend off Nazi Germany and Japan. To complete the day, cadets visited the birth home and now museum of the legendary Author, Alex Haley.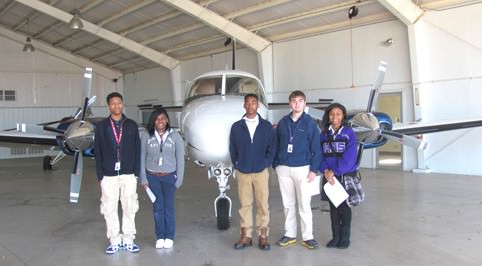 HHS JROTC holds annual Awards Banquet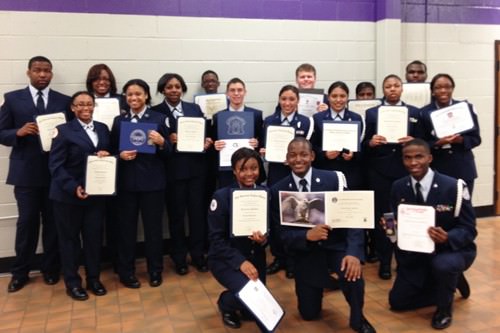 The HHS Air Force Junior ROTC program held its annual Awards Banquet on April 24. Parents, administrators, and board members were in attendance to watch the students receive their awards. The cadets have performed more than 1,200 hours in various community service projects such as the March of Dimes, Relay for Life, the canned food drive and Operation Shoe Box, to name a few. The goal of the program is to help students become better citizens. The following cadets received local and national awards.
Among the local awards given were Leadership, Achievement, Superior Performance and for qualifying for the Kitty Hawk Society. These students maintained a 3.0 GPA and helped tutor other cadets and HHS students before school.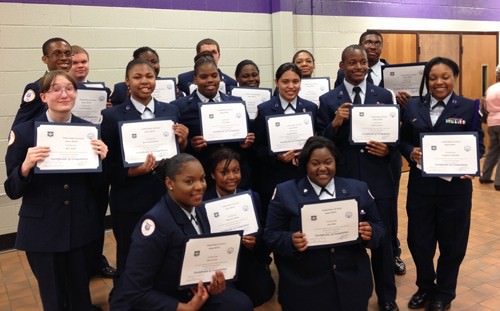 One of the groups that was honored was the graduating seniors:  Dontai Anderson, Paul Anthony, Breanna Beasley, Cierra Bond, Kierra Green, Cameron Pirtle, Angelica Jackson, Nicholas Johnson, Ricarnicea Johnson, Carmetrius Woodfork, and Darren Young.
Top 4 Cadet Scholars (GPA) This award goes to the cadet with the highest GPA in each class.
Freshman – Cadet  James Nelms – GPA- 3.33
Sophomore – Cadet Daniel Bradford – GPA- 3.48
Junior – Cadet Jordan Bailey  – GPA-3.67
Senior – Cadet  Ricarnicea Johnson – GPA – 3.87
Outstanding Flight Commanders
1st Squadron, Miranda Ramirez – Golf  Flight
2nd Squadron,Victoria Ramirez – India Flight
Outstanding Flight Sergeants
1   1st Squadron, Daniel Bradford, Foxtrot Flight
2nd Squadron, Travissa Sweet, Lima Flight
Outstanding Flights
1st Squadron, Foxtrot Flight
2nd Squadron, India Flight
The AFJROTC Drill Teams practiced after school and competed on weekends across the state and out of state.  As your team is called out, would all the cadets on that team please stand and be recognized: Unarmed Drill Team – led by Symphony Timberlake, Armed Drill Team – led by Paul Anthony, and Color Guard – led by Victoria Ramirez.
Lt Col Davis recognized Dontai Anderson for his acceptance into the USAF Prep Academy.
2013-2014 TN-944 AFJROTC NATIONAL AWARDS RECEPIENTS:
Air Force Association (AFA) – Cadet Tia Kent
DAEDALIAN – Cadet Jordan Bailey  
American Legion Scholastic: Cadet Ricarnicea Johnson
American Legion Military Excellence – Cadet  Javarvus King
Daughters of American Revolution – Cadet Miranda Ramirez  
American Veterans (AMVETS) – Cadet Victoria Ramirez
Military Order of World Wars – Cadet  Jaslyn Johnson
Military Officers Association – Cadet  Kamyra Simon
Veterans of Foreign Wars – Cadet Tommy Pyron
National Sojourners Award – Cadet Travious Wood
Scottish Rite Southern – Cadet Jerald Hamilton
Sons of American Revolution – Cadet Kendel Owens
Military Order of Purple Heart – Cadet QuawandaKinchelow
Air Force Sergeants Award – Cadet Travissa Sweet
NCOA Award – Cadet Tyler Starks
Tuskegee Airmen (2) – Cadet Cameron Pirtle, Cadet Justin Mathias
Air Commando Association Award – Cadet Antonesha Simon
Leaders for the HHS JROTC Unit are J. Stark Davis, Lt Col, USAF, (Ret) Senior Aerospace Science Instructor; Mark Parker, MSgt (Ret), Instructor; and Delois Dailey, Maj., USAF, (Ret), Instructor