HCS Students Create Public Art
Cities, towns, and communities are made up of a variety of facets that combine to form a culture around a particular area.  Buildings, green spaces, and consumer establishments are all pieces of the puzzle that help form the heart of a collective society.  In Brownsville, the court square is an undeniable, central feature of the town that helps shape the local community and culture.  The Mindfield is an organic and unique property that is threaded through Haywood County's tapestry.  On Thursday, March 24, Brownsville added to its culture with the first pieces of public art to be put on display in Haywood County.
Executive Director of Haywood-Brownsville Arts Council, Achana Jarrett, understands the worth of public art in a community and played an integral role in getting this art displayed in Brownsville.  
"There is enormous cultural value in public art.  Brownsville is a small community, but we're big in heart," she said.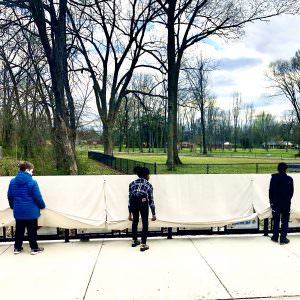 At its most basic level, public art adds an aesthetic quality to any community where it is displayed.  However, public art simply for the sake of public art doesn't carry as much weight or hold as much significance if the art being displayed doesn't reflect the culture and the character of the community.  Ms. Jarrett knew that any public art in Haywood County needed to be created by people from Haywood County, and she knew just where to look.
"The Arts Council has a working relationship with Haywood County Schools, and not being in the schools the last couple of years because of COVID was really disappointing for us," she said.  "We want to encourage the participation and appreciation for the arts in Haywood County.  This year, I wanted to do an art contest and maybe award some prizes.  All I knew to do was to call Mr. Hassell and run it by him and he said 'We're in…let's do it.'"
The theme of the contest was SPLASH and was held during Arts in Education Week in September.  Students were tasked with creating vibrant and colorful works of art that reflected pieces of their community.  When those pieces were finished, Achana knew they needed to be displayed in public.  Not only were pieces picked to be displayed, but some students were also awarded prizes and a prominent member of the community stepped up to provide the financial backing for those prizes.
"Mayor Rawls volunteered to sponsor all of the prizes for the individual students.  The city bought 25 dollar gift cards to give to each student that won, and we presented those students with those gift cards before Christmas break," Achana explained.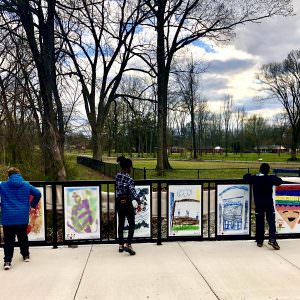 The next step in the process was to take the artwork and fashion it for public display.  The art was sent to Hub City Printing in Jackson to enlarge it and equip it to be displayed outdoors.  Having Haywood County students produce the art was something that was very important to the Arts Council and to Ms. Jarrett.
"What really warms my heart about this is that these students will have a sense of belonging and ownership in their community," she said.  "We want our kids to be proud of the community where they grow up; we want their fingerprints on the culture of the community."
The vision for public art in Brownsville had to be inclusive of the culture of Brownsville and Haywood County.  The aesthetic value of the art is important, but the cultural value is necessary.  
"Public art provides a sense of belonging and reflects the cultural identity of our community.  We have so many gifted and talented people in our town, and we want to display that," she explained.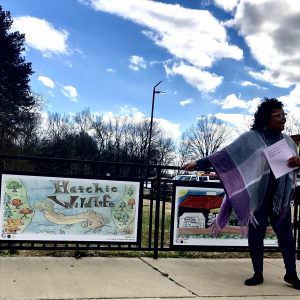 The artwork is on display at the corner of East Main Street and Park Avenue as well as in the Historic District on East Jefferson Street providing a colorful and cultural prologue to entering the court square.
"Everyone loves color and it's just what it's called: SPLASH.  Just to be able to drive by on a rainy day or a cloudy day and see a trail of color and artwork as you embark upon our court square – that can add a lot to someone's day," Achana explained.
While this display is the first public art display in Haywood County, it won't be the last.
"We're not stopping here; we're looking forward to expanding our public art beyond this."