The 232 Haywood High School 2019 graduates began their recognition ceremonies when they participated in the Awards Ceremony on Friday, May 17, in the school's gym. The seats were filled with family and friends as they watched the Class Top 10 receive their honors, and as other students received other honors and scholarships.
HHS Principal LaTonya Jackson and Assistant Principals Alex Aitken and Lena Thomas Moore, and Class President Riley Barr, Treasurer Ahmadia Hines, Vice President Iyana Taylor, and Secretary Kemyia Evans conducted the ceremony.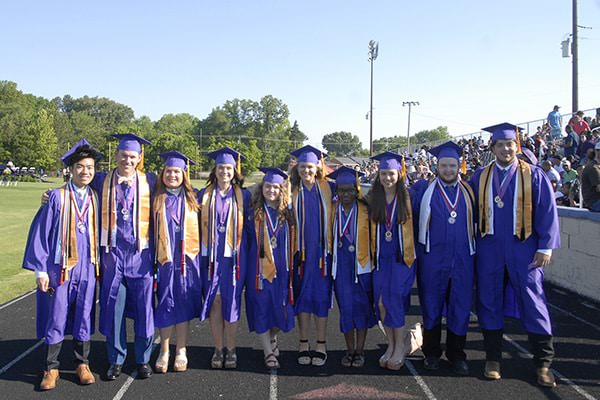 Honored as the Class of 2019 Top Ten were: (1) Bendy Yuan-Zhao (98.65) –Valedictorian, (2) Samuel Banks (98.47) – Salutatorian, (3) Jordan Cone (98.26), (4) Colbie Killen (97.89), (5) Anna Haynes (97.81), (6) Leslie Fox (97.54), (7) Ashlei Williams (97.36), (8) Karsen Neal (96.92), (9) Hunter Smothers (96.68), and (10) Jackson Pettigrew (96.66).
Among other honors, Mrs. Jackson recognized seven HHS graduates who are going into the military, 24 graduates qualified for Tennessee Scholars honors, 12 students received REDI College Access Awards for a total of $19,200 for 2 years.
College and University Scholarships presented at the ceremony equaled $920,744 (4 years), 93 students qualified for HOPE scholarships with a total of $291,000 over 4 years, and local donors presented Scholarships equaling $86,747.
Mrs. Johnson ended the ceremony with this message to the students, "If you keep up your grades and remain eligible to renew your college and lottery scholarships for four years, the Class of 2019 will leave with a combined total of $1,317,691 to help further their education over the next four years."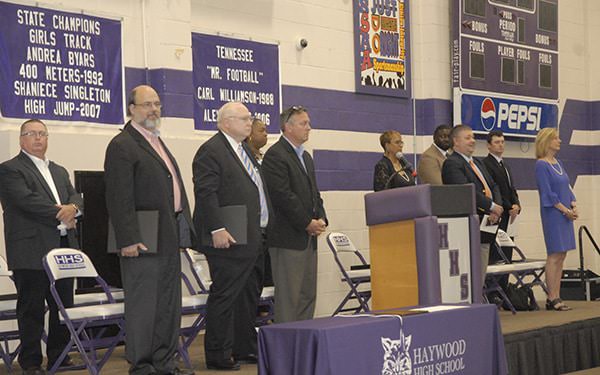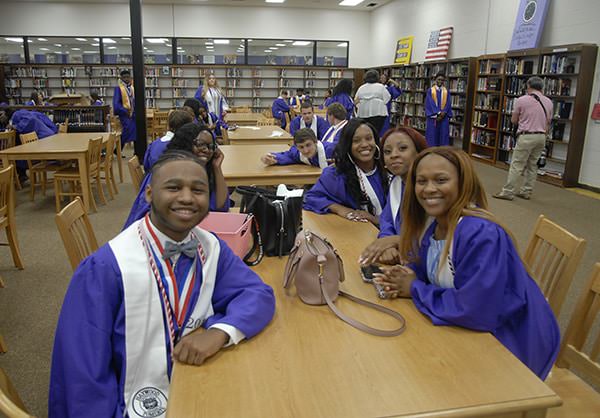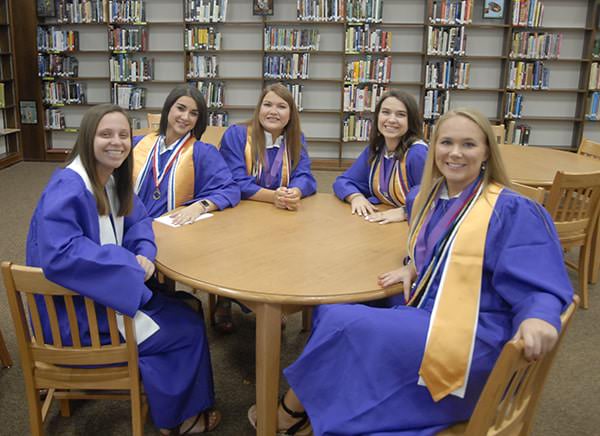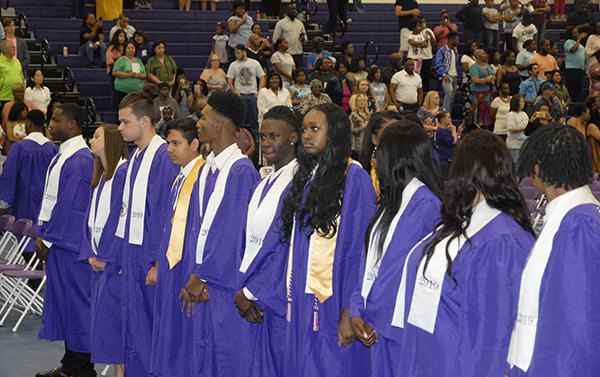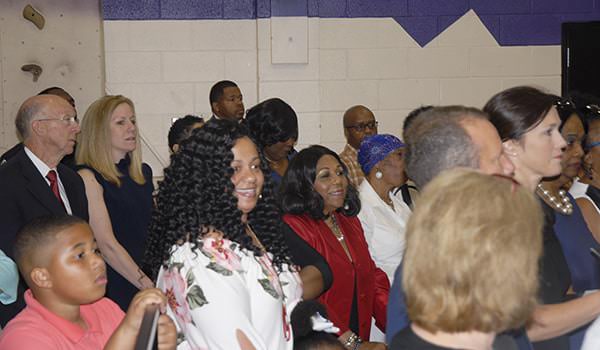 Saturday morning, beginning at 9 a.m., the graduates took their final walk as a high school senior as they received their diplomas at the L. Z. Hurley Memorial stadium.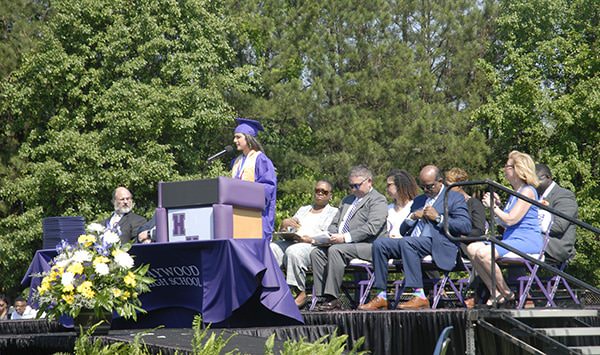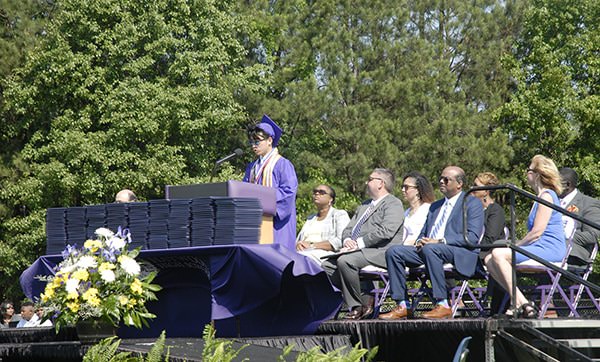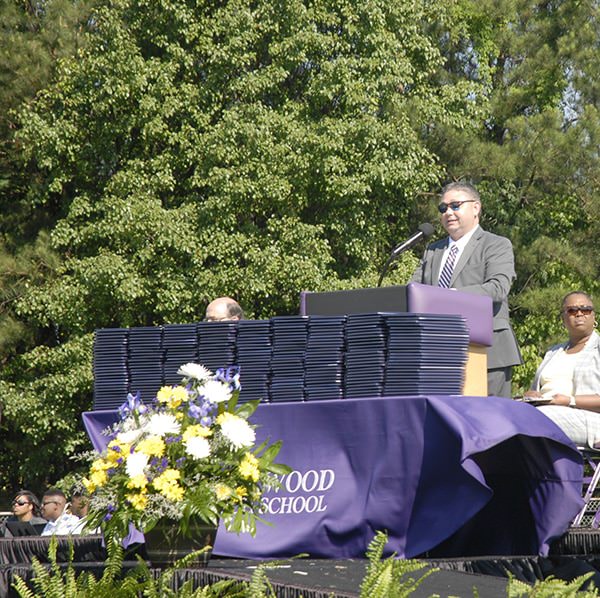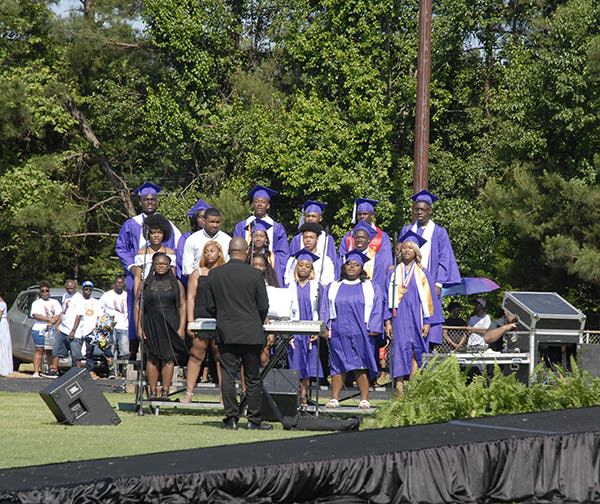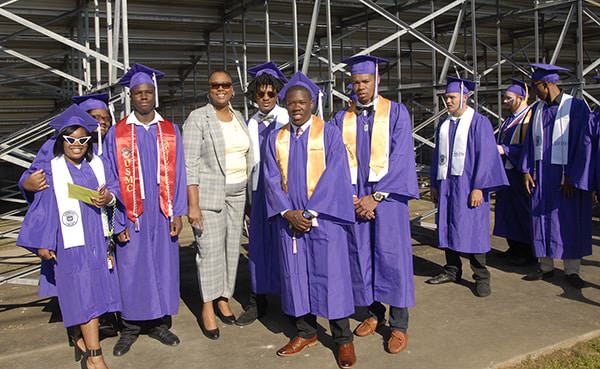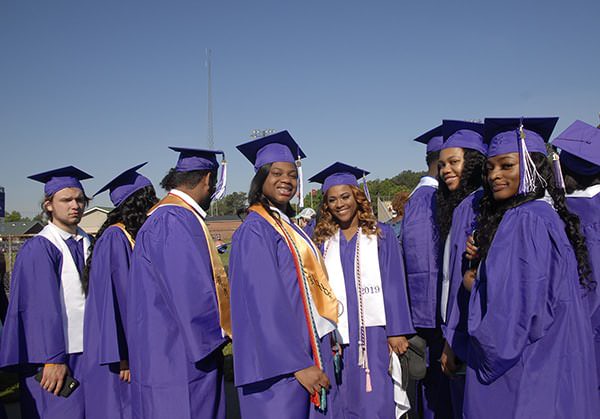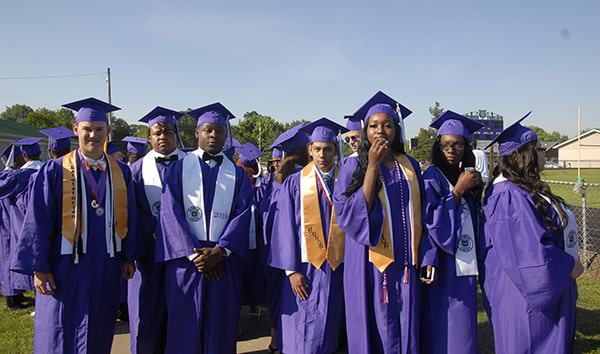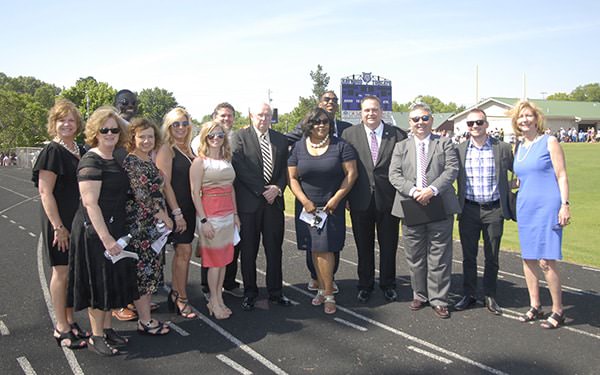 2019 GRADUATES and Scholarships
Daisha Antoinette Adams
Jakecia Lybred Adams: HOPE Scholarship
Ka'Marria LaNay Adams: HOPE Scholarship
Shakayla Denise Alford: $2,000 Catherine T. Colhoun Memorial Trust Scholarship, HOPE Scholarship
Brad Anderson, Jr.: HOPE Scholarship
Lové Tyshun Anderson
Daniel Arellanes: Tennessee Scholar, HOPE Scholarship
Joshua Drake Austin
Leigha Christian Bailey: William Penn University Athletic Scholarship $14,000 per year for 4 years = $56,000, $500 American Legion Post 114 Scholarship, READY Graduate
Detravious Hakeem Baker: HOPE Scholarship
Samuel Thomas Banks: Salutatorian (Top Ten #2), Distinguished Scholar, Joe T. Naylor Award, Thirty-Plus Club Member, Tennessee Scholar, READY Graduate, UT Volunteer Scholarship $8,000 per year for 4 years = $32,000, Distinguished Tennessean Award and University of Tennessee Pledge Scholarship $3,403 per year for 4 years = $13,612, HOPE Scholarship, General Assembly Merit Scholarship, $500 Ronnie Richards Memorial Scholarship, $500 First United Methodist Church – James Sumner Sharpe Memorial Scholarship, $1,000 Brownsville Exchange Club Scholarship
Tre'veon D'Angelo Banks: A.R. Award for Outstanding Junior ROTC Cadet, Tennessee Scholar, READY Graduate, HOPE Scholarship, Distinguished Scholar
McKenna Elise Barken: Distinguished Scholar, Top Twenty (#16), READY Graduate, $500 Dunbar-Haywood County Training School/Carver High School Alumni Association, Haywood County Chapter Scholarship, $1,000 Meux Family Scholarship, $500 Marie Hafford-Browning Foundation Scholarship, $400 Academic Scholarship and $840 Cotillion Scholarship from Alpha Kappa Alpha Sorority, Inc., Xi Lambda Omega Chapter Scholarship
Cornisha Danyale Barnes: HOPE Scholarship, $500 Tracey Lynn Sikes Dream Scholarship, $500 Willow Grove MB Church Scholarship
Riley Ann Barr: Distinguished Scholar, Top Twenty (#13), Tennessee Scholar, READY Graduate, Union University Institutional Scholarship $6,750 per year for 4 years = $27,000, HOPE Scholarship, $500 Mark Conway Memorial Scholarship
Mikhayla Daneé Batchelor: HOPE Scholarship
Emily Claire Baynes
Alexiis Kalyra Shar'Na Bean: Tennessee Scholar, READY Graduate, Tennessee State University Academic Scholarship $18,000 per year for 4 years = $72,000, HOPE Scholarship
Emanuel Montgomery Beard: Bethel University Athletic Scholarship $12,000 per year for 4 years = $48,000, HOPE Scholarship
Bishop Alexander Bell
Derrion Cortez Bell: $1,000 Reverend Clay Evans Scholarship
Dontious D. Bell
Jordan Bell: Distinguished Scholar, Top Twenty (#18), Tennessee Scholar, READY Graduate, HOPE Scholarship, $500 American Legion Post 114 Scholarship
Timothy W. Bendall, Jr.
Anna Blackwell
Reshawna Bond: READY Graduate
Demarius L. Boyd: $750 Friendship Baptist Church/Rev. Martin L. Bowers Scholarship
Kiara Lashuntay Boyd
NaTory Boyd
Branderian Boyle
Ra'Shawn Douglas Bradford: Tennessee Scholar, READY Graduate
Jocelyn Varshae Brooks: $5,000 Middle Tennessee State University Blue Raider Scholarship, HOPE Scholarship
Destiny Elena Brown
Jamarius Brown
Diamond Lasha Brummett
Embreua Operia Bynum
Shekinah Grace Byrum: READY Graduate, HOPE Scholarship
Zakaria Zanáe Carpenter: $1,600 REDI College Access Scholarship
Samuel Carranza: HOPE Scholarship
Genesis Castro: HOPE Scholarship
Robert Chandler
Carlisle Elizabeth Clagg: Tennessee Scholar, READY Graduate, HOPE Scholarship
Chelsea Brianna Clark: $1,600 REDI College Access Scholarship, University of Tennessee, Martin Academic Achievement Scholarship $500 per year for 4 years = $2,000, HOPE Scholarship
Ja'Lyn Arnez Clark
Jarmarious Clark
Malik Comage
Jordan Leigh Cone: Top Ten (#3), Distinguished Scholar, READY Graduate, HOPE Scholarship, $500 Mark Conway Memorial Scholarship
Derrick Dewayne Cozart
Yatzi Cruz: HOPE Scholarship
Eric E. Cunningham: University of Memphis Music Scholarship – Band $2,000 per year for 4 years = $8,000
Rakayla Ayanna Currie
Markayla Sherona Davis: HOPE Scholarship
Jacob Delaney
Conaeja NeShaé Delk
Tyler Alexander Dickens: Tennessee Scholar, READY Graduate, HOPE Scholarship, $500 16th Review Club Scholarship
Dereontá M. Doaks
Jamya NaShaé Douglas: Distinguished Scholar, Top Twenty (#11), Tennessee Scholar, $1,600 REDI College Access Scholarship, READY Graduate, University of Tennessee, Martin Academic Scholarship $4,750 per year for 4 years = $19,000, HOPE Scholarship, $250 Haywood High School Class of 1996 Scholarship, $400 Academic Scholarship Alpha Kappa Alpha Sorority, Inc., Xi Lambda Omega Chapter, $2,000 Dunbar-Haywood County Training School/Carver High School Alumni Association, National Chapter, Scholarship
Quindarius Tywan Douglas
Skyler Jade Elrod: READY Graduate, HOPE Scholarship, $500 10th Review Club Scholarship
Zachary Allen Esquivias
Kemyia Sharda Evans: HOPE Scholarship, $500 Tennessee State Trooper John Gregory Mann Memorial Scholarship
Kevion Terrell Evans
Aaron Faulkner
Laurynn Riley Ferrell: READY Graduate
Xavierious Malik Fields
Christopher Foster: READY Graduate, HOPE Scholarship
Leslie Michelle Fox: Top Ten (#6), Distinguished Scholar, READY Graduate, Southwest Baptist University Academic Scholarship $20,660 per year for 5 years = $103,300, $500 Mark Conway Memorial Scholarship
Tra'Darius Franklin
DeMarius J. Freeman
Patrick Cayce Gaines: READY Graduate, HOPE Scholarship
Kaylie Hope Garrett
Keiston Cortez Gause
Nakayla Alexus Gause: HOPE Scholarship
Beatrice V. Gavin: HOPE Scholarship, $700 Nola Walker-Bond Scholarship
Cory Gillmer, Jr.
Shadaesya Cha'Nell Glover: Tennessee Scholar, $1,600 REDI College Access Scholarship, HOPE Scholarship, $250 Haywood High School Class of 1996 Scholarship
Melissa Danyel Gooden: $1,600 REDI College Access Scholarship
James Goodman: HOPE Scholarship
Deven Trent Grandberry
Bria Grant: Distinguished Scholar, 2019 Amro Music Mid-South Honor Band Award, Tennessee Scholar, Tennessee State University Music Scholarship – Band $6,000 per year for 4 years = $24,000, HOPE Scholarship, $300 Tennessee State University Alumni Association Scholarship
Jataz Gray
Jamia LaDasia Green: $500 Boys' and Girls' Club Scholarship, $750 Haywood County Education Association Scholarship
Skye Antionette Green: Tennessee State University USDA Scholarship $10,000 per year for 4 years = $40,000, HOPE Scholarship, $500 Dailey and Minnie Walker Memorial Scholarship, $1,000 Movell Byars, Jr., Memorial Scholarship, $300 Tennessee State University Alumni Association Scholarship
Trotavious Green: $500 Willow Grove MB Church Scholarship
Tyasia B. Green
Dante B. Harris
Hermekia Shantericka Harris: HOPE Scholarship, $750 Hickory Grove M.B. Church Scholarship
Robert Jordan Harris: HOPE Scholarship
Ebony Nicole Harwell
Anna Nicole Haynes: Top Ten (#5), Distinguished Scholar, Ed Thompson Award, Tennessee Scholar, READY Graduate, Union University Academic Scholarship $16,705 per year for 4 years = $66,820, HOPE Scholarship, $1,000 Dr. Jack G. Pettigrew Scholarship, $2,000 Mann Scholarship, $1,000 Tennessee Academy Foundation Scholarship
Kadajah Meyana Henly
Cortlin N. Herron: $1,600 REDI College Access Scholarship, HOPE Scholarship, $300 Good Hope Baptist Church Scholarship
Jatlin Donté Hess: HOPE Scholarship, $500 Pearl Qualls Memorial Scholarship (Given by the Milwaukee Chapter Dunbar-Haywood County Training/Carver High School Alumni Association), $2,000 Catherine T. Colhoun Memorial Trust Scholarship
Ananda Sharda Hill
Ahmadia Veronica Hines: READY Graduate, HOPE Scholarship, $1,000 Brownsville-Haywood County Arts Council Scholarship, $1,500 Elizabeth R. Norris Memorial Scholarship
Deyondrius Hines: $400 Sidney Sternberger Memorial Scholarship, $500 Willow Grove MB Church Scholarship
Sherron Maurice Hines: Bethel University Athletic Scholarship $10,500 per year for 4 years = $42,000
Ja'Darius Tyrell Hines-Cliff: READY Graduate, HOPE Scholarship
Shelby Lynn Hodge: READY Graduate, HOPE Scholarship
Keaston Maurice Holloway
Traonne Shanesha Holloway
Darian Devon Houston: HOPE Scholarship, $300 Good Hope Baptist Church Scholarship
Maria Houy: HOPE Scholarship
Jordan Brent Howell: READY Graduate, HOPE Scholarship
Tyler Keshun Hudson
Alexandria Reshay Hunt: Joining United States Air Force
Erica Deshawnna Hurt: READY Graduate, HOPE Scholarship, $1,000 HHS Class of 1979 Scholarship
Makiyah Lanae Jarrett: READY Graduate, HOPE Scholarship, $1,000 Farmer Chapel – Maude E. Rawls/Joe L. Taylor Scholarship
Montré Jeter
Calen Deshun Johnson: READY Graduate, HOPE Scholarship, $1,500 Willie James Memorial Scholarship, $300 Tennessee State University Alumni Association Scholarship
Larry Ross Johnson
Marcus Durrell Jones
Tawana Jones
Jenavieve Nicole Jordan: READY Graduate
McKenzie Grace Kelly: READY Graduate, HOPE Scholarship
Colbie Leigh Killen: Top Ten (#4), Distinguished Scholar, READY Graduate, HOPE Scholarship, $500 Mark Conway Memorial Scholarship, $500 First United Methodist Church – James Sumner Sharpe Memorial Scholarship
Aria Reneá Kinchelow
Xavier Montez King: Bethel University Athletic Scholarship $10,500 per year for 4 years = $42,000
A'Nya Lashelle Kinney: HOPE Scholarship,
Randarious Dashun Kinney: READY Graduate
Kaleb A. Kutz: READY Graduate, HOPE Scholarship
Amanda Morgan Layton
Jody Thomas Lea, Jr.: Distinguished Scholar, Top Twenty (#20), Tennessee Scholar, READY Graduate, HOPE Scholarship
Marco Antonio Leon: READY Graduate, HOPE Scholarship
Ernesha Travonda Lewis
Jorden Nikiya Lewis: $1,600 REDI College Access Scholarship, READY Graduate, $1,000 Gladys Evans Jones Scholarship, $110 Cotillion Scholarship Alpha Kappa Alpha Sorority, Inc., Xi Lambda Omega Chapter Scholarship
William Bond Lonon: Tennessee Scholar, HOPE Scholarship, $500 First United Methodist Church – James Sumner Sharpe Memorial Scholarship
Jaylon O'Brien Lucas
Briana Mann: READY Graduate, HOPE Scholarship
Jakalyn Marquis Manns
Courtney Lea Marbry: $1,000 Reverend Clay Evans Scholarship
Sidney Lee Martin: READY Graduate, HOPE Scholarship
Kylan McDougal
QuinAntony McGowan: READY Graduate
Lamonte Middlebrooks
Kenneth Joshua Miller
Dylan Ellis Milton
Jada Monie
Zachary K. Moore
Cadaja D'air Morton: HOPE Scholarship
Trakilah Makaiyl Morton: READY Graduate, $500 Willow Grove MB Church Scholarship
Karsen Gail Neal: Top Ten (#8), Distinguished Scholar, Tennessee Scholar, READY Graduate, HOPE Scholarship, $5,740 Coburn Scholarship (Given in Memory of Mr. E. B. Coburn)
Deronica Michelle Nelson: READY Graduate
Whitney Michelle Ostrom: HOPE Scholarship
Luis Padron
Acayla Rayshun Palmer: READY Graduate, $750 Hickory Grove M.B. Church Scholarship
Jadaya Parsons: READY Graduate
De'Marius Ra'Shun Pearson: HOPE Scholarship, $500 Willow Grove MB Church Scholarship
Quentin Ramone Pearson
Tra'Myi'A Peete: $750 Hickory Grove M.B. Church Scholarship
Jaylin Shamar Pender: Joining the United States Air Force
Joel David Perez, Jr.
Everette Baker Pettigrew: Top Twenty (#14), Distinguished Scholar, D.A.R. Good Citizenship Award, Tennessee Scholar, READY Graduate, HOPE Scholarship, $500 First United Methodist Church – James Sumner Sharpe Memorial Scholarship, $1,530 Joe and Evelyn Naylor Memorial Scholarship, $1,000 Marla Angotti Memorial Scholarship
Jackson Lefave Pettigrew: Top Ten (#10), Distinguished Scholar, Tennessee Scholar, READY Graduate, Mississippi State University Non-resident, Covard Future Leader, Eagle Scout and Freshman Academic Scholarships $15,000 per year for 4 years = $60,000, $500 First United Methodist Church – James Sumner Sharpe Memorial Scholarship, $1,000 Molly Williamson Memorial Scholarship
Dee'Jah KaTryce Pickens: $1,600 REDI College Access Scholarship, HOPE Scholarship
Lillie Rebecca Pittman: Tennessee Scholar, READY Graduate, HOPE Scholarship, $1,000 Meux Family Scholarship, $500 Memrie H. Butler and Ben Butler Memorial Scholarship
Isaiah Deshun Polk: Top Twenty (#15), Distinguished Scholar, Tennessee Scholar, READY Graduate, HOPE Scholarship, $2,000 Catherine T. Colhoun Memorial Trust Scholarship
Kirsten Susannah Porch: Top Twenty (#19), Distinguished Scholar, $1,600 REDI College Access Scholarship, READY Graduate, Jackson State Community College Athletic Scholarship – Softball $1,000 per year for 2 years = $2,000, HOPE Scholarship, $500 First United Methodist Church – James Sumner Sharpe Memorial Scholarship
Breonica Latese Reed: $1,600 REDI College Access Scholarship, READY Graduate, HOPE Scholarship
Decourtney Montreal Reed: $500 First United Methodist Church – James Sumner Sharpe Memorial Scholarship
Aaliyah Marie Renteria
De'Shia Monique Renteria
Sanjuanita Reyna: Tennessee State University Music Scholarship – Band $6,000 per year for 4 years = $24,000, HOPE Scholarship
Justin Keshun Richardson
Jaime Rodriguez Garcia: READY Graduate, HOPE Scholarship, $500 American Legion Post 114 Scholarship
Allison B. Rogers
Brandon Rogers: READY Graduate
Zarquavious D. Rogers
Trondarius Rutherford
Nathan Amaru Sanderlin
Chellby Aaliyah Sanders
Marlon Isiah Sangster
Alexander Todd Sceals: Top Twenty (#17), Distinguished Scholar, Joining the United States Air Force, READY Graduate
Ethan Park Scott: READY Graduate
Jessica Seymour
Keshaun J. Seymour
Nakiya Zanisha Seymour
Candace Brianna Shaw: HOPE Scholarship, $1,000 Robert E. Allison Humanitarian Scholarship
Robert Shaw: Joining the Marines, HOPE Scholarship
Ryterian Jarrell Sheffield: HOPE Scholarship, $1,000 C.A. Rawls Memorial Scholarship, $500 Mrs. Willie Mae Shaw Memorial Scholarship, $300 Bradley Jones Foundation Scholarship, $1,000 Margaret Ann Welch Memorial Scholarship
Cortavious Keshaun Shephard: HOPE Scholarship, $500 Cynthia Douglas Memorial Scholarship, $2,000 Catherine T. Colhoun Memorial Trust Scholarship, $500 Reverend Freddie J. Powell Memorial Scholarship, $400 Jim Batchelor Memorial Scholarship, $500 Mary C. Ragland Memorial Music Scholarship (Given by The Wednesday Morning Musicale)
Taylor Cortez Shields: HOPE Scholarship
Cullen McKenzie Shoemaker: Joining the United States Army
William Kenton Sigler, II
Isaiah Rashan Singleton: Lane College Music Scholarship – Band $12,500 per year for 4 years = $10,000
Hunter Ricks Smothers: Top Ten (#9), Distinguished Scholar, Tennessee Scholar, READY Graduate, HOPE Scholarship, $1,000 Tennessee Academy Foundation Scholarship, $500 First United Methodist Church – James Sumner Sharpe Memorial Scholarship
Stevie Cornell Snipes
Javaress Markeston Somerville
Jolisia Nayana Springfield
Todd Jecoby Springfield
Brequela Keira Starks
Kyron Stocking
Jakobe Dequn Swift: HOPE Scholarship
Briana DaZhané Taylor: $927 Miss Debutante Pageant 2019 Scholarship
Bryan L. Taylor, Jr.
Cordarrius Taylor
Damarcus Leeshon Taylor: HOPE Scholarship
Duntaraus Jaden Taylor
Iyana Nicole Taylor: $1,600 REDI College Access Scholarship, University of Tennessee, Martin Academic Scholarship $500 per year for 4 years = $2,000, HOPE Scholarship
Jakalia Catriss Taylor
Jaylon Taylor: Distinguished Scholar, Brownsville Exchange Club ACE Award, 2019 Amro Music Mid-South Honor Band Award, Tennessee Scholar, University of Memphis Music Scholarship – Band $2,000 per year for 4 years = $8,000, HOPE Scholarship, $500 Dunbar-Haywood County Training School/Carver High School Alumni Association, Haywood County Chapter Scholarship, $500 Pearl Qualls Memorial Scholarship (Given by the Milwaukee Chapter, Dunbar-Haywood County Training/Carver High School Alumni Association), $2,000 Mann Scholarship, $2,000 Catherine T. Colhoun Memorial Trust Scholarship,
Nautica Leikeye Taylor
Jada Transon
Braxton Turner: Joining the United States Air Force, HOPE Scholarship, $300 Good Hope Baptist Church Scholarship
Mike D. Turner
Massai Reid Twitty: Top Twenty (#12), Distinguished Scholar, $1,600 REDI College Access Scholarship, READY Graduate, University of Memphis Dean's Academic Scholarship $1,500 per year for 2 years = $3,000, HOPE Scholarship, $500 Memrie H. Butler and Ben Butler Memorial Scholarship
Caterra L. Tyus
Jerelisha Vontay Tyus
Taylen Keonte Tyus: HOPE Scholarship
Ashley Vasquez
Joneshia N. Voss
Baileigh Haynes Waldrop: HOPE Scholarship
Jakayla Chardae Walker: HOPE Scholarship, $700 Nola Walker-Bond Scholarship
Montasia Walker
Lane Taylor Ward
Kylon Shaidel Washington: READY Graduate, HOPE Scholarship
Alexia B. Watkins: READY Graduate, HOPE Scholarship, $2,000 Dunbar-Haywood County Training School/Carver High School Alumni Association, National Chapter, Scholarship, $1,000 HHS Class of 1979 Scholarship
Peyton Maverick Watson
Allen Cornelius Weathers, Jr.
Shanya Nahvielle Whitelaw: READY Graduate, HOPE Scholarship, $500 First Baptist Missionary Baptist Church Scholarship
Alex Jeanette Williams: READY Graduate, University of Tennessee, Martin Achievement Academic Scholarship $500 per year for 4 years = $2,000, $1,000 Fred and Marie Colvett Family and Consumer Service Scholarship, Harold Conner Academic Scholarship $2,000 per year for 4 years = $8,000, HOPE Scholarship, $500 Willow Grove MB Church Scholarship
Ashlei Renae Williams: Top Ten (#7), Distinguished Scholar, Tennessee Scholar, READY Graduate, University of Tennessee, Knoxville UT Pledge Scholarship $12,253 per year for 4 years = $49,012, HOPE Scholarship, $4,000 Brownsville Rotary Club Scholarship, $1,000 University of Tennessee Haywood Alumni Scholarship, $2,000 Catherine T. Colhoun Memorial Trust Scholarship, $500 Willow Grove MB Church Scholarship
Wanda Caitlin Williams
Termaine J. Williamson
Trekia Laura Woods: HOPE Scholarship
C. Wright
Tyreke Shemar Yancey: HOPE Scholarship, $750 Hickory Gove M.B. Church Scholarship
Jerwin Young: Bethel University Athletic Scholarship $10,500 per year for 4 years = $42,000
William Young
Bendy Yuan-Zhao: Valedictorian (Top Ten #1), Distinguished Scholar, Thirty-Plus Club Member, Tennessee Scholar, READY Graduate, New York University NYU Shanghai Undergraduate Grant $30,000 per year for 4 years = $120,000
Brandy Carolina Zamudio: READY Graduate
Jorge Zanabriga: HOPE Scholarship