Cross Country is a sport that takes endurance of all kinds.  The physical endurance of running over three miles – lungs expanding and feet aching – is what first comes to mind.  The diverse terrain of courses and the heat of early autumn in West Tennessee forms a challenging setting for any runner. The mental endurance required to be successful, however, is what sets apart great runners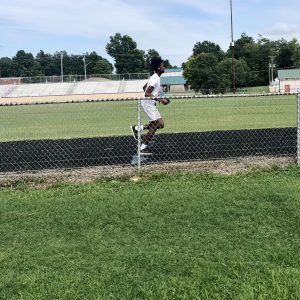 from average runners.
Haywood High School Cross Country coach Dave Rogers knows the cost of being a runner is sometimes high.  It requires discipline, mental fortitude, and athleticism.  For the most part, success on the cross country course is up to the individual.  While teammates may shout words of encouragement, a runner's legs will move them and their heart will sustain and push them even if they're to the point of exhaustion.  Coach Rogers knows this better than anyone else.  
"I've been coaching Cross Country for nine years at Haywood High School.  I've been the Track and Field Coach here, too, so it's a natural fit to coach Cross Country," he said.  "Cross Country is more about longevity; you're running 3.2 miles.  In practice, we'll run miles every time.  I'll take our runners to different areas in the city to practice because during meets they'll run on different types of surfaces – some grass, some concrete, some trails."
A lot of the runners on the Cross Country team at Haywood High School use the cross country season as a way to train for the upcoming Track and Field season in the spring.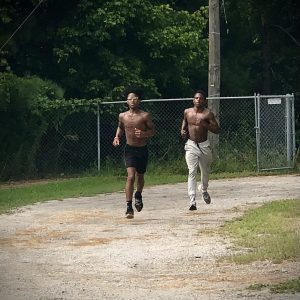 "A lot of my kids who run Cross Country use it as training for Track season.  It increases their performance and confidence.  It gives them confidence in their conditioning," Coach Rogers explained.
For high school athletes, confidence is formed by much more than simply hearing words of encouragement from a coach or a parent.  True confidence is formed from setting out to do something challenging and then completing that challenge.  For runners, it could be increasing their distance or decreasing their time during a run.  The most important lesson for runners, however, is understanding the perseverance it takes to finish a race, and the personal methodology it takes to accomplish that task.
"I tell my runners that the last part of a cross country race is almost more mental than physical; it's about how much they want it.  Some runners love doing it and to be successful in cross country, you have to love it," Coach Rogers said.  "The pacing of the running is up to the individual runner; it's a personal preference.  I tell my runners that they have to learn their own personal strategy.  Some like to start fast and then pace themselves, but some also like to conserve their energy at the beginning and then turn it on during the last part of the race.  They have to see what works best for them."
The cross country team at HHS is young this year.  The runners are all sophomores, and the adjustment to the distance of the races has been challenging.  Coach Rogers has seen improvement since June, however.  
"We've been practicing since June and some have progressed faster than others.  Some will work more on their own than others will.  I tell them to run on the weekends together as much as they can," he said.  "All of my runners are sophomores and most of them are first time runners.  They're getting used to it now, though."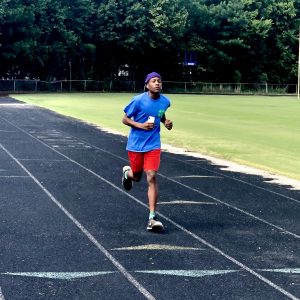 The HHS Cross Country team will have thirteen meets this season and will travel for all of them, mostly to the Northwest area of West Tennessee.  Coach Rogers' main priority for his runners is to see them improve and continue to persevere.  He also wants to instill a love of healthy exercise for them that they can take with them even after their high school cross country career ends.  And, for some, he wants to see them pursue post-high school running opportunities should they choose to do that.  
"Some of them want to run in college and, at that level, runners have to have a passion for it.  High school Cross Country is a great start, but if you're not passionate about that type of running, it'll be hard to find success at that level," he said.