There are fundamental skills that overlap in every sport – weight distribution, balance, low center of gravity, explosive movement.  All of these physical skills can be found in successful athletes regardless of the sport they play.  
Baseball and football are fast-twitch muscle sports; a build to an explosive movement and then a momentary reprieve from the physicality until the process starts all over seconds later.  Basketball and soccer also have aspects of their sports that require those explosive movements, but the cardiovascular endurance it takes to run back and forth on the court or field takes intense training and perseverance.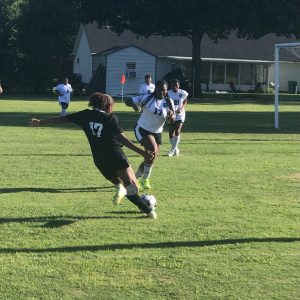 Haywood High School Girls Soccer coach Maurice Jones is in the early part of the 2022 season.  Last year, the HHS Lady Tomcat soccer team had a successful season that culminated in advancing to the second round of the district tournament before losing to the eventual district champion, Millington.  Even though this season has not started off the way Coach Jones might have hoped, he still sees a great amount of potential in his team.
"We've had some ups and downs so far this season, but we're going to be okay," he said.  "We've had two games back to back which has been challenging because soccer takes so much out of the players because of the running and physicality.  Players have to put their weight against their opponent's weight, so there's a lot of strength involved and playing games on back to back nights is very challenging."
Now that the season's schedule has started to even out some, Coach Brooks believes his players will begin to find a rhythm.
"We have 16 games on the schedule," he remarked.  "We're a young team this year; we only have two seniors on the team.  Last year, we lost six seniors, but we have a lot of juniors and sophomores."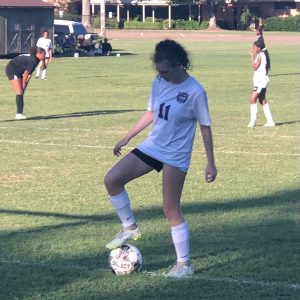 With such a young team, Coach Brooks wanted to make sure his players understood the commitment it takes to compete on the high school level in an athletic event.  Understanding the nuances of the sport is extremely important at the high school level, but the physical training and conditioning required to be successful is something that takes training and discipline.
"In March, we start with weight lifting, and I encourage the girls to run on their own at home, too," Coach Brooks explained.
Along with the physical training required, Coach Brooks talks with his players about forming healthy habits while they're young that can carry over to their lives as an adult.  One of those habits can also have a positive effect on their training for soccer – nutrition.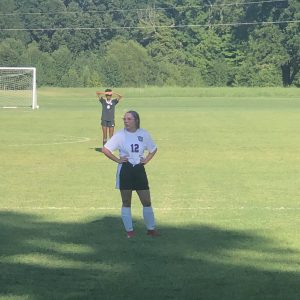 "I talk to my players all the time about eating right.  Soccer is so different; you can't eat junk food or greasy food.  There's a 40 minute non-stop first half, a ten minute halftime, and then another 40 minute half.  If your body isn't nourished right or nourished enough, you won't have the energy to play a full game," he said.  "I've really tried to educate my players on healthy lifestyles when it comes to nutrition.  I'll send a group text out the day of the game to remind them to eat enough and drink enough water."
Thinking about nutrition is a good habit to form whether or not a student is playing a high school sport.  A healthy and balanced diet can improve learning, sleep, and mood.  For an athlete, the effects can also be seen on the field.  
"Our first game, we had girls getting sick because they weren't physically prepared – they hadn't eaten enough," he said.  "But, they're learning.  Some of my players have responded well to the nutritional aspect; they want to know what to eat or not eat.  Some of them will tell me the amount of water they've had during the day.  They're excited to learn about it."
As the season nears the midpoint, Coach Brooks is starting to see his team take shape.  He recognizes the areas for improvement, but also can tell where strengths lie on the team.
"Our strongest points on our team this year are our midfielders.  We have seven or eight girls that can play that position.  It's important because that position plays both offense and defense, and they have to move up and down the field.  That's also why conditioning is so important," he explained.
When competing in any sport on the high school level, coaches and players obviously want to win.  There are, however, more important lessons and life skills that can be taught and learned while students are participating in high school athletics.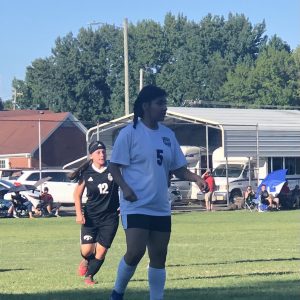 "I really want my players to have a passion for the sport; I want to see that heart and perseverance.  I want them to want to be on the field and feel like they're needed," Coach Brooks explained.  "I want my players to learn responsibility and communication skills.  They have to have those qualities when they leave high school.  I'm trying to instill those attributes in them.  I want them to see how important communication and responsibility are."