Jobs for Tennessee Graduates at HHS
Haywood High School boasts one of the most diverse curriculums in West Tennessee. With Advanced Placement access for all, a robust offering of Career/Technical pathways, and a brand new dual enrollment partnership with Jackson State Community College, students at HHS have multiple avenues in which to pursue post-secondary success. A new program that has been introduced this year aims to consolidate the necessary skills for all students who plan to be successful beyond high school – whether that be in a four year university, a community college, TCAT, or diving straight into the workforce.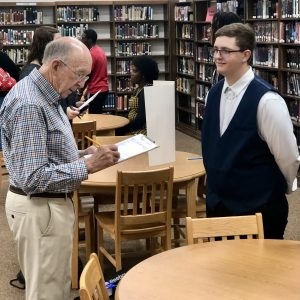 Jobs for Tennessee Graduates (JTG) is a program designed to help guide students toward a post-secondary education, a meaningful career, and a productive adulthood. Using a comprehensive set of competencies that are taught during the program, students learn best-practices for success beyond high school.  These competencies include important skills such as career development, job attainment, personal skills, and economic empowerment.  
Leading the JTG program at Haywood High School is Brandon Leek. Brandon is a History teacher, but has gravitated toward the piloting of the JTG program this school year.  He is teaching two classes of JTG this semester and will teach more sections next year as the program will expand to include every senior at HHS.
"The main focus of JTG is to prepare students for post-secondary life after high school. This isn't just university or college focused; it helps prepare all students to be successful regardless of the path they take after high school graduation. This could be community college, a four year university, tech school, trade school, or the military. We just want students to be prepared for success," Brandon explained.
Regardless of the path a student chooses for themselves, there are certain universal qualities needed for success in any arena of postsecondary life.  Many industries refer to these qualities as "soft-skills" and these skills can often be overlooked in traditional, academic courses in schools.  JTG is a program that seeks to fill those gaps and give students much-need practice at communicating and planning ahead for success.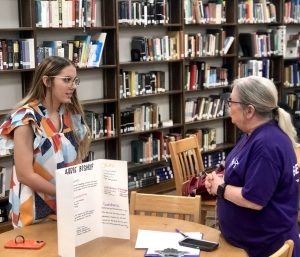 "We really focus on communication. That's one of our competencies. We want our students to be able to communicate verbally as well as through writing," Brandon said. "We also work on job attainment skills – how to create a resume, how to interview."
One way that students put those learned skills to the test is when JTG hosted a reverse career fair at Haywood High School on November 4.  Brandon invited multiple professionals from local industries to attend the reverse career fair and help students practice sharpening their interviewing skills.  Each student had their own table with a resume board created.  Each industry professional rotated through the fair and spent about three minutes with each student.  The JTG students were able to practice their communication skills and answer questions from each business.  
Brandon explained how the reverse career fair might be challenging for some students, but also allowed them to learn from any mistakes they might make during the interviews.
"We're taking the idea of a traditional career fair and flipping it – we'll have prospective employers rotate through the library and have a two minute interview with each student that will allow the students to practice those necessary communication skills," he explained.  "When we started this class, we did a lot of presentations and kids were nervous about them. Sometimes students spend more time communicating via technology rather than verbally or face to face, and we really want to change that with this class. Communication skills are necessary for success in the job world. With this reverse career fair, they may fall on their face, but it's going to be necessary practice.  We're here to learn from mistakes and gather experiences to make the students better all-around."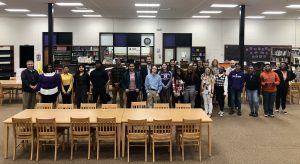 One skill Brandon has emphasized with his students during the mock-interview process is helping his students with their elevator speeches.  
"Something we've really focused on lately is perfecting the students' elevator speeches. An elevator speech is simply an efficient and concise way to introduce yourself and grab the attention of a potential employer – it helps set the student apart and make a good first impression. The term is based on being in an elevator with someone and having a couple of minutes to make an impression," he explained.
While the reverse career fair is an excellent way to practice communication and interviewing skills, it's only a small part of what the JTG program offers at HHS. Brandon wants to make sure his students are learning everything they need to learn to be successful after they leave high school. That includes budgeting, learning how to file their taxes, and even knowing how to check the oil in their car.
"In JTG, we go beyond interviewing. We also learn real-life things like how to do your taxes, how to check tire pressure.  We did a financial literacy project a couple of weeks ago where we explored how to open and manage a checking account; we looked at housing costs and discussed budgeting. We looked at how much rent costs and how much a weekly trip to the grocery store would be," he said. "We break down every part of a budget. I want to give students an accurate picture of what life is like after high school and how important finding a job is and having the skills to find that job."
In and around Haywood County, the announcement of Blue Oval City has dominated the conversation surrounding the workforce, public education, and nearly every other community aspect of Brownsville.  Brandon recognizes the opportunity that will  be waiting for students when they leave high school and believes that JTG can give students a head start in comparison to other districts in West Tennessee.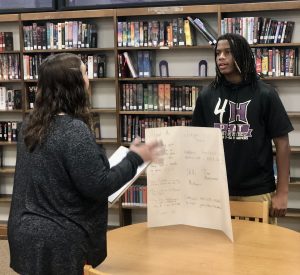 "We all know the opportunities that are coming in the next few years for students who graduate from high school.  We think our students have a head start because there's only one other high school in the area that offers this class," he said.
Outside of Ripley High School, HHS is the only high school in West Tennessee offering the JTG program.  Because this is the pilot year, JTG has been open to both juniors and seniors, but starting next year JTG will be a required class for all seniors.  
"This year, we're piloting the class. We have 51 students who are juniors and seniors.  Moving forward, this class will only be for seniors, and every senior will be required to take the class," Brandon said. 
Not only will each senior take the class, but Brandon will track each graduate for a year in order to check-in and provide support after graduation.
"From the time they graduate, I track each student from the program for a year just to make sure those students are finding success after high school," he said.
Along with preparing students for academic or work opportunities beyond high school, JTG also looks at compensation from local industries, tuition costs for colleges, and housing prices for the local market. All of this helps students to see a clear picture of what awaits after high school and what pathway could be the best option for them.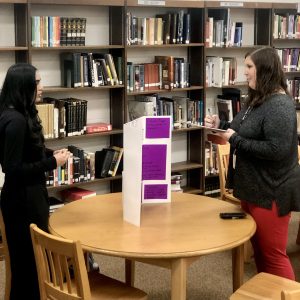 In the end, JTG provides a much needed space for students to explore areas that might have been blindspots in the planning process.  
"JTG really consolidates all of the opportunities that Haywood High School provides in its curriculum. Whether the student is university bound. TCAT bound, or workforce bound, this class helps them develop the skills necessary to be successful in any setting they find themselves in after high school," Brandon said.