Joe Hassell named Superintendent
Haywood County Schools Board Chairman Harold Garrett, Superintendent Teresa Russell and new Superintendent Joey Hassell
 The Haywood County School board met in regular session on Thursday, Junes 8, and unanimously agreed to name Joey Hassell Superintendent of Haywood County Schools. He comes to Brownsville from Ripley, Tennessee. In his career, he served nine years as superintendent of schools, both in Lake County and in Lauderdale County. The HCS Board offered Mr. Hassell a four-year contract beginning July 1, 2017, and running through June 30, 2021. His salary will be $105,000. Board members approved this contract before the superintendent position was filled.
In other business, board members granted permission for the Haywood Crusader Football Ministry to use the football field for four athletic games in the fall. Superintendent Teresa Russell said that the approval of this request is contingent on them providing proof of insurance, a letter from Sheriff Bond stating that security will be taken care of, and that there are no conflicting dates with Haywood County Schools activities. This has been cleared with Coach Tim Seymour, who is the Haywood Schools Athletic Director. All the requirements will be met. School Board member Greg Vanstory brought up that since the field has a new scoreboard, there has to be someone there who is qualified to run it. The organizers said they will meet with Coach Seymour to deal with this requirement.
During her celebration of schools, Mrs. Russell was proud to report that Anderson early Childhood Center Principal Charles Byrum, with the help of his staff, received a PreK grant for $610,008 for Anderson Early Childhood Center. She also asked Mrs. Yvette Blue to report on the myON program. It is a summer reading program that runs from May 15-August 15 that provides students with access to digital reading of hundreds of books. Anderson students read 54 books, Haywood Elementary School students read 143, East Side students read 235 books, and Haywood Middle School 104 books. This program is free this year. Mrs. Russell also reported on the Summer Express program at East Side where 90 students are participating, the Save the Children Program that has 50 participating, and the Read to Be Ready program at the Boys and Girls Club that also has 50 students participating.
The Haywood High School 18-member Cheerleading squad, under the direction of sponsor Emily Carpenter, was approved to attend cheerleader camp at Mississippi State University in Starkville, Mississippi, from June 15-18.
Board members approved the 2018 Federal Consolidated Application for IDEA/ESEA. Also at the request of Mrs. Russell, the board approved the reappointment of all the members of the Disciplinary Hearing Authority: Art Garrett, Chairman; Kenneth Emerson; Opal Hay; Cedric Bunch; and Marjorie Vaulx. Yvette Blue will serve as a substitute when needed.
As is customary each year, board members agreed to operate a continuation budget until passage of the 2017-2018 county budget by the Haywood County Commission. Following this order of business, board members approved a number of budget amendments.
The next meeting will be held on Thursday, July 13, 2017. 
Selection of Superintendent of Schools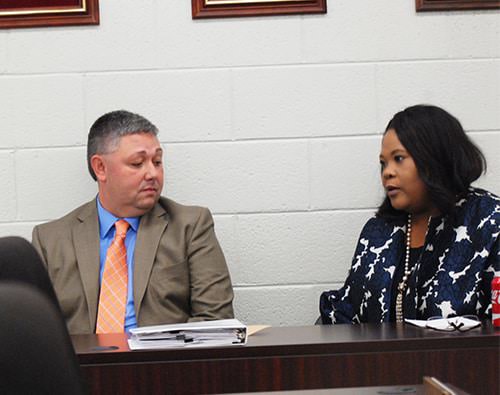 Joey Hassell and Yvette Blue
The Haywood County Schools superintendent hiring process began on May 16 at a community meeting where attendees could ask questions and make comments. They, along with all school employees, were also asked to fill out a survey that was used to guide the process and selection of the new HCS Superintendent. On May 18, the board had a called meeting to review the survey results and prepare for candidate interviews.
On May 24, a 3:30 work session was held by the board to screen the qualified applicants, consider questions for the interview process, and consider the interview schedule. At a 6 p.m. called meeting, board members began the voting process to decide which candidates to interview, schedule interview times, and determine how interview questions are to be presented to applicants. Board members selected Joey Hassell, Yvette Blue, Dr. Jerry Pyron and Dr. Ray Hill.
Another meeting was called on June 1 to publicly record the vote that was held at the May 24 meeting as a result of flawed balloting. The final four remained the same, but some of the board members changed their votes during the public vote. Only Joey Hassell was on everyone's list Thursday night. Mr. Hassell got five votes. Last time around Yvette Blue also received five votes. This time, Mrs. Blue received four votes as did Dr. Ray Hill. Selecting Dr. Jerry Pyron meant a run-off between he and Debra Jones. Board members Harold Garrett and Olivia Farrington picked Jones, while the majority, Allen Currie, Harrison Jones and Greg Vanstory, preferred Pyron.
Mr. Hassell was one of four final candidates, including Yvette Blue, Dr. Jerry Pyron, and Dr. Ray Hill, who were interviewed Monday and Tuesday nights. At a called meeting on Wednesday night, Board members took two votes to determine the final two candidates, Mr. Hassell and Mrs. Blue. Before the board meeting at 7 p.m. on Thursday, community members were invited to a meet and greet the finalists, who also answered questions. At the regular board meeting that followed, board members unanimously voted to hire Mr. Hassell.