There are multiple levels of safety within a school – feeling safe emotionally, feeling safe to make a mistake in class and then learn from that mistake, and, most importantly, feeling physically safe in a learning environment.  
Often, the awareness of "feeling safe" isn't something that is at the forefront of most people's minds; it's the awareness of potential danger that can cause stress and be a hindrance to learning. The best barometer of students feeling safe in their school is when the students aren't thinking about the issue of safety at all; they are simply allowed to be kids and learn to the best of their abilities.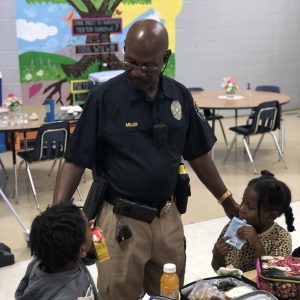 In Haywood County Schools, a School Resource Officer (SRO) is placed on every campus to ensure the physical safety of all students.  SRO's are trained police officers who have graduated from The Tennessee Law Enforcement Academy and have previous experience as a law enforcement officer.  
The job of an SRO requires a specialized skill set that sets them apart from police officers who are on patrol within a community.  SRO's must have the ability to build relationships with students, engage with teachers, and, above all, help protect everyone in the school building.
At Haywood Elementary School, staff and students can rest assured knowing that SRO Charlie Miller is on campus and making sure the school is safe and secure at all times.
Charlie is a twenty year law enforcement veteran.  He began his career as a Sheriff's Deputy in the Haywood County Sheriff's Department.  After twelve years there, he transferred to the Brownsville Police Department where he's spent the last five years as an SRO in the Haywood County School System.
"I've been at HES for five years," he said. "I was a deputy sheriff from 2002-2014. I've been with BPD from 2014 until now."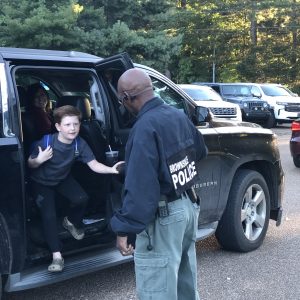 Transitioning from an officer on patrol to an officer stationed in a school environment has been a welcome change for Charlie.  The police work is completely different, and Charlie knows that the work done in schools is very important in regards to building community relationships. He also really enjoys the hugs and high-fives he gets on a daily basis from the kids he sees in the halls and the cafeteria.
"Being an SRO is quite different from being on the streets.  On the streets, you deal with the same people all the time and get some negative talk. It seems like people don't like us until they need us," he reflected. "But at HES, I get hugs everyday; I love it.  It just brightens my day and makes me feel good when I come to work."
In communities like Brownsville, it's commonplace for staff in the elementary school to see former students at Wal-Mart or the Burger Basket or another local establishment long after those students have left. Charlie says that's something he really enjoys about his job as well as how much it can help community relationships.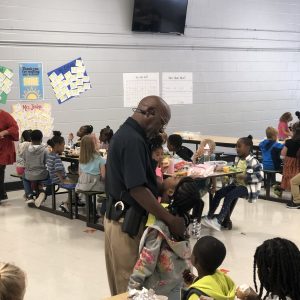 "When I work with kids at this age, I can see them when they're older and they remember me.  I hope to make a difference with them early and let them know that policemen and policewomen are here to help them," Charlie said. "That'll let me know that I'm doing my job."
The job of an SRO is multi-faceted – providing protection, relationship building, hall patrol, etc.  But when the job is boiled down to its most essential ingredient, the job of an SRO is to make sure everyone on campus – students and staff – are safe at all times.
There are safety measures in place at HES that Charlie makes sure are always in order.  He patrols the building multiple times a day looking for doors that are unlocked or ajar. He greets parents and students in the carpool line before and after school. He's present in the cafeteria during lunch shifts.  He monitors the playground during recess.
"What I normally do is check my school at least five times a day.  I walk around the school and check the doors then I come in and check the doors from the inside," he said. "I tell students all the time that unless there's a teacher they know at the door or me at the door, do not open the door.  I think it's great to have officers on every campus.  Teachers and students know the school is safe.  I think we probably need two on every campus, honestly."
One aspect of school safety that is important and necessary is the intruder drill that takes place on every campus.  Intruder drills are required on every campus at least once a year.  A few weeks ago, HES held their intruder drill, and Charlie helped other members of law enforcement carry it out.  He also made sure everyone knew their responsibilities.
"We had an intruder drill a few weeks ago that went really well.  It helps our teachers a lot to practice those procedures in case something happens," he explained. "Most of the time, intruders are looking for easy targets and easy access.  If a door's locked to a classroom, they'll just move on to the next one.  That's why keeping those doors locked inside is so important."
An unwanted intruder in a school building is a worst-case scenario but it's a scenario that must be practiced in order to be prepared for it. The drill is a way to make sure everyone in the school knows what to do and when to do it.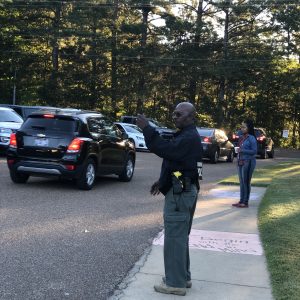 The long term goal for Officer Miller is to continue to build relationships with the students in his building and keep that connection even after those students leave.  He wants to use those relationships to connect himself and the department to the community – to show them that he's here to help them even after their students leave HES.
"Even though I work in the school, I still interact with the community because I'm working with their children.  I've had parents come up and say hello to me in the carpool line and thank me for what I'm doing.  It shows the community that we're not out here just writing tickets or taking people to jail.  We care about the community, too, and we care about the kids."