There are multiple levels of safety within a school – feeling safe emotionally, feeling safe to make a mistake in class and then learn from that mistake, and, most importantly, feeling physically safe in a learning environment.  
Often, the awareness of "feeling safe" isn't something that is at the forefront of most people's minds; it's the awareness of potential danger that can cause stress and be a hindrance to learning. The best barometer of students feeling safe in their school is when the students aren't thinking about the issue of safety at all; they are simply allowed to be kids and learn to the best of their abilities.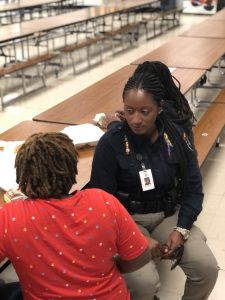 In Haywood County Schools, a School Resource Officer (SRO) is placed on every campus to ensure the physical safety of all students.  SRO's are trained police officers who have graduated from The Tennessee Law Enforcement Academy and have previous experience as a law enforcement officer.  
The job of an SRO requires a specialized skill set that sets them apart from police officers who are on patrol within a community.  SRO's must have the ability to build relationships with students, engage with teachers, and, above all, help protect everyone in the school building.
Safety is paramount at all schools in HCS, but especially at Sunny Hill Intermediate School.  Just off exit 56 of Interstate 40, SHIS is the furthest removed of all the schools from the the Brownsville Police Department and The Board of Education. Because of its proximity to the interstate, there is also added traffic in the area of the school.  
Donelda Clayton is the School Resource Officer at Sunny Hill and is one of the longest tenured SRO's in HCS.  Officer Clayton is a law enforcement veteran of over ten years and started the Drug Abuse Resistance Education (D.A.R.E.) program at East Side Elementary several years ago.
"I started at the Brownsville Police Department in 2014 as a patrol officer.  Shortly after that, I became a D.A.R.E. officer at East Side Elementary.  DARE had been out of Haywood County for close to twenty years before it was reintroduced," she said.  
Most people associate the D.A.R.E. program with teaching kids to say no to drugs and alcohol, but the program has evolved to help students in 2022 learn ways to overcome all sorts of challenges they may face as a pre-teen or teenage student.  Officer Clayton considers herself very lucky to be able to be the D.A.R.E. instructor at Sunny Hill.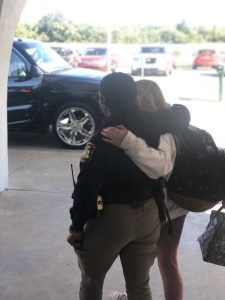 "DARE is so important for students at this age.  Around 5th and 6th grade is when students start to be faced with peer pressure.  The DARE program provides students with the tools they need to succeed when they're faced with situations like drug use or bullying or any other types of peer pressure.  It also provides a network of people that kids can use as support in those situations, as well," she explained.  "This program is new and improved for what kids will deal with in 2022.  It caters to social media issues; we do role playing and skits and work through situations that kids could possibly face at this age. It really prepares them to tackle challenges."
Aside from being the DARE instructor at Sunny Hill, Officer Clayton's duties as an SRO are similar to what every other SRO does at each school in HCS – she makes sure the campus is always secure and that students and staff are constantly protected.
"Across the district, every SRO should be walking the campus and making sure windows and doors are locked.  We need to make sure the playground is secure; we need to watch for any suspicious vehicles or people on campus that we don't recognize.  It's our job to protect everyone on campus," she said.  "Brownsville PD has always been proactive about school safety since I've been here.  We work well with the Central Office and communicate with them to make sure all campuses are safe. Plus, at Sunny Hill, we have teachers who also have a background in security, so that helps, too."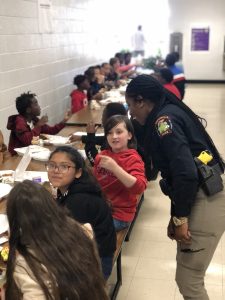 Monitoring a campus as big as Sunny Hill takes a lot of work, but recent innovations in technology have made Officer Clayton's job much easier.  She has access to an IPad that contains every angle that security cameras cover in the school.  That access allows her to have her eyes on any part of the building no matter where she is.
"I have an IPad that I carry with me all over the school, and I can access each security camera in the building in real time.  That helps me monitor everything that's happening in the school building.  In the past, we'd have to sit in the office if we wanted to monitor the cameras, but having access to it on an IPad has really changed what we're doing," she said.
While Officer Clayton's primary job is keeping the school safe and secure, she knows how important building relationships with students can be when it comes to making sure Sunny Hill is as safe as possible.  Using a philosophy known as "community policing", Officer Clayton is able to build a bridge between the school and community by interacting with students and their parents during school events and functions.  She is also very aware of her responsibility to help some kids change their perception of law enforcement if they've had a bad experience previously.  
"Community policing is when officers are out in public and being seen volunteering or doing community service.  We're going to be interacting more with people in the community, and that's the way it is for SRO's in their schools," she said. "SRO"s are upfront and personal with the students and their parents and grandparents at school events; we build relationships."
SRO's at elementary schools are used to getting hugs and high-fives from students.  Those officers are oftentimes seen as superheroes or celebrities.  By the time students are in the fifth grade, however, the view of any authority figure has begun to change.  Officer Clayton is well aware of that fact and knows that relationship building is a necessary process that takes time.
"At SHIS, we have kids who are close to being teenagers, so the high fives and hugs that the SRO's at elementary schools get, I don't automatically get those; I have to earn the students' trust and respect at this age," she explained. "I try to peel back the layers of the students; I take my time to try and get to know each student.  Some of our students are at an age where they've already encountered the police, and it may not have been a good experience.  They judge all police based on one experience, so I try to let them see a different side of an officer than they may have experienced previously."
Being a DARE instructor in the school is a great way to build that relationship.
"As a DARE instructor, they really get to know me.  I let them know who I am on a personal level and that allows them to open up to me and that's when that trust can be built," she said.
She knows her work has really paid off when she sees former students at Tomcat football games or in the community.
"The kids who I taught in DARE my first year at East Side are juniors and seniors now.  I'll see them in the community and they remember me.  I work a lot of ballgames and they'll come up to me and tell me they still have their DARE card.  That brings me a lot of joy."