Meet Haywood Elementary's therapy dog, River
Students helping dogs; a dog helping students
Meet Haywood Elementary's therapy dog, River
It's no secret that Brownsville has a big, benevolent heart. And that glowing, giving spirit shone brightly at Haywood Elementary School last week when the Pouncers gifted the local Humane Society an abundance of kitty litter, toys, treats, blankets and more than 200 pounds of food.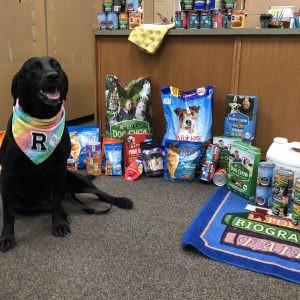 Every nine weeks, HES is completing an Acts of Kindness project "to teach our students to give back to the community," shared second-grade teacher Stacie Carlton. "This drive was a success and helped out many animals in need."
It was only fitting that this particular benefit, dubbed the Furry Friends Drive, be dedicated to one of the school's most valuable staff members, River, the therapy dog. 
 River's role at Haywood Elementary School may not involve ABCs and 123s, but her emotional and therapeutic services are equally as valuable to the students she serves.
So how did River secure the title of first-ever therapy dog in the Haywood County school system? When did she get "hired"? What are her duties? How is she making a difference? To learn more about this unique employee, The Brownsville Press interviewed River's owner and handler, Stacie Carlton.
BP: How did the idea for a therapy dog originate?
SC: I basically begged for years to get a therapy dog for my classroom. Every year, I would ask Miss Anna, and I would get the same response, "Maybe…I'll think about it." Miss Anna is also an animal lover, but having therapy dogs in the classroom isn't common and she had to do her own research. One day, she told me we were going on a field trip to a school with therapy dogs. EEEK!!! To say I was excited was an understatement. We visited Dyersburg School System and got to see their therapy dogs at work in several schools. I knew before we even got back to the car that this was going to happen for us! Miss Anna was sold on the benefits of therapy dogs in schools. She gave me the green light and then the real work began…finding and training a therapy dog.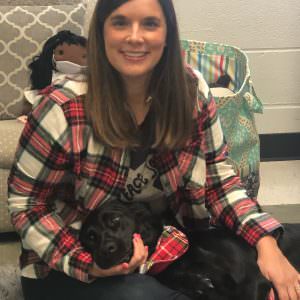 BP: How did you choose River, and when did she join the team?
SC: My sister, Glenda, had a huge hand in helping me find River. She talked with a vet who suggested getting a Labrador Retriever that has been in training to hunt but couldn't quite make the cut. I was literally on the hunt for a dog that wouldn't hunt! A therapy dog must be at least one year old and have just the right disposition to do this job. So, Glenda started the process of finding the perfect dog. A former teacher, it was such a blessing to have her helping in this process. I was able to focus on school while she did the searching. She called me one afternoon and told me she thought she had found the perfect dog. I made plans that weekend to drive to Mississippi and meet River. As soon as we arrived, River ran up and nestled her sweet face in our laps and ran circles of excitement around us. It was love at first sight! I knew she would be the perfect dog. She was in the car with me headed back to Brownsville to start her new adventure as a therapy dog. Did I mention this was the weekend of Spring Break 2020? We never went back to school that year due to Covid. I had all the time in the world to focus on bonding and training River. I drove to Ripley four times a week for training two hours a day. River already had obedience training from her home in Mississippi; I was the one that needed the most training. River and I worked really hard to become a good team. After a summer of hard work, she was ready for her official therapy dog test, which she took in August of 2020 and passed with flying colors. Her first official day on the job was August 25, 2020. 
BP: What are River's primary job responsibilities?
SC: River's main job is to make everyone happy! As we researched, we found that therapy dogs promote self-esteem and focused interaction with other students and teachers. They also have cognitive benefits. It has been proven that therapy dogs stimulate memory and problem-solving skills. They decrease anxiety, increase mood, help children learn social skills, help young readers gain confidence and even help improve school attendance. Students also learn trust and unconditional love from River. That's just what she does for the students. She also is a major source of stress relief for teachers. She helps reduce their anxiety and increases their happiness and energy. It's almost as if River is able to carry their worries, stress and burdens for them. You can see the stress wash away when they spend time with River.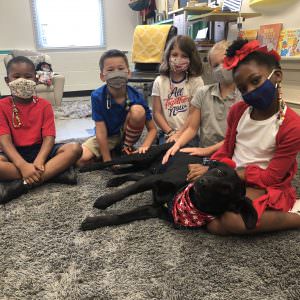 BP: What are River's favorite parts of school?
SC: River loves carpet-time lessons. This is the perfect opportunity for River to snuggle up with students and help them learn. She never misses the opportunity to smell a new friend and receive love from them. She also has a favorite friend at school.  She will walk directly to her office to get her daily belly rub. And of course, she loves to be read to. Her favorite books are stories about dogs. 
BP: How is she making a difference at HES?
SC: River brings happiness to our school. She is helping me grow fluent readers that are excited to come to school each day. River is so smart that she knows the sit and stay commands without me using words or hand signals; she is just that smart. She can also sense stress or anxiety in people. She automatically goes to people and starts her therapy work.
An excellent example of River's impact involved one of my students from last year that had a lot of trouble behaving, staying focused and really struggled to read at the beginning of the year. This student formed a very special bond with River. Over the course of the year, we had minimal issues with behavior, and the student successfully learned to READ!!! His former teacher asked me what I did to help the student. My answer was 100 percent River! 
Another great example is from a boy who, when asked by his mother what the best and worst parts of his day were, said "the worst part of my day was leaving River!" 
BP: What are some fun, interesting tidbits about River?
SC: River already had her name when I got her in Mississippi, and she knew it quite well. So, I have a female dog named River that always gets called a boy. 
She wears a different bandana every day.  The students love to see what "outfit" she'll be wearing each morning. Her attire always matches the season or holiday. She loves to wear her football and purple bandanas to support her favorite team, the Tomcats, on Fridays! 
River LOVES attention! If you stop rubbing her head, she will nudge you to remind you that rubbing the head of a therapy dog helps reduce your stress and anxiety. It's just all part of the job.