There are countless stories of backyard football games where kids emulate their favorite players.  They'll reenact Joe Montana's game winning Super Bowl drive against the Bengals.  Maybe, they'll pretend to be Tom Brady winning one of his seven rings on Super Sunday.  Or, they could be Brett Favre – taking a chance on a tight window of coverage and trying to zip a pass through double coverage.  In any scenario, though, that kid playing backyard football almost always wants to be the quarterback.
The position of quarterback is the most glamorous position on the football field – the player on offense who touches the ball on every play of every possession, the leader of the team, the player who gets a lot of the credit when things go well. 
There's another side to the quarterback position that isn't as glamorous, though.  The side where the quarterback is responsible for making sure the line is set correctly and the receivers are spaced properly.  There's the responsibility of reading the defense and making adjustments based on the read.  Then, of course, the responsibility of knowing the play that was called in the huddle and where everyone else on offense is supposed to be based on that play.  And, all of that happens before the ball is snapped.  
After the snap, the quarterback has approximately 2-3 seconds to make the best decision on where to throw the ball on a pass play…and that's if everyone else on offense is doing the job they were assigned.  If the play breaks down, it's up to the quarterback to improvise.  You have to be smart, quick, athletic, have a strong, accurate arm to play the position.  It's no wonder that not many people can do it well.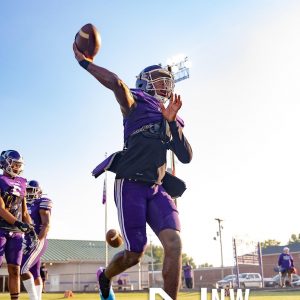 Haywood Tomcat quarterback Cordero Walker is one of those people who can.
As a sophomore, Cordero was the quarterback for the Tomcats and helped lead the team to an undefeated regular season and play-off run that ended one game shy of the state championship.  He knows, however, that the success he experienced his sophomore year can be attributed to his teammates and his coaches.
"Last year was surreal.  If it wasn't for my teammates, I wouldn't have had that success I had," he said. "The standard was set very high.  The guys around me definitely made me better, but it was intimidating at first.  I was 14 years old and playing with guys that were close to being adults."
For Cordero, his experience with football started when he was young and, like many other kids, in the backyard.  As he grew older, he began to play organized football and watch college games and observe how certain quarterbacks on winning teams carried themselves and commanded an offense.
"I started playing organized football when I was 6.  I started off as a tight end and the next year I started playing quarterback," he said.  "When I got a little older, I started watching college football and really liked watching AJ McCarron and Jameis Winston. I always wanted to be that guy in control on the football field."
Last season, as "that guy in control on the football field," Cordero helped lead the Tomcats to a 13-1 record and a state semi-final matchup against the eventual state champions.  Even with the success he experienced in his first full year as a starting quarterback, Cordero knew there was a lot of learning that was also taking place at the same time.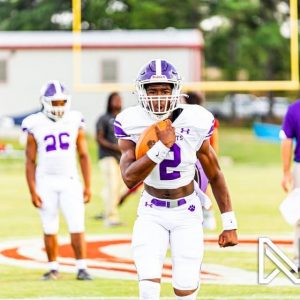 "Last year, the mental aspect of the game was the most challenging.  I had to make a lot of reads at the line of scrimmage.  A quarterback's pre-snap routine can make the post-snap action a lot easier if the quarterback knows what they're seeing in a defense before the snap.  Last year, I didn't have that knowledge," he explained.  "This year, I feel so much more comfortable; I feel like I really learned the game last year.  I also feel like I earned my teammates' respect and trust.  They know I'm going to give my all, and I know they'll give their all in practice and in the games."
The intangible aspects of the position of quarterback are incredibly important to the success of a team. From learning the plays, the pre-snap reads, and the line adjustments to building trust with teammates, the job of a quarterback stretches beyond simply throwing the ball. Throwing the ball, however, is an integral part of playing the position.  All the leadership skills in the world don't matter if a quarterback can't throw the football with velocity, accuracy, and touch.  Cordero has also improved those physical aspects of his game since last year.
"In the Lexington game last week, I had a 40 or 50 yard run.  Last year, I feel like I would've been tackled at the ten yard line, so I think my speed has improved.  I'm also stronger this year, and I'm breaking some tackles that I wouldn't have broken last year," he said.  "I'm also really excited about my arm strength this year.  I feel like I've added 10-15 yards to my deep ball."
Early in the season, the Tomcats find themselves with a 3-0 record going into a big matchup with an undefeated Milan team.  With the fast start this year combined with the success of last season, Cordero finds himself with a career record of 16-1 as the starting quarterback for a very talented football team.  Those numbers will draw the attention of college scouts and, with Cordero only being a junior in high school, scouts will have plenty of time to watch him develop more. He understands this reality, but is also remaining focused on what is immediately ahead of him.
"Any smart man always plans ahead.  Those plans may not exactly work out the way you want them to work out, but I have plans.  I want to play football at the college level and there have been a few schools I've been in touch with," he said.  " Right now, though, I'm really focused on this season and winning a state championship."
A football season at any level – high school, college, professional – is a journey of ups and downs and ebbs and flows.  It's cliche for coaches and players to talk about looking at each game on a week to week basis, but that cliche is also a necessary reality.  There will be games where things click – lineman will block downhill during the run game, receivers will run sharp routes, quarterbacks will be on time with their throws.  There will be other games when none of those things occur.  It's important for a quarterback (and a coach) to ride both waves.
"We never want to get too high or get too low; that's what Coach Smith always preaches.  Certain games are big, but it's also just another step along the way to what we want to accomplish," Cordero reflected.
The Milan game is big this week for the Tomcats, but there will be bigger games down the road this season if the Tomcats achieve the goals they set for themselves. Even beyond the wins and losses, Cordero knows that playing high school football for Haywood High School is something special.
"I grew up going to Haywood football games.  In Haywood, there's not a lot to do on Fridays, so the whole community shows up to watch us play.  It's special.  On Fridays, there's no question about where you're going to be – LZ Hurley Stadium watching the Tomcats play."