School Board announces HOSA students going to Nationals; Spring Mini-Grant recipients
When the Haywood County School Board met in regular session on Tuesday, April 8, Superintendent Teresa Russell began the night by announcing the members of the HHS Career and Tech HOSA teams that qualified at the State contest to compete in the National Competition in Florida in late June. She also announced that Anderson began its preschool registration this week and it went well, and that Don Sims, Director of the AAA program, won a $10,000 grant for his program. His proposal was selected out of a field of 100 others. She invited everyone out to watch some of the HHS and HMS Spring Sports. In full swing are tennis, baseball, softball, track and boys' soccer.
In other business, Mrs. Russell announced the winners of the Spring Mini-Grant Awards. These grants must used to purchase technology for the classrooms. Winners were Kathy Stanz from Sunny Hill Innovative Leaning Center; Shalondria White, Joy Weathersbee, Peggy Austin, and Amelia Morrison from Haywood Elementary; Morris Long and Denise Phillips from Haywood Middle School, and Hattie Starks from East Side.
Board members approved the adoption of new textbooks for the Social Studies classes, K-12, and announced the Colhoun Scholarships for the 2014 school year. The board agreed to give six $2,000 scholarships to HHS graduates who are pursuing a career in teaching. Robbie Jarrett King and Allen Currie will serve on the selection committee. The balance in the Catherine Colhoun Trust is $236,146.
Board Chairman Harold Garrett announced that the board will attend a one-day retreat at the DoubleTree Hotel in Jackson on April 30. Among business for the day, board members will conduct Mrs. Russell's evaluation and will discuss her contract renewal at the retreat. The results of this will be announced at the May 13 meeting.
Mrs. Russell was appointed as Interim Superintendent in July 2012 after Superintendent Marlon King resigned. She had served as Dr. King's Deputy for four years. The board then offered her the Superintendent position in September. She agreed to a 2-year contract at $95,000, the same salary she accepted as Interim Superintendent. That contract will expire this year in May.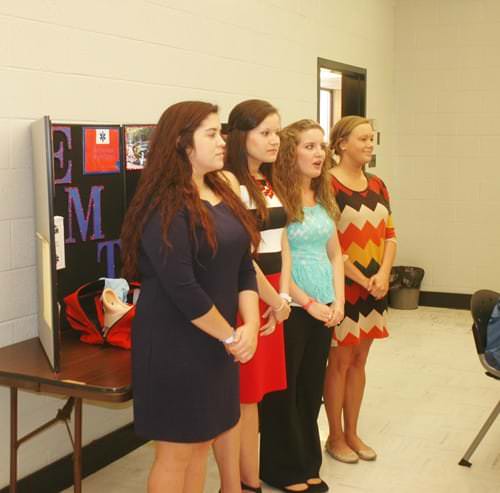 Tennessee HOSA State Leadership Conference was held in Nashville March 30 through April 2. Placing third with their Public Service Announcement on child hunger were HHS HOSA students Shelby Stanfield, Kelsey Collins, Anna Jackson, and Emily Gooch King.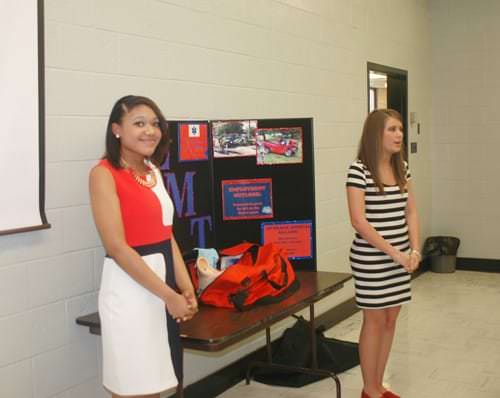 Placing fifth at the conference in Career Health Display were Enchantra Henderson and Emily Wright. These students will represent Haywood County at the National HOSA Convention in Orlando, Florida, in June. Sponsors for the HOSA organization are Julie Taylor and Kristin Carlton.