School officials receive Patriot Awards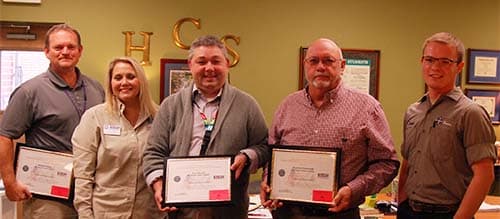 Pictured at the presentation of the Patriot Awards to three Haywood County Schools officials were (from left) Ronnie Wilson; Jennifer Braden, CSFL Career Readiness Counselor, Patriot Enterprises; Superintendent Joey Hassell; Kenneth Emerson; and Jerred Mize. Mize nominated the three men for this award.
Haywood County Schools Superintendent Joey Hassell; Director of Physical Operations and Transportation Kenneth Emerson; and Transportation Supervisor Ronnie Wilson, each received a Patriot Award from the ESGR (Employer Support of the Guard and Reserves). Jerred Mize, a member of the 1174th Transportation Co. of the National Guard in Memphis, and a bus mechanic and driver for HCS, nominated the men for the award.
The first in ESGR's (Employer Support of the Guard and Reserves) series of awards is the Patriot Award. An employee serving in the National Guard or Reserve, or the spouse of a Guard or Reserve member, may nominate individual supervisors and bosses for support provided directly to the nominating Service member and his or her family. The Patriot Award reflects the efforts made to support citizen warriors through a wide-range of measures including flexible schedules, time off prior to and after deployment, caring for families, and granting leaves of absence if needed.
ESGR has served our country for more than 45 years, fostering a culture in which all employers support and value the employment and military service of members of the National Guard and Reserve in the United States.