Sixteen graduate from REACH Academy
Sunny Hill Innovative Learning Center was the setting on Tuesday, December 15, for the first of the Haywood High School Class of 2016 graduation ceremonies for 16 REACH Academy students. Myesha Baker, Astria Barken, Brooklyn Barken, Unika Carney, Ieshia Dixon, Zachary Duncan, Cheyanne Graham, Alexis Hasler, Javion Jones, Tyreece Mackey, Gabriella Rameriz, Keiston Reid, Kurstan Russell, Shaneque Tucker, Tierra Welch and Shaunna Williamson received diplomas from Drayton Hawkins, Director of the HHS REACH Academy. Brooklyn Barken was the class Valedictorian, and Ieshia Dixon was the Salutatorian.
Joining Mr. Hawkins for the ceremony were Superintendent of Haywood County Schools Teresa Russell, Haywood High School Principal Dr. Jerry Pyron, Assistant Principal Paige Ferguson, HHS Class of 2016 President Mya White, REACH Graduation Coach Stephen May, Associate Superintendents Art Garrett and Toni Eubanks, and HCS CFO Larry Livingston. Achana Jarrett presented the music and sang "Wind Beneath My Wings" for the ceremony.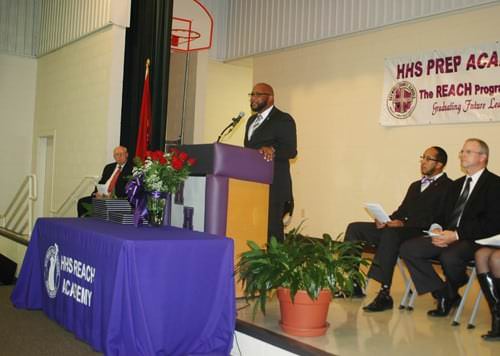 Speaker for the graduation was Haywood County native Rev. James T. Farmer, Jr. An HHS graduate and outstanding football player, Rev. Farmer attended Tennessee Tech University where he played football, holds a Diploma of Theology from American Baptist College, a Bachelor of Science Degree in Business Management from Bethel University, and is currently pursuing a Master's degree in Christian Studies from Union University. He is pastor of the Historic Woodlawn Missionary Baptist Church in Haywood County. He participates in the Passport to Manhood Mentoring Program at Haywood Middle School and spends time mentoring at the REACH Academy. He also substitute teaches in Haywood County Schools.